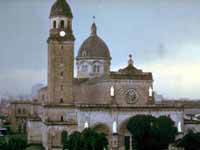 Manila Overview
Manila, the somewhat daunting capital and pulsating hub of the Philippines, is situated on the east coast of Luzon, the most northerly island, the largest and the most developed. The city was founded in 1571 on the site of a Muslim settlement. The city is made up of 16 areas which were once towns in their own right, and its major tourist attraction is the old Spanish walled city known as Intramuros, which contains some historic buildings and ruins.
Modern Manila is a morass of traffic and people, polluted and chaotic, an industrial metropolis that grew from the ashes of war when in 1945, the United States' forces fought to recapture it from Japanese occupation. It is also a city of theatres, libraries and museums, and the home to the University of the Philippines. The neighbourhoods of the metropolis vary from wide avenues full of palatial homes to squatter camps where the poorest of the poor scratch out a living.
Visitors to the Philippines cannot avoid using Manila as a starting point for their exploration of the other provinces and islands, because most charter flights to the outlying islands leave from the city's airport. The city is also within reach of day and weekend getaways on the island of Luzon; this makes it a good base for travellers intent on touring. One thing no visitor should miss is a famous Manila Bay sunset: a light show created out of the high humidity conditions coupled with the effects of cloud over the city's harbour. This remarkable sight allows a short respite from the more unpleasant aspects of the sprawling city. View the sunset from Rizal Park, Roxas Boulevard or from a cruise boat that plies around Manila Bay.