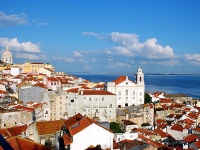 Lisbon Kids Attractions
Lisbon has many things for kids on holiday to see and do, ranging from museums and planetariums to zoos and aquariums. There are also great shopping centres and amusement parks for families to enjoy while on holiday in Lisbon. Another plus is that the weather in Portugal is warm most of the year, and the local culture is family-oriented so the people are welcoming to kids.
| | |
| --- | --- |
| | Lisbon's exhibition park was upgraded and renamed for the Expo '98 world exposition, which revitalised the city and brought international tourists and interest flooding in. The site is now worthy... |
| | Marketed as the second best aquarium in the world, the world-class Lisbon Oceanarium is the most impressive achievement of EXPO '98, which used to be an abandoned waterfront. The centrepiece of... |
| | With such maritime icons as Vasco de Gama and Bartolomeu Dias, its no wonder that Portugal's Maritime Museum is one of the best in Europe, evoking a sense of what it was like when the... |
| | Kids will love the indoor amusement park at the Colombo Shopping Centre, happily entertained by taking rides on the roller coaster, playing video games, going bowling and racing go-carts. The... |
| | The Vasco da Gama Aquarium is a great attraction for children in Lisbon. This aquarium is home to cute little seals with ears (otariids), which all kids will love to see. As well as its wonderful... |
| | Older kids are enthralled by a visit to the Calouste Gulbenkian Planetarium. Here they are invited to explore the universe and its bounty of astronomical wonders. The planetarium hosts... |
Travel guide by (c) Globe Media Ltd. By its very nature much of the information in this travel guide is subject to change at short notice and travellers are urged to verify information on which they're relying with the relevant authorities. We cannot accept any responsibility for any loss or inconvenience to any person as a result of information contained above.