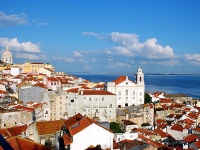 Best Restaurants in Lisbon
With literally hundreds of restaurants on offer, eating out in Lisbon is taste sensation and an experience not to be missed. With an emphasis on seafood and the usual spicy Portuguese fare, this country has a love of spices, especially cinnamon and vanilla, which can be seen in their love of pastries, especially of the custard variety, such as the , a small custard tart sprinkled with cinnamon. small fiery peppers, black pepper and saffron are also popular spices that are commonly used in Portuguese cooking. Try the with potato, shredded cabbage and chunks of spicy chorizo sausage, or authentic Portuguese sardines, grilled as Head to the city centre where all the trendiest and most popular Lisbon restaurants can be found, while the barrio Alto is a good place to sample Indian cuisine. The area of Lapa is known for cosy and well-established restaurants while Estoril and Cascal''s restaurants come with breathtaking ocean views. When in Portugal, many choose to have a lengthy and drawn out lunch, pushing dinner later into the night and visitors will have to adapt to this.
Cafe de Sao Bento
This small eatery in Príncipe Real is the epitome of a Portuguese steakhouse. Receiving rave reviews from both locals and tourists for many years, the small restaurant has a pleasant and relaxed atmosphere designed for adults (they discourage children) to enjoy excellent steak, side dishes, and a good selection of wines. Because it is small, Cafe de Sao Bento can be crowded during peak dining hours. The restaurant is open Monday to Friday from 12:30pm-2:30pm and 7pm-2am, and weekends 7pm-2am.




CUISINE:

Steakhouse


STYLE:

Business


Address:

Rua de São Bento 212, Príncipe Real
Via Graça
With panoramic views of the Castelo de São Jorge fortifications and the Basilica da Estrêla, the romantically lit interior of Via Graça is both stylish and discreet. The menu offers a selection of traditional Portuguese food including roast duck with Setúbal wine, and stuffed fillet of sole served with shrimp. Open for lunch Monday to Friday and dinner all week, reservations recommended.




CUISINE:

Portuguese


Address:

Rua Damasceno Monteiro 9B


Website:

www.restauranteviagraca.com
Nood
Set in a modern and minimalist canteen, Nood is categorised somewhere between noodle bar and sushi restaurant, offering a great selection of Asian-inspired cuisine. The menu features (Asian pastries), (Japanese noodles) and (grilled chicken on skewers). Don't miss the signature Nood ice-cream with chocolate and wasabi for dessert! Open daily for lunch and dinner, reservations recommended.




CUISINE:

Asian


Address:

Largo Rafael Bordalo Pinheiro 20, Chiado


Website:

www.nood.pt
Doca Peixe
Meaning 'Fish Dock' in Portuguese, Doca Peixe restaurant serves some of the best quality fish and shellfish in Lisbon, which can be seen swimming in the aquarium at the entrance. Fish can be char-grilled, cooked in salt or baked and the flagship dish is codfish cooked with clams and flavoured with coriander. The grilled platter of shellfish comes highly recommended. Open Tuesday to Sunday for lunch and dinner. Booking advisable.




CUISINE:

Seafood


STYLE:

Business


Address:

Armazém 14


Website:

www.docapeixe.com
Espalha Brasas
A firm favourite with Lisbon locals, a weather-beaten wooden statue of a nude man perched beside the staircase greets guests as this trendy restaurant. Espalha Brasas is comfortably cluttered with a soft candlelight glow and a display of all the fresh seafood and meats available and grilled to perfection. The codfish stuffed with prawns and spinach is highly recommended. Open Monday to Saturday for lunch and dinner (September to July) and daily for lunch and dinner (August). Booking advised.




CUISINE:

Portuguese


STYLE:

Romance


Address:

Armazém 9


Website:

www.espalhabrasas.eu
Comida de Santo
With only 12 tables available, the very trendy and first all-Brazilian restaurant in Lisbon, Comida de Santo, lends a New World flavour with oversized panels depicting jungle scenes. The potent (aguardiente cocktail with limes and sugar) is a great way to kick things off and the (meat-and-bean stew) or (peppery shrimp) are highly recommended. Open daily for lunch and dinner. Bookings essential.




CUISINE:

Brazilian


STYLE:

Trendy


Address:

Calçado Engenheiro Miguel Pais 39


Website:

www.comidadesanto.pt
Gambrinus
Founded in 1936 and decorated in rich, warm tones offset by stained glass windows and a beamed cathedral ceiling, Gambrinus offers some of the best shellfish and seafood in Lisbon. The menu features varied and unusual cuisine with dishes such as partridge casserole, Chicken Cafreal and smoked swordfish. Open daily for lunch and dinner, reservations recommended.




CUISINE:

International


STYLE:

Trendy


Address:

Rua das Portas de Santo Antão 23


Website:

http://www.gambrinuslisboa.com/
Kais
Kais bar and restaurant is set beautifully on an esplanade by the river and has a rich, wooden interior and warm atmosphere. The menu offers superb cuisine including shrimp in champagne sauce, lamb chops marinated in wine and garlic and a delicious lobster risotto. For dessert, the saffron crème brulée is outstanding. Open Monday to Saturday for dinner. Closed on Sundays and the first two weeks in August. Reservations recommended.




CUISINE:

International


STYLE:

Romance


Address:

Rua da Cintura-Santos, City Centre


Website:

www.kais-k.com
Casa Nostra
This trendy restaurant is hidden by an old, unambiguous exterior and home to a stylish yet laid-back atmosphere. All the pastas on the menu are homemade, with delicious options such as (fettuccine with cream cheese) and spaghetti with Portuguese clams. The Sicilian-style tiramisu is exquisite! Open Tuesday to Saturday for lunch and dinner, Sunday lunch only and closed on Mondays. Reservations recommended.




CUISINE:

Italian


STYLE:

Trendy


Address:

Travessa do Poço da Cidade 60, Bairro Alto


Website:

http://restaurantecasanostra.com/cnostra/
Travel guide by (c) Globe Media Ltd. By its very nature much of the information in this travel guide is subject to change at short notice and travellers are urged to verify information on which they're relying with the relevant authorities. We cannot accept any responsibility for any loss or inconvenience to any person as a result of information contained above.