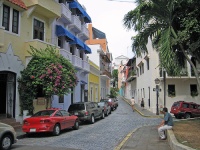 San Juan Nightlife
With its concentration of bars, clubs, salsa cafés and casinos, visitors to San Juan will find there is something to suit their partying and entertainment needs on just about any night. As in most Latin cities, the nightlife only really gets going late but when it does there''s a good chance you will see in the dawn.
Being a major cruise port, much of the nightlife is suited to tourists looking for a bit of Caribbean flavour and fun. Start off by watching the sunset with a freshly made or (the latter of which was invented at the Hilton Hotel right here in San Juan) at a beach bar in this sultry city before heading out to the Old Town to enjoy a leisurely dinner at one of the many stylish and trendy restaurants. Locals like to look sharp when going out in San Juan so don''t be afraid to throw your favourite party outfit on before hitting the town for a night out.
Most of the nightlife is situated in the Old Town, while San Sebastian Street is a major hotspot dotted with pulsating clubs, bars and discos. El Batey''s on Calle del Cristo in the Old Town is a favourite for a night of drinking, pool shooting and mingling, while the Lobby Lounge fires up the dancefloor with live bands jamming salsa and meringue beats and even offers dance lessons for visitors keen on shaking their hips.
On Sebastian Street head to Nono''s for a bit of people watching on the strip, or El Patio de Sam, a popular hangout for locals and tourists alike, while for some salsa and tropical music, Rumba is place to be. Those who can''t wait for the party to get started should stop by the La Rumba Party Cruise, a two-level minicruiser that is more often than not moored to a point near San Juan''s cruise pier number 1, a popular hangout for tourists and cruise passengers looking for a steamy night out.