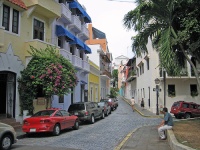 San Juan Shopping
Shopping in San Juan is an exotic and often cost-effective venture, with the streets of Old Town (especially Calle San Francisco and Calle del Cristo) being the most popular destinations. Most stores can be reached via the Old Town Trolley and are generally open Monday to Saturday from 9am to 6pm, while some in Old San Juan are also open on Sundays. Malls in San Juan are open Monday to Saturday from 9am to 9pm, and Sunday from 11am to 5pm. Only U.S. citizens don''t pay duty (5.5%) on goods purchased in Puerto Rico.
The best shopping mall is Plaza Las Américas, in Hato Rey, which boasts over 200 upmarket shops. Local handicrafts include needlework, ceramics, hammocks and papier-mâché arts, while paintings and sculptures also make good souvenirs; wooden carvings of (saints) are also popular. These goods are available from Galería Botello, Olé or Puerto Rican Arts and Crafts. Sought-after antique lace products, such as (tatted fabrics) and (beggar''s lace), as well as and (lace bands), can be found at Linen House.
One of the best coffees in the world, Puerto Rico''s Alto Grande is available from speciality stores such as Spicy Caribbee. An ancient building in Old Town serves as both a laundromat and art gallery, with paintings, etchings and photographs displayed (and for sale) above the coin-operated laundry machines. Art exhibitions are also hosted here. C (papier-mâché masks) worn at local carnivals make a great souvenir for those with a morbid fascination, and can be purchased from La Calle.