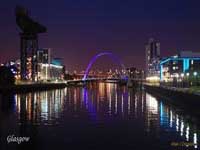 Glasgow Overview
During the past few decades Glasgow, the UK's fourth largest city, has re-invented itself from a rather economically depressed post-war industrial centre to a modern metropolis with a thriving art and culture scene, which has earned it accolades like the 'European City of Culture' title in 1990 and 'City of Architecture' in 1999.
In days of yore Glasgow depended on shipbuilding and engineering for its wealth; the city fell into decline in the mid-20th century with massive poverty and unemployment. Prosperity has returned however, riding on the back of 21st century technology, and it is now the hub of Scottish film, theatre, writing, music and design, capturing worldwide attention.
The city has more than 20 galleries and museums to complement the architectural heritage of architects like Alexander Thomson, renowned for his classical designs, and Charles Rennie Mackintosh, master of Art Nouveau.
The youthful, progressive atmosphere of the reborn Glasgow is encouraged by its large student population, which is spawned by four universities and several colleges, and reflected in the numerous lively restaurants, pubs and attractive shopping precincts.
Tourists find plenty to see and do in Glasgow, and can also use it as a base to explore the surrounding countryside, boasting some of Scotland's most scenic mountains, glens, lochs and coastline.