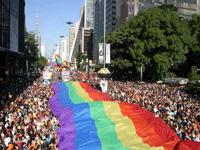 Sao Paulo Nightlife
Sao Paulo''s party scene is a late-night one: most Paulistas (locals) don''t go out until midnight. In fact, there''s a saying in the city: when the sun comes up, you hardly notice.
Sao Paulo''s nightlife is a reflection of its cosmopolitan image. Its bars and clubs are spread out around the city, though you''ll find clusters in neighbourhoods like Vila Olímpia, whose dance clubs are popular with twentysomething Paulistas, and Vila Madalena, where you''ll find restaurants and bars that appeal more to revellers in their thirties. Because bars and clubs in Sao Paulo are so spread out, it can be a good idea to stick to venues in one area, rather than running up large taxi bills getting caught in the city''s late-night traffic jams. It is not advised to walk around at night in Sao Paulo.
Bars in Sao Paulo have their own system for payment. Instead of or in addition to the entry charge, there will be a drink minimum. You''ll get a card that will record all your expenses for the night, and pay everything when you leave. Be careful not to lose this card, as the penalty is very expensive!
Live music in Sao Paulo is among the best in Brazil, with a wide variety of styles to suit every taste. The formal Teatro Municipal and the Sala São Paulo, where the Sao Paulo Symphony Orchestra performs, have good programmes of classical music, theatre, and dance. The Teatro Italia hosts regular Brazilian contemporary dance performances. For a more relaxed evening, head to Bourbon Street, a popular jazz club founded by BB King himself. Vila Country hosts Brazilian Country music, and Armazem da Vila plays pagoda, which is a simpler form of samba.
If you feel like dancing, Sao Paulo has many options for that as well. Azucar has a reputation as the best Latin dance spot in the city, with meringue, salsa, and mambo playing all night long. Bar Favela is also popular, and includes pop and hip hop music along with Latin dance. Blen Blen Brasil is also popular, with a more relaxed and eclectic feel, mixing deejays and live bands. If you''re unsure of your steps, you can go to the Buena Vista Club, which offers dance lessons in traditional Latin club styles like the gafieira and the zouk.
Sao Paulo also has a few popular gay clubs, including Lov.e in Vila Olímpia, and Bendito Fruto Bar or matrix in Vila Madalena.
Be aware of local terms: the words boate or boite, which in Rio mean nightclub, refer almost exclusively to sex clubs and strip bars in Sao Paulo.
Pick up a copy of the Friday Folha de São Paulo newspaper, which has a great concert and event guide. Veja magazine also has a good entertainment guide that comes out on Sundays, and the monthly Revista Cultural, a government publication, has up-to-date information on more formal events like theatre, exhibitions, classical music and dance. All three publications have a separate section devoted to free events.