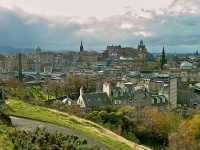 Edinburgh Kids Attractions
The historic city of Edinburgh is brimming with old castles and fascinating sights and children can have a great time exploring this fantastic city too. The kids will love a visit to the Royal Yacht Brittania, or on a sunny day, visit the cute animals at the Edinburgh Zoo, or pack a picnic and the Frisbee and head to the Royal Botanic Garden for day in the fresh air and sunshine - fair weather days are rare so make the most of them! For an educational excursion, visit the Museum of Edinburgh and be mystified by the history of this famous city, while Our Dynamic Earth will astound the little ones and get them thinking about their place in the planet. When skies are grey and outdoors attractions are not an option, take the water soaked kids to discover some other aquatic animals at Deep Sea World Aquarium, or make use of indoor playgrounds such as the one in Edinburgh Park or the Happy Castle Play Centre.
| | |
| --- | --- |
| | Pride of the Ocean Terminal in the port of Leith, Edinburgh's recently developed waterfront shopping and leisure area, is moored the famed Royal yacht, . Numerous illustrious passengers,... |
| | Like the London and York Dungeons, the Edinburgh Dungeon gives a graphic and spine-chilling look into Edinburgh's history. The dungeon employs every trick in the book to scare the life out of its... |
| | Featuring a wonderful variety of cute and exotic animals, children will be absolutely thrilled with a visit to the Edinburgh Zoo. It also offers younger visitors a Kids Zone where they can... |
| | Located just 20 minutes from Edinburgh, Scotland's national aquarium Deep Sea World is the perfect place for a fun-filled family outing on a rainy day. Children can view marine life such... |
| | When travelling in Edinburgh with children, a trip to the Museum of Childhood is an absolute must and a favourite with adults and children alike. It contains wonderful displays, featuring toys... |
| | This science centre is a fabulous attraction for children of all ages and adults alike, and aims to educate and inspire visitors to think about our planet and its evolution. Featuring a number... |
| | The Falkirk Wheel - a rotating boat-lift located near the town of Falkirk in central Scotland - is an unlikely but extremely popular Scottish tourist attraction. The Wheel, which was built as part... |
Travel guide by (c) Globe Media Ltd. By its very nature much of the information in this travel guide is subject to change at short notice and travellers are urged to verify information on which they're relying with the relevant authorities. We cannot accept any responsibility for any loss or inconvenience to any person as a result of information contained above.