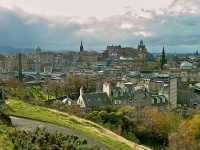 Best Restaurants in Edinburgh
Restaurants in Edinburgh suit all tastes and pockets. Traditional Scottish fare such as Haggis, salmon and Aberdeen Angus beef is widely enjoyed, while international cuisine including French, Italian, Oriental and Indian is also readily available in Edinburgh. When eating out in Edinburgh, the best local cuisine, including good old fish and chips, can be found in and around the Royal Mile or the historic port of Leith. For French, Italian and Indian cuisine diners should try Castle Terrace, Ocean Drive (also in Leith), George Street and Lothian Road. Most Edinburgh restaurants are open daily and reservations are recommended. A 10% tip is customarily given to the waiter.
Centotre
Built into a former bank, this Italian café and restaurant is much less formal than its building suggests. A breezy café and bar style inside serves simple and light Italian staples everyone knows and loves such as pizza and light pastas. The front is great for light daytime snacks and a downstairs accommodates intimate diners. Reservations are advisable except at the café and bar.




CUISINE:

Italian


Address:

103 George Street


Website:

www.centotre.com
Izzi
The minimalist stainless-steel and glass interior may not quite suit the medieval image of Edinburgh, but excellent service and first-class food make up for the lack of atmosphere at Izzi, which offers an extensive menu of Japanese and Chinese dishes, including beautifully presented sushi. You may need the staff to help explain the intimidating menu, but this they are happy to do. Enjoy dishes like fried king prawns in honey lemon sauce, sprinkled with minced dry fish, or indulge in Chinese kung po beef. The restaurant is fronted entirely by glass, making it a good spot for people-watching. Izzi is open daily from 12pm to 11.30pm.




CUISINE:

Oriental


Address:

119 Lothian Road
Tower Restaurant and Terrace
A museum restaurant may not sound particularly inspiring for gourmets, but in Edinburgh the National Museum of Scotland sports a restaurant not inside, but on top, offering spectacular views of the castle and cityscape along with some of the city's finest cuisine. A high point for dining in more ways than one, the Tower has a chic, glamorous interior, excellent service and a vast menu, covering everything from oysters to melt-in-the mouth steaks. Specialities are seafood, especially Scottish lobsters. The Tower is also renowned for its huge award-winning wine list of about 150 varieties. The outside terrace, which seats 70 diners, is extremely popular in summer and arguably offers the best view of the city to be had anywhere. For lunch and pre-theatre suppers there is a set two-course menu, or choose from à la carte. The Tower is open daily from 12pm to 11pm.




CUISINE:

Modern Eclectic


Address:

National Museum of Scotland, Chambers Street


Website:

www.tower-restaurant.com
Susie's Wholefood Diner
Amazing healthy food (make your selection from a wide range displayed on the counter) and extremely reasonably prices make this lively spot a popular place to chill out during a hectic day's sightseeing, or just to come to soak up the 'alternative' bohemian atmosphere. Read a newspaper, chat to fellow diners, or peruse the amateur artworks on display while enjoying falafel and humus, delicious soup or a tasty stir-fry, on one of the old wooden tables. The salads are particularly recommended. On Friday and Saturday evenings the atmosphere is livened up with live Cajun and jazz music. Susie's opens from 9am to 9pm Monday to Saturday, and from 1pm to 8pm on Sunday.




CUISINE:

Modern Eclectic


Address:

51/53 West Nicholson Street
Clam Shell Fish and Chip Shop
No visitor to the United Kingdom worth his or her salt can leave the islands without indulging in a traditional fish and chip supper, and in Edinburgh the Clam Shell on the Royal Mile is reputedly the best 'chippy' in town, and perhaps the whole of Scotland. A veritable emporium of tasty delights, the Clam Shell doesn't stop at just battered fish and crispy fries: there is a whole range of food including local specialties like haggis, black pudding and a range of tasty sausages. The Clam Shell is open daily from 12pm to midnight.




CUISINE:

Fish


Address:

148 High Street
La Bruschetta
Small and intimate, it is wise to book at La Bruschetta because it is Edinburgh's most popular authentic Italian restaurant, particularly at lunch time when its bistro menu is available. The owner, Giovanni Cariello, is also the chef and is a master of his craft. Specialties usually involve Scottish fish. La Bruschetta is closed Mondays, but open every other day from 12pm to 2pm and 6pm to 10.30pm.




CUISINE:

Italian


Address:

13 Clifton Terrace, Haymarket


Website:

www.labruschetta.co.uk
Witchery by the Castle



CUISINE:

Local


Address:

Castlehill, Royal Mile


Website:

www.thewitchery.com
Britannia Spice
Some of Edinburgh's top restaurants are to be found not in the city, but by the sea. In the historic port of Leith just a short bus ride from the city centre you will find Britannia Spice, three time winner of the British Curry Awards and the 'Best Restaurant in Scotland' accolade for the BIBA restaurant awards. Of the waterfront restaurants pride of place goes to this stylish hotspot, serving up traditional cuisine from India, Bangladesh, Thailand and Nepal in its large, immaculate, nautical-themed dining salon. Open Mondays to Saturdays for lunch and dinner and Sundays for dinner.




CUISINE:

Indian


Address:

150 Commercial Street, Ocean Drive


Website:

www.britanniaspice.co.uk
Abstract
The city is still abuzz with the opening of Abstract which serves modern French meals with all the class and tradition one expects from a top rated restaurant. Try to book the chef's table to experience part of the cooking process and to try some wonderful treats off the tasting menu. Others prefer to enjoy the well decorated dining room and stay with enticing French influenced entrees such as roast Guinea fowl terrine. Reservations are advisable.




CUISINE:

French


Address:

33-35 Castle Terrace


Website:

www.abstractrestaurant.com
Travel guide by (c) Globe Media Ltd. By its very nature much of the information in this travel guide is subject to change at short notice and travellers are urged to verify information on which they're relying with the relevant authorities. We cannot accept any responsibility for any loss or inconvenience to any person as a result of information contained above.