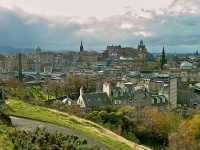 Edinburgh Overview
Presenting a rather Gothic cityscape as it spreads out below its ancient Castle, reaching out to the port of Leith, Edinburgh is far from dour. The canny Scots have crafted a capital that is crammed with culture, filled with fun and festivity, veneered with sophistication but reeking of history and mystery.
It's a heady combination that never fails to charm visitors to this city, built on a set of extinct volcanoes on the Firth of Forth, an inlet from the North Sea, just north of the border between Scotland and England.
The first thing that catches the eye is the looming battlements of the castle, sitting atop sheer granite cliffs that can only be accessed from one steep ridge. Today the castle heads up the Royal Mile and a linear set of streets making up the 'New Town', created when Edinburgh was re-designed in the 1700s, after the Act of Union with Britain. Tourists eagerly wander up and down the main street, Princes Street, all year round, browsing in the top quality stores and photographing the vista of the castle and the old town. When it comes to sightseeing, Edinburgh's attractions are largely based on historic stories and legends, from the churchyard where Greyfriar's Bobby, the terrier, refused to leave his master's grave, to the grand royal apartments of Holyrood House, where Mary Queen of Scots watched her husband kill her lover back in the 16th century.
Edinburgh oozes atmosphere, but never more so than during the summer months, when the vibrant Edinburgh Festival fills the city with drama, creativity and colourful visitors from around the world. Another occasion when Edinburgh pulls out all its stops is during the traditional Hogmanay New Year festival, when the jolly festivities are warmed by a great imbibing of Scottish malt whisky and ales pulled in the many local pubs.
Edinburgh is perhaps best summed up by one of its famous sons, the novelist Robert Louis Stevenson, who described it as 'a profusion of eccentricities; a dream in masonry and living rock'. Just remember that if you want to endear yourself to the locals, pronounce the city's name as 'Edinbruh' and not 'Edinberg'!