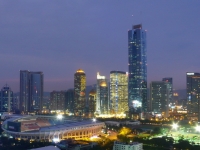 Guangzhou Overview
Guangzhou is China's third largest city, with an appealing mix of retail frenzy and capitalist energy tempered by ancient traditions and intact historical districts. Capital of the Guangdong Province in southern China, adjacent to Hong Kong and Macau (75 miles north-west of Hong Kong), the city of Guangzhou was formerly known in the West as Canton (the home of Cantonese cuisine) and has a rich heritage in tea production. Today the city skyline is dominated by massive skyscrapers which play host to vast business and trade enterprises.
Guangzhou also has numerous shopping malls, as well as cultural and historical attractions, for visitors to enjoy. Cantonese cuisine and opera are highlights of the Guangzhou social scene, and the city's history (dating back to 214 BC) can be discovered at sites such as the Temple of the Six Banyan Trees. Some of Guangzhou's best shopping areas include Shangxia Jiu Lu, Beijing Lu and Renmin Nan Lu, while Teem Plaza and China Plaza are the most popular department stores.
Travellers to Guangzhou will probably find the summer season a bit hot and rainy but the winters, from December to March, are mild and sunny - a wonderful time to explore this fascinating city. There are a number of buses and taxis to transport tourists in the city, and there are flights and trains from Guangzhou to other major Chinese destinations such as Beijing and Shanghai.