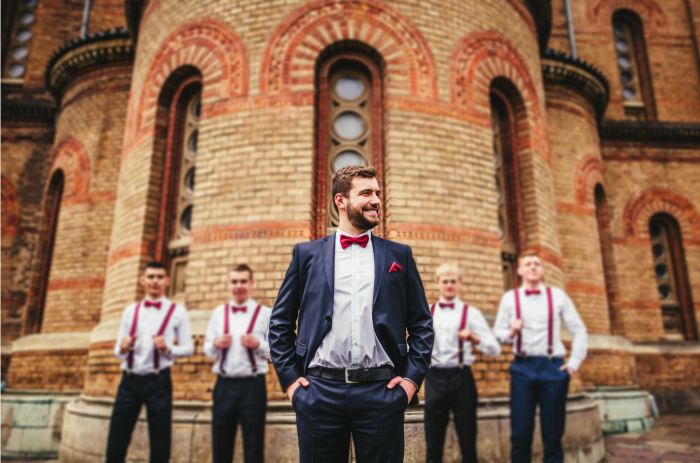 Photo Credit: Shutterstock
Summer weddings call for lightweight attire, pale colors, and playful looks. As a groomsman, you can keep yourself looking sharp without feeling stuffy by selecting colors with pale hues and comfortable clothing for the event. Explore plenty of options for dressing as a groomsman this season so that you can easily incorporate nearly any theme or color palette for a perfectly pulled-together look for a wedding you're attending.
Suspenders and Bow Ties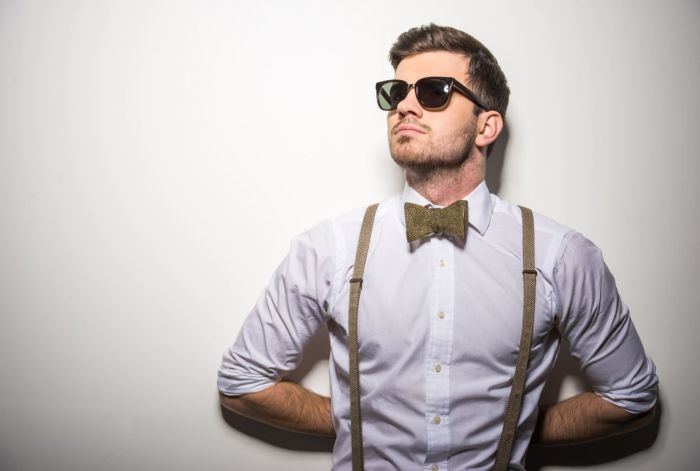 Photo Credit: Shutterstock
For a sunny garden wedding, the bride and groom might do away with vests and jackets entirely and opt instead for suspenders and bow ties. These accents lend a lighthearted feel to the occasion and ensure that you don't have to wear any stiff or stifling outfit, which is sure to make the smiles come more readily to your face. Pair a plain white dress shirt with darker pants in a shade of blue or gray. Work the other wedding colors into the bow tie or the choice for suspenders.
The groom himself will wear a jacket and may swap his suspenders for a vest to distinguish his attire from the groomsmen. The groom might consider a slightly different bow tie, while the groomsmen can feel free to incorporate more colors into their wedding attire.
Light-Colored Vests
Summer wedding attire often consists of light-colored apparel for comfort, breathability, and a fresh seasonal look. A pale gray or light tan suit is a practically foolproof option. If you're attending a wedding outdoors or in a casual event setting, a suit jacket isn't always necessary. Instead, you can go with dress pants and a coordinating vest for an appropriately formal look. The groom can distinguish his attire from his groomsmen's wardrobe with a jacket.
Simple Suit Jackets
If you're attending a wedding on a beach or in another casual event setting, the bride and groom may do away with ties altogether and instead ask the groomsmen to wear dress pants, a white dress shirt, and a lightweight suit jacket. With this type of outfit, the groom may allow his groomsmen to undo the top button of their shirts for a look that's comfortable and easygoing.
Create an appealing visual look by adding a little color to your wedding attire. You can choose to have the pants and jacket in pale pink, icy blue, or lavender. Likewise, you might opt for a colored shirt under a white, tan, or light gray suit.
Bold Pocket Squares and Ties
If you're looking for a creative way to add bold colors and playful patterns in response to the what should a man wear to a summer wedding dilemma, consider adding statement-making pocket squares and bow ties to a lightweight suit. A pale suit and white shirt offer the perfect backdrop for a floral, striped, or checked fabric for your bow tie and pocket square. It's usually best to match these items precisely for a neat, coordinated look. Experimenting with these accessories is an easy way to incorporate wedding colors and theme into your groomsman's attire.
With these ideas, you can look and feel stylish at any summer wedding you'll attend as a groomsman.