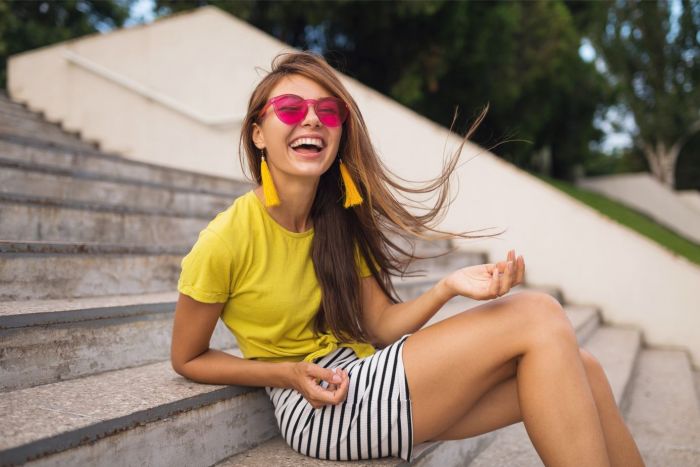 Spring is in the air and it's time to store your winter wardrobe away. Spring is the season to wear light dresses, pretty sweaters, and colorful jewelry. Having a basic capsule wardrobe of 10-15 basic pieces, such as neutral-colored tank tops, colorful blazers, and jeans, can help build the foundation for any spring outfit. Spring of 2022 sees some classic wardrobe ensembles along with several retro-inspired styles. From striped dresses to cut-out sweaters, use these five fashion suggestions to help you pull together trendy spring outfits for any occasion.
Nautical-Inspired Outfits
Nautical-themed outfits never go out of style. This spring, you can make your outfit a bit more contemporary by adding large gold hoop earrings and wearing a trendy wide belt around your waist. Create a cute feminine look by wearing colorful boat shoes and finishing your outfit with a straw sunhat.
Wide-Leg Trousers for Dressy Occasions
Worn by celebrities and stars in the 1940s and 1950s, wide-leg trousers are making a comeback for the spring of 2022. If you're attending a casual or semi-formal spring wedding, it's acceptable to wear wide-leg pants in a long length. Wide-leg trousers with a silky camisole and blazer are appropriate when going to a business meeting, attending an upscale cocktail party, or for an elegant night on the town.
Embrace the Miniskirt
During the 1960s and 1970s, miniskirts dominated the fashion scene. Today, spring 2022 fashion trends for women include updated versions of miniskirts. For a racy look, choose a form-fitting mini skirt paired with a halter-style crop top and high-heel sandals. Create a flirty outfit wearing a mini skirt with a ruffled hem and a blouse with cap sleeves and a plunging neckline. Slip your feet into ankle booties to complete this adorable outfit.
Bare Some Skin With Statement Cut-Outs
From discreet teardrop holes in a top's neckline to wide slashes exposing your waistline, cut-out clothes make a bold statement. When out dancing at the nightclub, feel sassy wearing a catsuit with cutouts that run the length of your sides. Add a hip multilayer gold chain necklace to the catsuit for a show-stopping look. On date night, enhance your curves by wearing a cut-out dress with deep slashes at the waistline and pair the dress with metallic heels.
Personalize Yourself With Craft Culture Clothing
Making or embellishing your own clothes involves do-it-yourself clothing projects such as embroidering a skirt or blouse, making tie-dye T-shirts, or crocheting vests and sweaters. Each piece of homespun or craft clothing is unique and can help you stand out. You can knit a sweater vest to wear over a white blouse, make a necklace and earring set using natural stones, or buy used ties at a thrift store to create a beautiful maxi skirt ideal for spring garden parties.
Spring fashions for 2022 tend to be less formal, focusing on the idea of expressing your uniqueness. After building your spring capsule wardrobe, add the above suggestions to your closet to create on-trend outfits you can wear all season long.