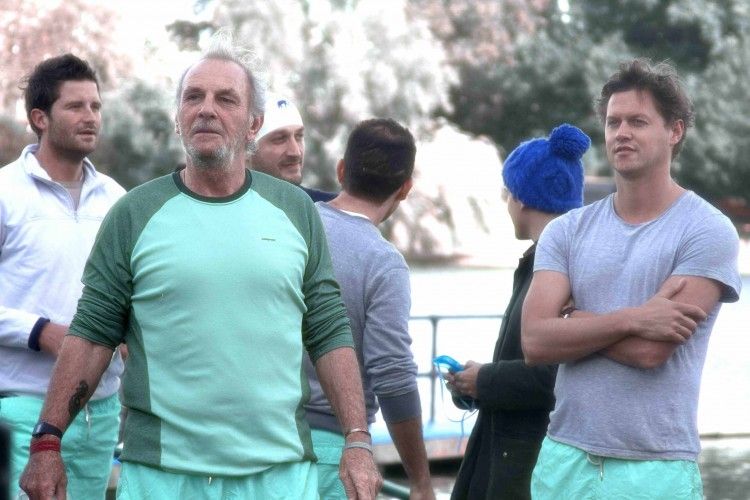 Mark's Team.
Mark Shand, Founder of Elephant Family, and friends decided last Sunday morning to race each other in the iconic Serpentine! This was in celebration of the charity's new partnership with luxury swimwear firm Love Brand & Co., created by London designer Oliver Tomalin.
The fashion/charity project "Trunks for Trunks" is a playful collaboration between the British state-of-the-art swimwearand Britain's leading Asian elephant charity, Elephant Family, "Swimming trunks in support of endangered Asian elephants"!

Reminiscent of a bygone era, early that morning the men met Mark Shand, brother of the Duchess of Cornwall, in Hyde Park, London. On the grassy banks of the Serpentine lake they warmed up while sizing up the competition. Then without further hesitation they braved the bracing waters only wearing their team colours, (Elephant Family in Green) selected from the current collection of classic Love Brand & Co. trunks, notably including silver tusks at the end of the drawstrings!

The crew of 32 men battled out a freestyle swimming relay, racing to raise vital awareness for endangered Asian elephants in the wild. Amused supporters came to watch from vintage deck-chairs at the Lido, with lots of retro cup cakes to go around. The splashing about also attracted more passers by to line the banks of the lake and help cheer on the determined group. The quintessentially British feeling of the morning was made complete by everyone warming up with a cup of tea after the race. The winners, the Cowell Group Team, received a Trophy from Mark Shand who thanked Love Brand & Co for the partnership and gave a big kiss to Jessie, the organiser from the charity.

The innovative Elephant Family, known for their award winning projects The Elephant Parade, Jungle City and The Big Egg Hunt, reportedly would like to make Shand's novel idea an annual event, next year opening the swim in the park to the public.

Love Brand & Co. donates 5 % of its gross profits to Elephant Family.
Mark directing his team.
Love Brand & Co.
The teams get ready
Love Brand & Co.
Swimmer at The Serpentine.
Love Brand & Co.
Mark's Team 2.
Love Brand & Co.