Bala
Like many other gym bunnies, the coronavirus pandemic has forced me to reconsider the way in which I work out. My approach to exercise has shifted seasonally over the past year. During the spring and summer of 2020, I trotted around my local park on most days, but I'm a fair-weather runner and the onset of autumn drew my al fresco exercise routine to an abrupt close. Determined to maintain a level of fitness, my living room became my ersatz gym. As soon as I've put the kids to bed, I pop on Netflix and hop onto my bellicon rebounder for an hour (it's an amazing workout, which I've written about here). It's great fun, and good exercise, but although it provides a cardio workout, I could feel my arm muscles atrophying. I wanted to add a bit of spice to my somewhat bland cardio diet, and whilst I was researching options, I came across the weighted ankle and wrist bands from Bala – a brand founded in 2018 by husband and wife Natalie Holloway and Max Kislevitz. Based on the concept of weighted, wearable bands, made of soft-silicone encased recycled stainless steel, Bala Bangles are sold in pairs and come in three different weights: 1/2 pound (220 grams), one pound (450 grams), and two pounds (900 grams) each. They have an adjustable Velcro strap and add a constant but comfortable resistance to any workout. I immediately realized that they were the perfect solution. The upside to adding ankle and wrist weights to your exercise is axiomatic: increased resistance means more energy exerted. When you expend more energy, you raise your heart rate, burn fat, and build muscle.
Wrist and ankle weights are not a new concept, per se: they were all the rage in the '80s. What makes Bala Bangles feel fresh is how well they are designed and how good they look. As someone who owns a coordinated workout set for every day of the week, I'm far too invested in the athleisure lifestyle to buy and wear something that is not aesthetically pleasing. And I am not alone. Athleisure's rise has mingled fitness and fashion in a way that has altered the wellness industry forever. The focus, until recently, has predominantly been on clothes, however, not accessories.
Bala products are available in more than a dozen colors (including glittery and rainbow variants, in addition to more muted hues, such as blush, bone and matcha), not to mention their other fitness-friendly offerings: Bala Bars, The Power Ring, Bala Bands, Sliders and a cleaning spray – all of which are available as a bundle via the £156.35 All In Kit, which constitutes excellent value for a comprehensive home gym kit.
Bala Bangles have a clean, matte finish, and look ultra sleek and stylish. The design is form-fitting, and they resemble trendy bracelets rather than a piece of fitness equipment. Their chic appearance is not just a superficial benefit, either: I find that I am happy to wear them out and about because they are so attractive. I know of some aficionados who have bought several pairs in different colorways to coordinate with different outfits. This might not seem like much, but if just having them in your house makes you want to use them, and therefore do exercises or workouts that you would otherwise not have done, that's a big pro.
I also love how comfortable the weights are. They are one-size-fits-all, and their Velcro adjustment enables them to fit snugly against my wrist without chafing or irritating my skin when I'm wearing them – even during relatively vigorous cardio. They are also easy to put on and take off, yet the Velcro never comes undone whilst I work out. I also don't have to adjust the weights at all during my workout which was a big plus. I wear my Bala Bangles in conjunction with my Apple Watch (on my left wrist) and chunky bracelets (on my right). I have found no issue whatsoever in the juxtaposition on either side: I ended up just wearing the Bala Bangles further up on both forearms to allow space for my Apple Watch and bracelets during workouts.
The beauty of Bala Bangles is that they are a great way to enhance fitness during everyday activities, such as housework or going for a walk, in addition to adding an extra challenge to a workout. Since incorporating the bracelets into my daily rebounding I didn't expect a single pound per arm to make a huge difference, but the added weight really does make my muscles work so much harder, and I've noticed a significant improvement in tone and definition in my biceps and triceps. I also like that I can easily move them from my wrists to my ankles, depending on what each exercise is targeting.
I also used my Bala Bangles in conjunction with my Bala Bars to increase the combined weight of my HIIT workouts. Similarly, I strapped the Bala Bangles to my ankles while holding onto my Bala Bars for core-centric pilates and yoga sessions. In essence, they are a welcome addition to any at-home workout that might be starting to feel a bit stale after nearly a year of lockdown. That versatility is what impressed me most about Bala Bangles: I really appreciate being able to add hands-free resistance to my workout, which regular hand weights simply don't allow. Everything from planks and push-ups to yoga poses are incrementally more demanding without the addition of any unwieldy equipment.
Bala Bangles are both beautiful and useful (William Morris - whose maxim "have nothing in your house that you do not know to be useful, or believe to be beautiful" is often cited – would undoubtedly have approved). If you're looking to add an extra kick to your quarantine fitness routine — or your day-to-day activities – the All in Kit is a worthwhile investment. Even though the price tag is on the higher side, the kit will pay for itself in all the use you're bound to get out of this fitness equipment that can seamlessly be incorporated into any workout. Opt for a hue that makes you happy and get ready to hit the home gym with renewed enthusiasm.
For additional information, and to purchase, please visit: https://shopbala.com/
The All In Kit is available for £156.35 / $195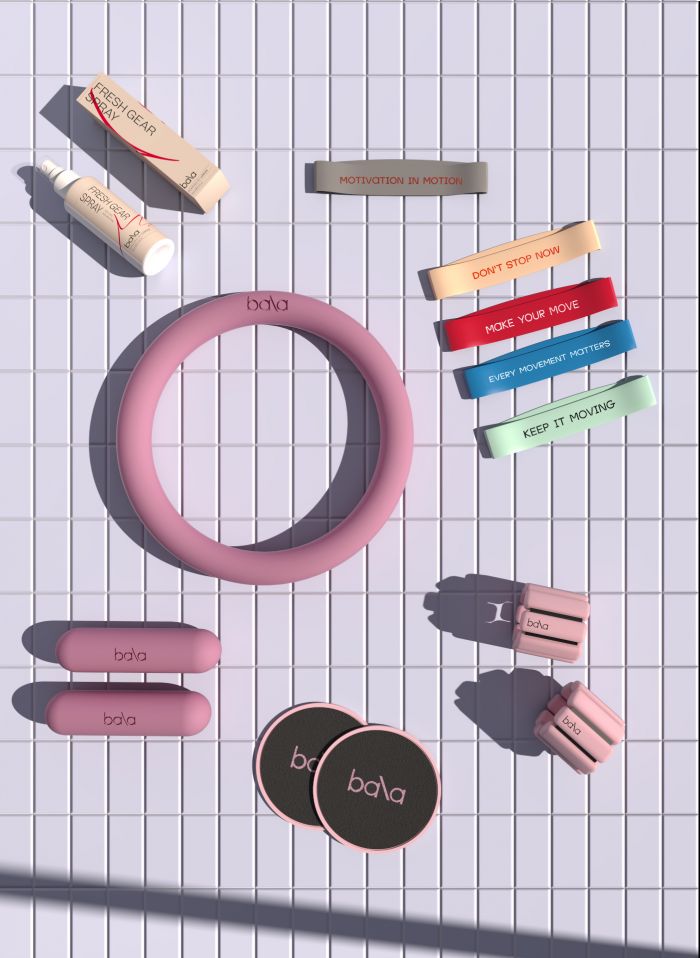 The All In Kit in pink.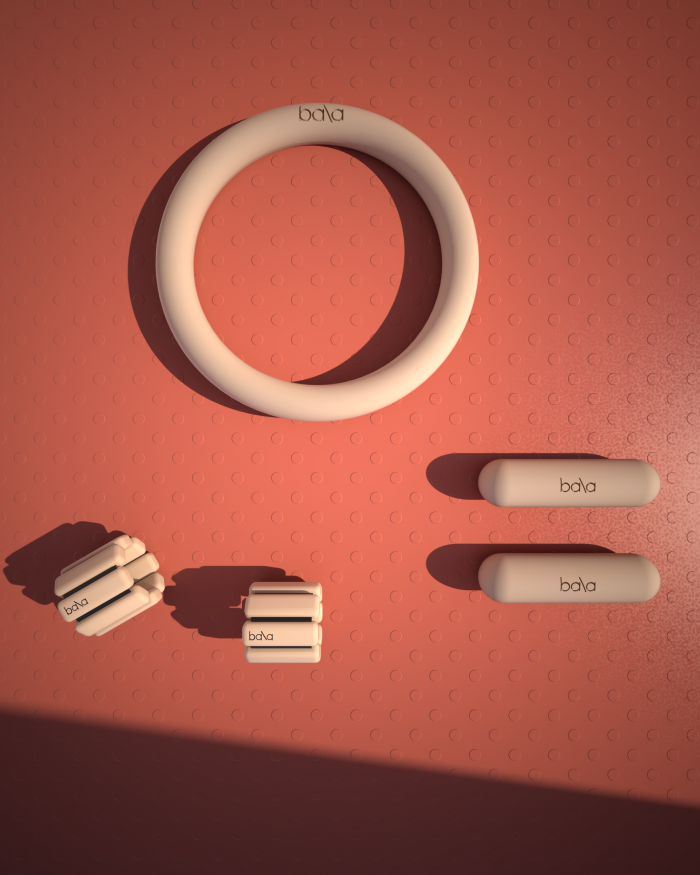 Bala
The Essentials Kit in sand.
Bala
The All In Kit in sand.