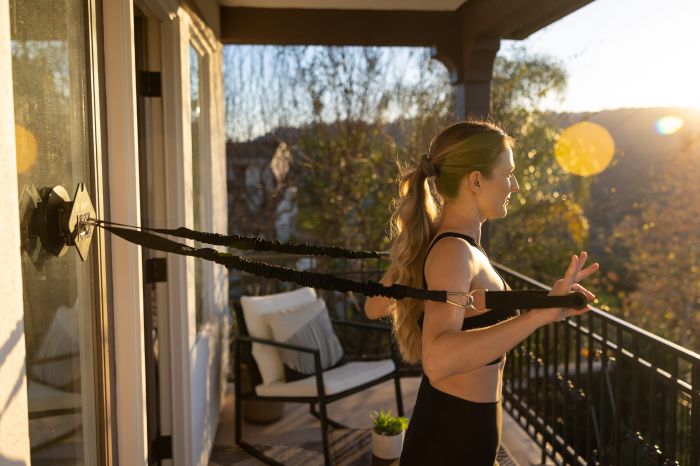 Photo courtesy of BURN180
According to the National Institutes of Health, regular exercise is one of the best things one can do for their health. It improves overall health and fitness, but it also reduces the risks of chronic diseases. One of the types of exercises recommended is strength or resistance training. One company, PRO Fitness Concepts, is helping revolutionize the resistance band training industry, making the BURN180 kit convenient and straightforward for anywhere, anytime, anyone.
"People are more likely to engage in exercise activities if it is easy and convenient for them," shares Dan Markel, co-founder and managing partner of BURN180. "We have made it our mission to give people of all ages and of any athletic level, a simple but effective workout, in their home, office or on the road. Our resistance band system is so simple that anyone can do it easily."
Dubbed as the next-generation resistance band training kit, the BURN180 system has been designed using honest feedback from professional athletes. The founders interviewed professional athletes to get their take on what was lacking using current resistance bands on the market to create the patent pending re-positionable system.
Research published in the journal Current Sports Medicine Reports, reports that inactive adults lose 3-8% of muscle mass per decade. They also experience a resting metabolic rate reduction and have more fat accumulation during that time. Their study showed that 10 weeks of resistance training increases lean muscle mass, metabolic rate and reduces fat. They share that the benefits of resistance training include improved physical performance, movement control, walking speed, functional independence, cognitive abilities, and self-esteem.
Through all the research conducted on what the perfect resistance band system would entail, they went to work bringing it to life. The final BURN180 product features the following benefits:
Easy to use: Takes less than 10 seconds to set up or takedown with easy to follow directions. Many people find resistance band systems confusing or that they need a trainer to get the full benefits. BURN180 comes with suggested easy to do workouts anyone can follow.
Effortless transportability: Having a mesh backpack makes it easy to transport and keep organized.
Endless exercises: Offering over 200 possible workouts, this on-the-go system can strengthen targeted muscle groups, assist in rehabilitation of injuries, and is for professional athletes in any sport. BURN180 also has videos that target specific muscle groups and sports-specific training regimens, so people have direction.
Backed by certified physical therapists: The system comes with workout routines that have been endorsed by physical medicine and rehabilitation physicians.
Re-positionable and portable: BURN180 gives people the ability to get a complete body workout in only 20 minutes and can be done anywhere and at any time. Get a workout while on a zoom call in the office, or before hitting the beach on vacation!
Lifetime warranty: Offering a 100% satisfaction guarantee gives people a 45-day return window if they are not happy with the system.
"Anyone who wants a great full body workout in only 20 minutes will love BURN180," added Todd Wittenbrock, inventor and co-founder of BURN180. "We all need a workout that includes resistance training. Now having that is easier than ever before. This system is not only revolutionary for the industry, but it's life-changing for every person who uses it."
Many celebrities and pro sport athletes have already experienced a positive change from BURN180. The BURN180 kit includes resistance bands, ankle straps, hand grips, chest expander, mesh backpack and a repositionable safe and easy suction plate to adjust your resistance workout on the go. The gear is convenient to use and carry, allowing people the ability to have a great resistance workout in the office, at home, in a hotel room, or a parking lot. Skip the drive time to the gym or pilates class, and elevate your training to pro-level at home! To get more information about BURN180 or purchase the system, visit the site: https://burn180.com.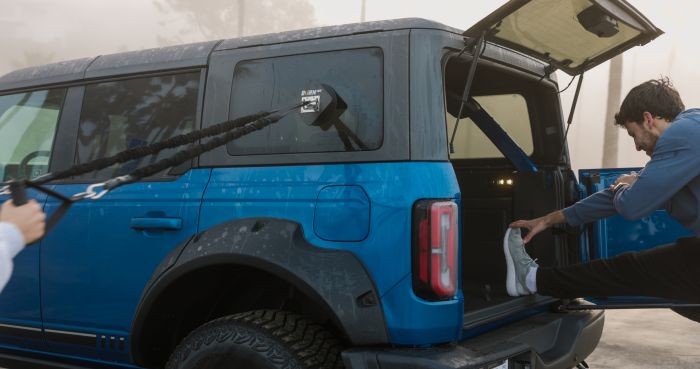 Photo courtesy of BURN180