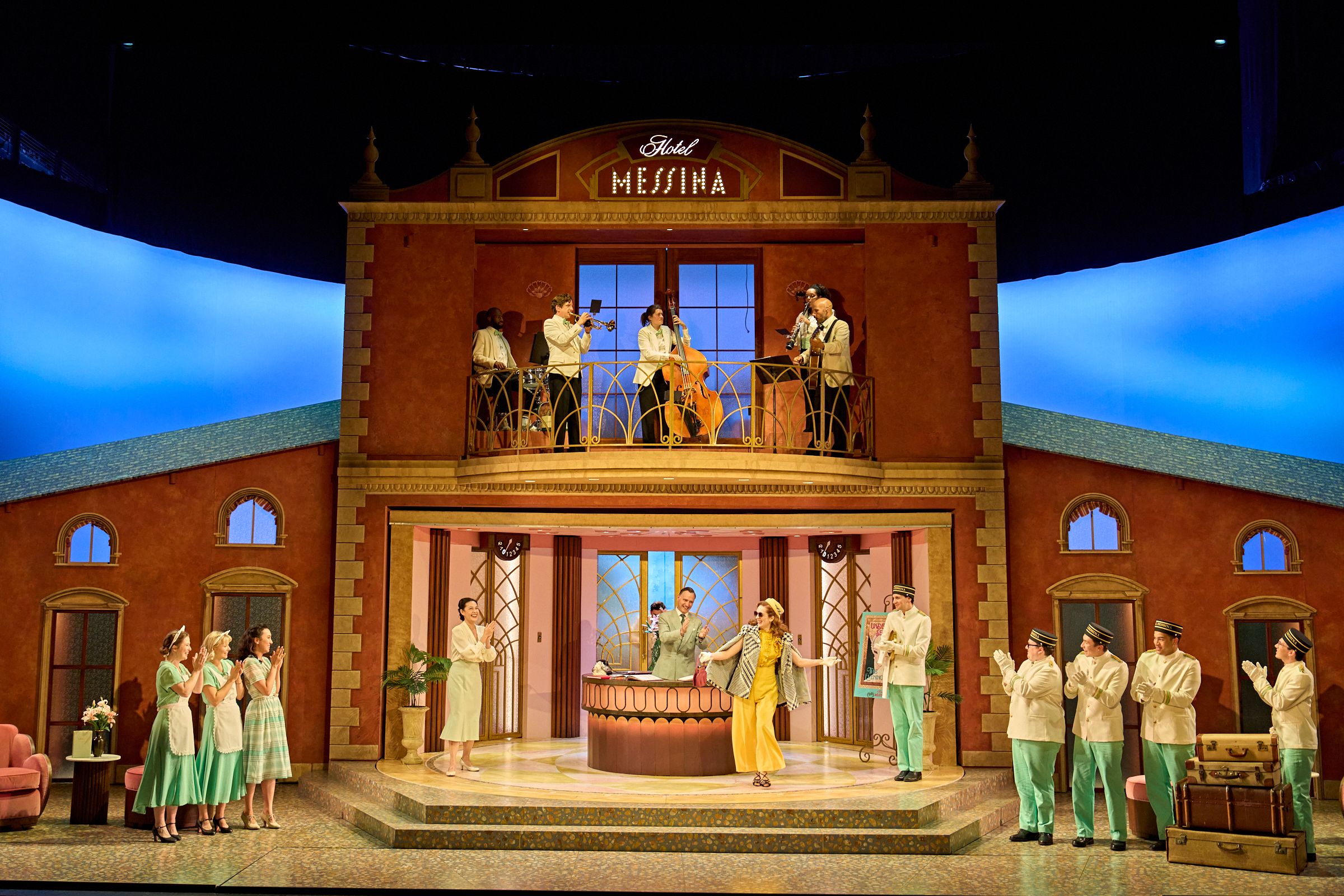 Manuel Harlan
Director Simon Godwin and designer Anna Fleischle have concocted a luxurious production of Shakespeare's archetypal romcom – 'Much Ado About Nothing' – that is a true extravaganza, on every level. The setting is the decadent, Art Deco Hotel Messina, a fantasyland in 1930s Sicily, in which the staff sport starched pastel polo shirts, the women wear an endless succession of palazzo pants and fancy frocks and ostentatious headwear, and the eccentricity is amped up to max. The soldiers who frequent the Messina would presumably be henchmen of Mussolini's fascist government, but the whimsical tone of the production doesn't trouble itself with anything as prosaic as reality.
The overriding emphasis here, happily, is on an easy sense of fun and froth (with a brief descent into darkness in between). There is a live swing band, with Dario Rossetti-Bonell as music director, plus flamboyant song, dance and Evie Gurney's exquisite costume designs of slinky, shimmering silks, feathers, and glittery suits. The entire show is a real feast for the eyes, as well as the ears. Godwin and Fleischle's decision to accentuate the various characters' foibles is a smart one: too often productions of 'Much Ado' can slip into the pattern of concentrating on the sparky clashes of tempestuous lovers, Beatrice and Benedick, as if their witty discourse was the main object of the entire play. Here Katherine Parkinson (Beatrice) and Jon Heffernan (Benedick) portray them as quirky individuals amid other eccentrics. Parkinson has an astonishing, and completely hilarious way of excavating funny new intonations and emphases from Shakespeare's words, and her performance – including her dancing and singing – is a real highlight of the show, however it by no means eclipses the other excellent acting on display. The casting of Eben Figueiredo and Ioanna Kimbrook as Claudio and Hero was a masterstroke: usually they are a rather dull couple whose romantic trajectory only becomes interesting when it is disrupted by the maleficent Don John. Kimbrook brings a delightful degree of mischievous vivacity to the typically insipid role, with Figueiredo's fragile masculinity provides the perfect counterpoint.
Reducing the scale of the play to the inner workings of a hotel is a masterstroke: it makes the machinations of David Judge's Don John seem more insignificant than incongruously operatic. David Flynn's jobsworth Dogberry as the hotel's screwball head of security suits the character perfectly, and knits the various strands of the plot together pleasingly as his motley crew of inexperienced officers ultimately save the day by unpicking Don John's plot.
Fleischle's large, versatile sets are a marvel, popping up and down and whirling around to reveal new parts of the hotel, from the lobby to the spa. There are some downright hilarious physical comedy set-pieces – in particular Heffernan's Benedick concealing himself variously in a hammock and then an ice cream trolley, and ending up ignominiously plastered in gelato, sprinkles and sauce. There's a tremendous five-piece band. We may be in straitened times, but there is no evidence of any austerity in any aspect of this production.
This is a polished fantasy, extremely easy on the eye and a consummate ensemble comedy. You leave the Hotel Messina not hugely moved or surprised – but charmingly entertained.
Much Ado About Nothing is at the National Theatre's Lyttelton Theatre until 10 September
For tickets, please visit: nationaltheatre.org.uk/shows/much-ado-about-nothing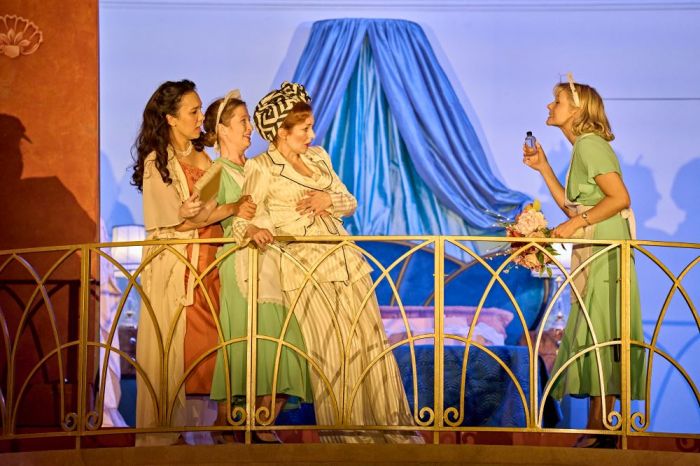 Manuel Harlan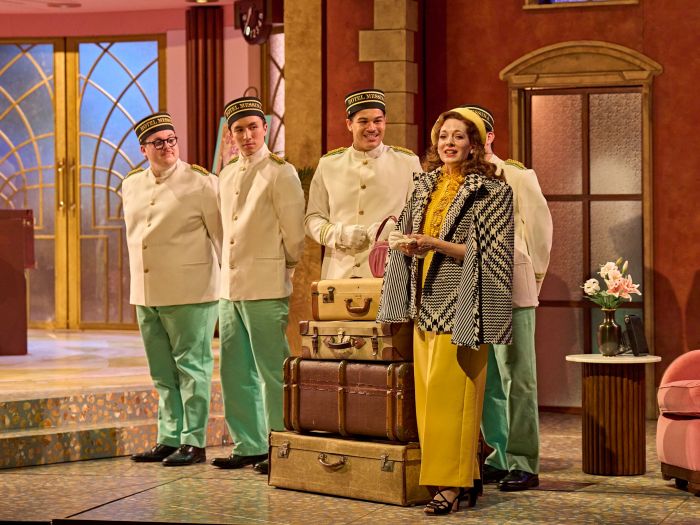 Manuel Harlan
Manuel Harlan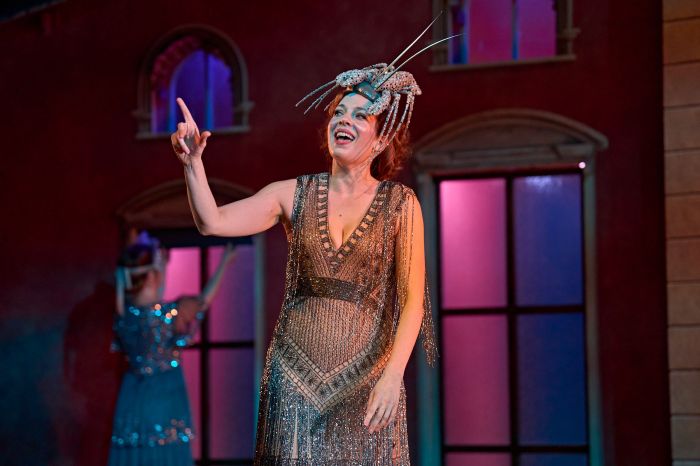 Manuel Harlan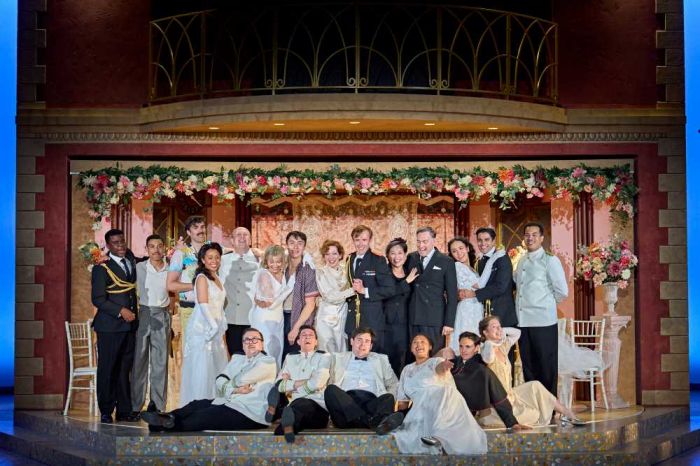 Manuel Harlan