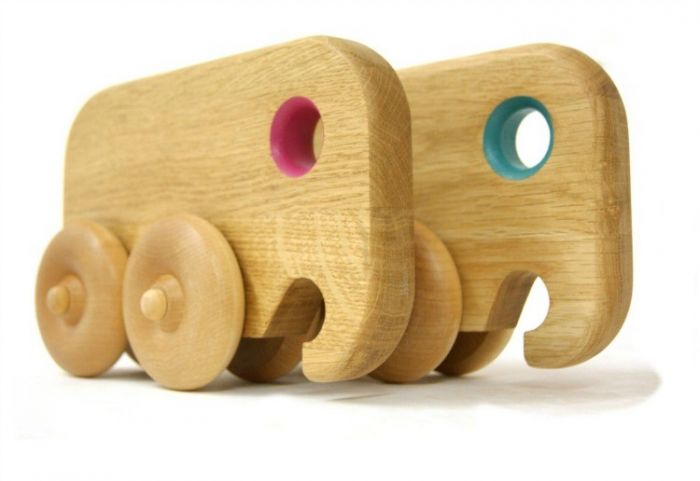 Courtesy of Loubilou
Christmas is all about children. With that in mind, we select our top five festive gifts for kids.
This will keep the kids quiet for ages over Christmas. The new KidzPlay is designed to improve game play for children aged over six. The official PlayStation 3 devices include the Wireless Adventure Game Pad which boasts rubber handgrips and simple button layout. Available in bright colours, this new brand allows young children to join in the gaming action as well. With Skylanders Swap Force and Disney Infinity top of wishlists this year, KidzPlay makes the perfect accessory. From £29.99
This chunky wooden push-along elephant is a wonderful present for a toddler. With bold, handpainted features and available in boy and pink, it's a lovely gift for either a girl or a boy. Handmade in the UK from hard wood and available through Loubilou, the smooth elephant is a height of 15cm, and will be a firm favourite in any toy box. £25.
These adorable personalised storybooks tell the tale of The Little Girl/Boy Who Lost Her/His Name. Cute the adventure of a lifetime as they take up the challenge of finding each letter, encountering magical characters and enthralling adventures along the way. As the sequence of each story is dependent on the name of the child more than 236 illustrations and rhyming stories have been created to cater for every single name in the UK. A wonderful keepsake gift. £18.99 www.lostmy.name
Christmas wouldn't be complete without Star Wars. This year, our favourite model from the cult movies is the Starfighter – perfect for children over the festive period. At £22.99, the Plo Koon blue Revell Easykit is pre-painted and simple to put together, with parts that clip together without the need for glue. A sense of achievement as well as a top present will keep over-eights amused for hours on Christmas Day! Revell model kits are available from www.amazon.co.uk and all good toy and model retailers. For further information visit www.revell.de/en £22.99
HappyHopperz have taken the original concept of the fun Space Hopper ball and reinvented the design for the toddler market. With four feet always planted on the ground and only 12 inches off the ground, the award-winning design is perfect for encouraging early coordination and development. They come in different styles suitable for different ages, but we love Loubilou's Christmassy red deer, perfect for children between 12-24 months. £25.99
Courtesy of KidzPlay
Courtesy of www.lostmy.name
Courtesy of Revell
Courtesy of Loubilou