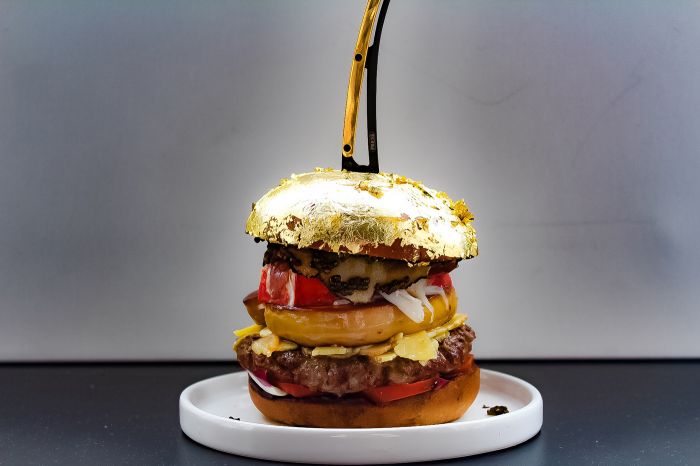 Photo Credit: Chef Diego Buik
Sometimes there is nothing better than biting into a big, flavorful burger. With a long history of unique ingredients and a plethora of ways to serve a burger, we bring you some of the most lavish, over-the-top burgers and where to find them all over the globe.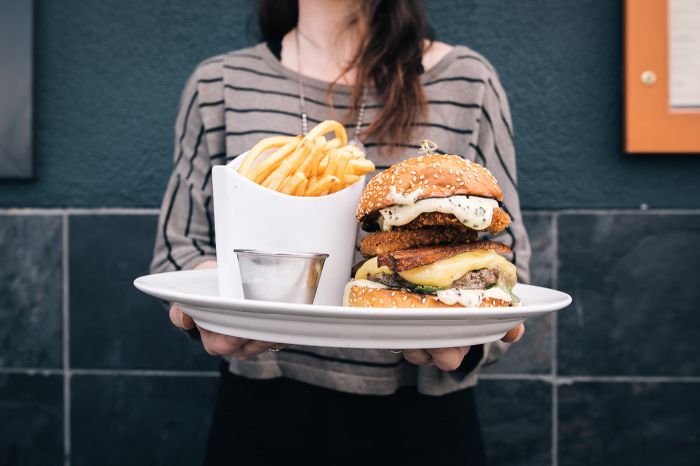 Photo Credit: The Dorian
The Dorian—San Francisco, California
This mouth-watering burger can be found at The Dorian. Complete with fancy sauce, white cheddar bacon jam, "billionaire's bacon" and fontina friend green tomato, it is topped off with a decadent truffle aioli.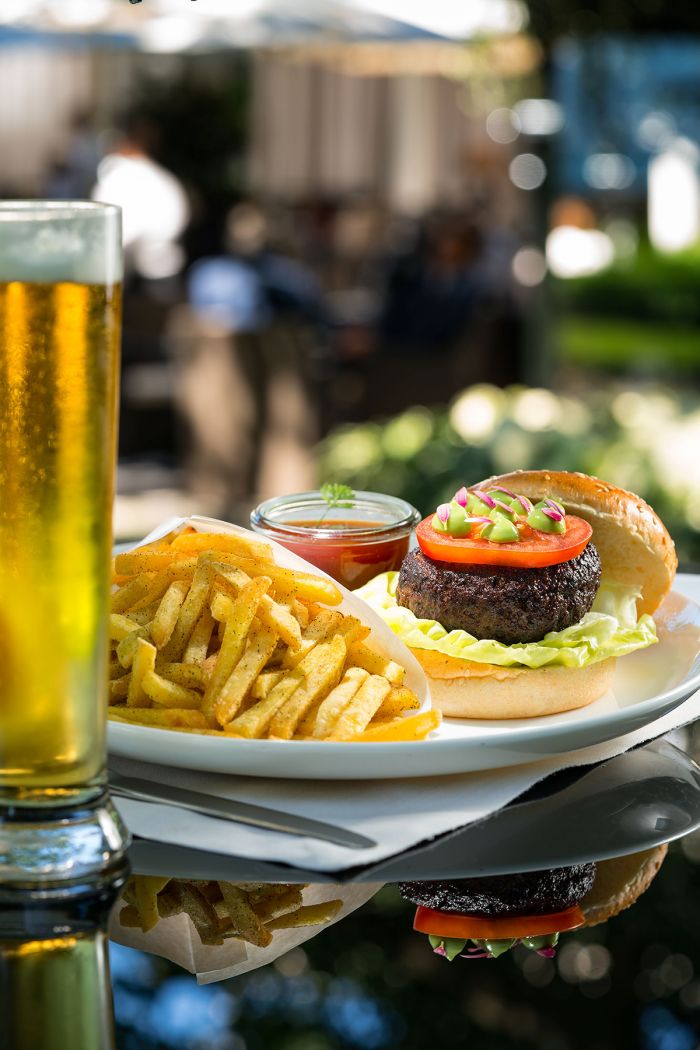 Photo Credit: Baur Au Lac
Baur Au Lac—Rive Gauche Restaurant, Switzerland
With breathtaking views from the property, a visit to the Rive Gauche Restaurant is worth a visit for the RG Wagyu Beef Burger Rossini, composed of Waygu Beef, topped with duck liver, lemon mayonnaise, braised shallots and herb French fries.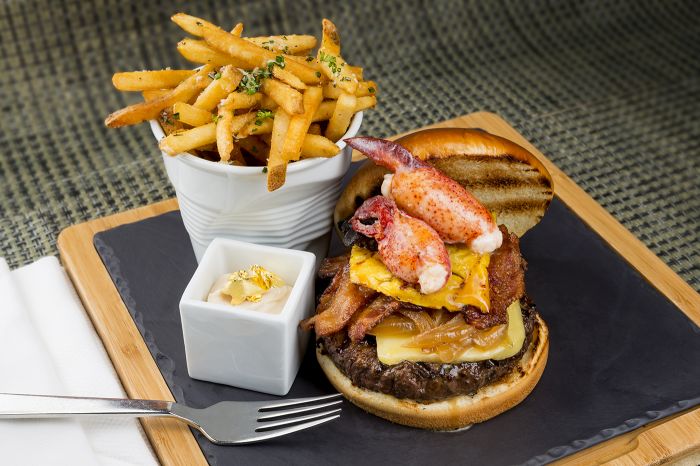 Photo Credit: Koa Kea
Koa Kea—Red Salt Restaurant, Kaua'i Hawai'i
The Garden Isle is a perfect place to enjoy the beach and a juicy burger—the Red Salt Burger is a decadent Snake River Farms Waygu sirloin, seared foie gras, butter-poached Kona lobster, sweet and sour pineapple, smoked bacon, caramelized onions, aged cheddar, garlic and gold aioli, and truffle French fries.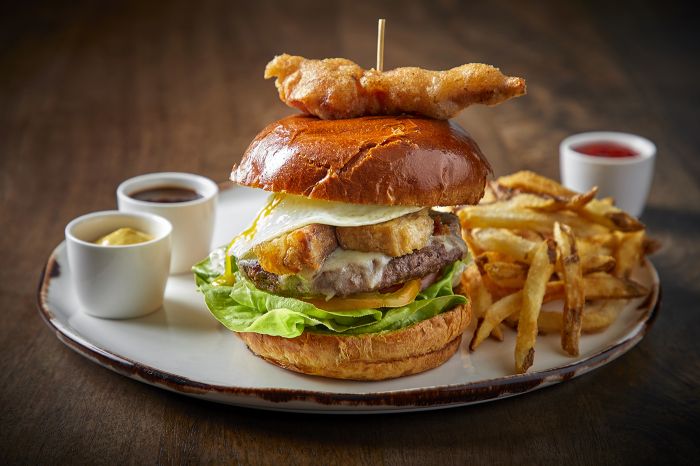 Photo Credit: Four Seasons, Neil Burger
Four Seasons Chicago, Allium Restaurant—Chicago, Illinois
Straight from the Windy City, Chicago is known for their food scene. This over-the-top burger incorporates a crispy lobster claw, Angus beef, pork belly, over medium egg and avocado mayo.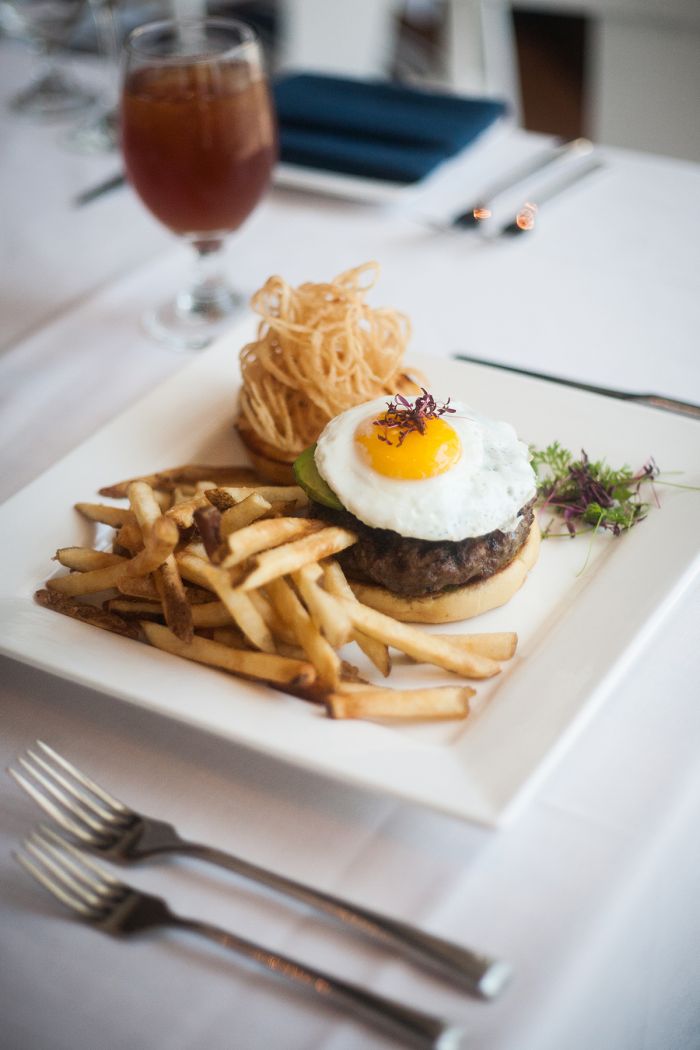 Photo Credit: Wyndham Grand Clearwater Beach
Wyndham Grand—Clearwater Beach, Florida
Seeking something with an Asian flair? Look no further than this Clearwater Beach, FL locale. The Seoul Burger includes avocado, crisp onion, a sunny side up egg, togorshi aioli and kimchi pickles.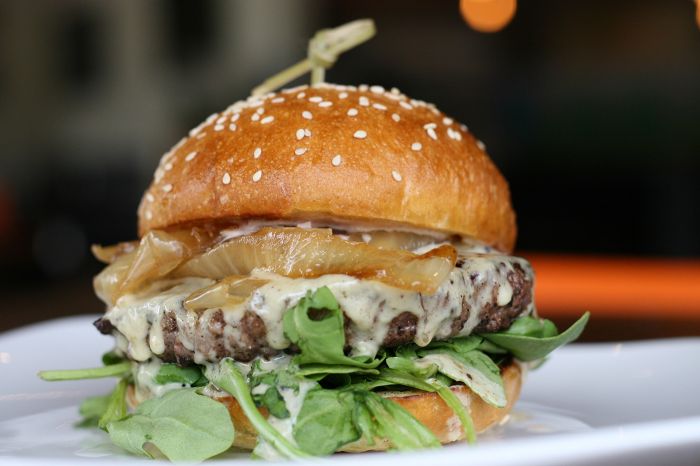 Photo Credit: 5280 Burger Bar
5280 Burger Bar—Denver, Colorado
Now with two locations in Colorado, the 5280 Burger Bar brings hungry guests the Steamboat's Best Burger featuring Colorado Angus beef covered in Gruyere fondue, caramelized onions, arugula and savory remoulade.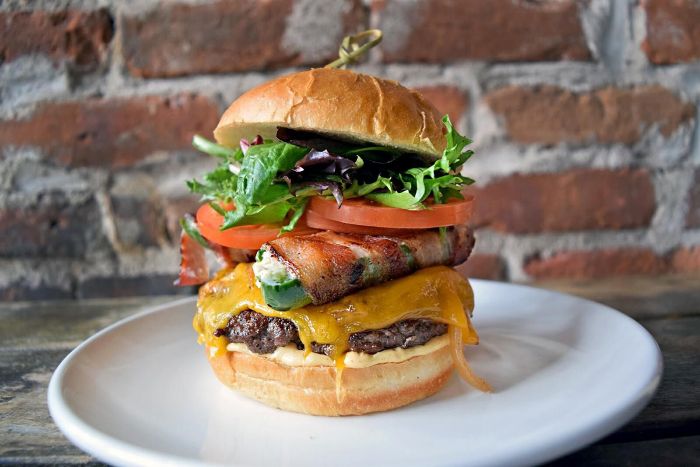 Photo Credit: ViewHouse Eatery
ViewHouse Eatery—Denver, Colorado
Another Colorado location, ViewHouse overlooks the nearby baseball park and Denver skyline. Biting into the Jalapeño Explosion Burger, diners enjoy Savory Spice Mt. Elbert All-Purpose seasoning, locally-sourced, sweet caramelized onions, sharp cheddar cheese, and house-made, bacon-wrapped jalapeño poppers stuffed with mozzarella cream cheese.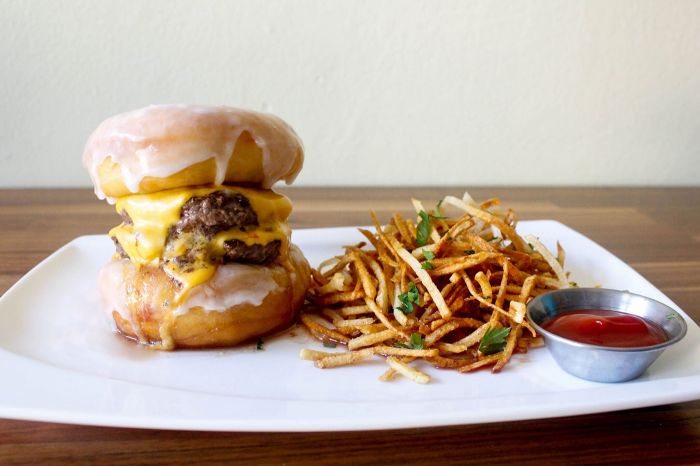 Photo Credit: Straw
Straw—San Francisco, California
Back to CA for a carnival-inspired restaurant in the Hayes Valley. The Ringmaster burger is made on two house-made donuts for a unique twist on a classic favorite. For bigger appetites, an "over the top" version for double, triple, or tower is sure to fill even the most insatiable hunger.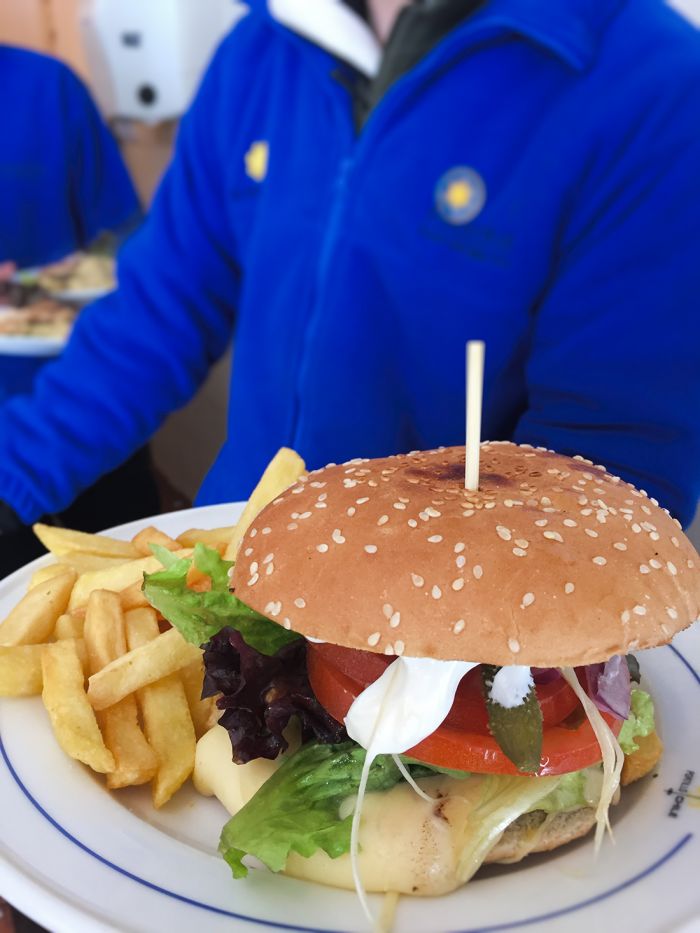 Photo Credit: Ski Portillo Resort
Ski Portillo Ski Resort, Tio Bob's—Portillo, Chile
With breathtaking views of Lake Inca and the Andres, Tio Bob's slopeside restaurant is an ideal place to enjoy a burger. The Rogan Burger, named after Ski Potillo's Operations Manager, consists of a beef patty, avocado, cheese, bacon, tomato, lettuce, onion and a fried egg.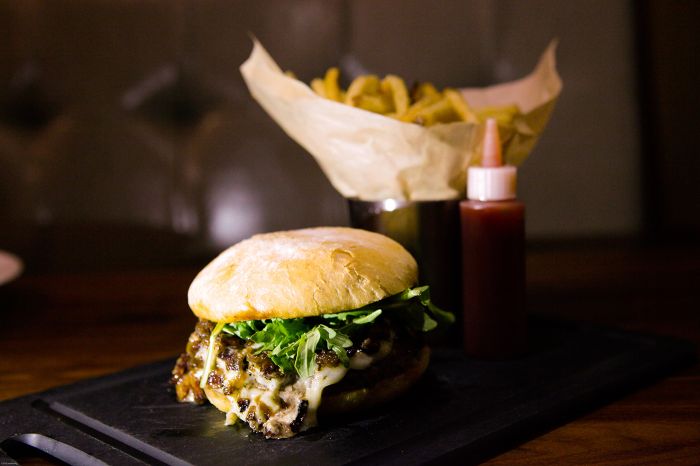 Photo Credit: Del Frisco's Grill
Del Frisco's Grill—Nationally
The Quinn Burger is available at all 24 Del Frisco's Grill locations across the country. Six ounces of house-ground filet mignon is topped with house-made bacon onion jam, arugula, gorgonzola, gruyere and grain mustard.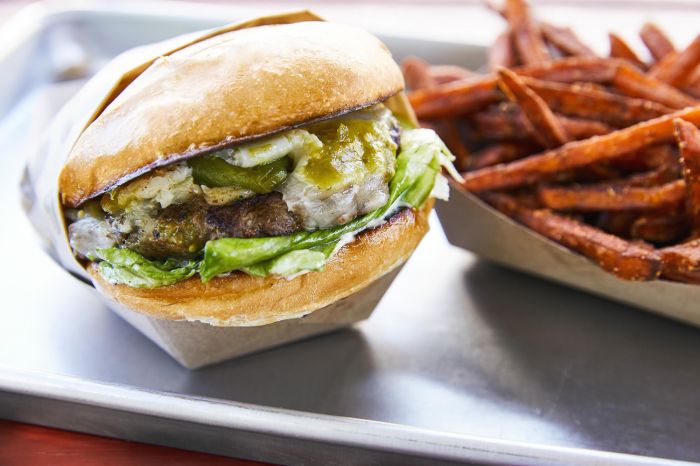 Photo Credit: Gott's Roadside
Gott's Roadside—Napa, California
Taking on roadside classics, this Northern California-favorite specializes in the hamburger. Made with Niman Ranch beef, grilled Anaheim chili, jack cheese, lettuce, red onion, salsa verde, and charred jalapeño mayo, the Green Chile Cheeseburger is one of many delicious burgers on the menu.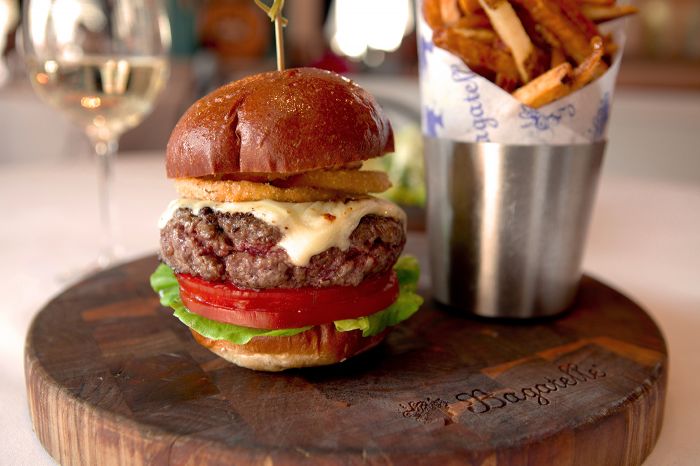 Photo Credit: Bagatelle
Bagatelle—Internationally
With locations such as St Barth, Sao Paulo and Ibiza, this butcher house-blend patty served on a potato bun, with American cheese, truffle mayo, crispy fried onions and a side of pomme frites, guests can chow down around the globe on the Cheeseburger Bagatelle.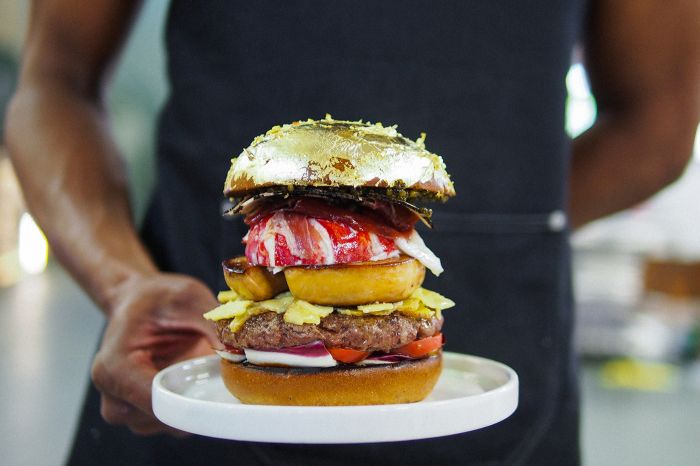 Photo Credit: Chef Buik
South of Huston—The Haag, Netherlands
Awarded the most expensive burger by the Guinness World Records, this burger's pricetag comes in at about $2,300. Created by Chef Diego Buik, a lover of burgers himself, this amazing creation is top-quality Wagyu steak, topped with lobster infused with Hermit Dutch Coastal gin, artisan Remeker cheese, Japanese tomatoes and Iberian ham. The show-stopping 24k, edible-gold bun truly makes for a meal to remember. While not on the restaurant's menu, Chef Buik is quoted as saying he's happy to make the burger for a guest with plenty of prep time.