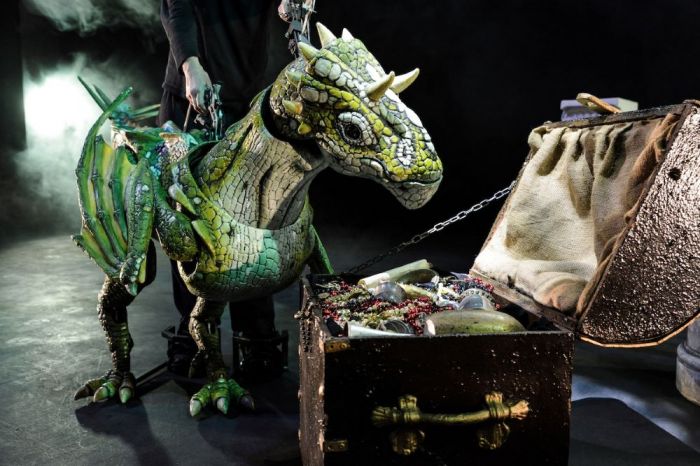 Founded in 1932, Regent's Park Open-Air Theatre is arguably central London's most beautiful and secluded theatre, totally enveloped by one of the most picturesque Royal Parks. It is completely uncovered, and consequently, open only between May and September each year. Though its twinkling, manicured prettiness makes the theatre resemble something out of 'A Midsummer Night's Dream', we are here to see a show featuring an entirely different set of fantastical creatures.
This August, the team behind the family extravaganza Dinosaur World Live are back with another fabulous puppetry experience – interactive theatre spectacular Dragons and Mythical Beasts, written by Derek Bond. It's part of the rescheduled 2020 season, which was postponed for obvious reasons. This latest puppet-led show is decidedly more emotionally rewarding than its predecessor. There are stunning puppets, but there's also an ingenuous enthusiasm and optimism that illuminates the show from within.
The production introduces children to some of the most extraordinary - and terrifying beasts from myth and legend, like the Stone Troll, Japanese Baku, Unicorn, Griffin, Tooth Fairy, Dragon, and Indrik (an amalgam of several different creatures). The narrator is charismatic and affable, if somewhat hapless, hero trainer Dave, who is redolent of a sporty and earnest Harry Potter, and is played with gusto by Ben Galpin. Dave's aim is to turn us, the audience, into heroes, a mission that can only be accomplished by confronting the menagerie of monsters that moan and groan beyond the theatre walls.
The production is polished and entertaining – with a few Zeitgeisty jokes about social distancing and hand sanitizer that will probably go over the kids' heads, but will be appreciated by the adults in the audience. The climax is also cleverly calibrated: we are initially presented with Max Humphries' less intimidating puppets, before being subjected to the most daunting creations. Co-director Laura Cubitt elicits nuanced movement from the beasts (artfully maneuvered and voiced by up to three puppeteers each), but it's the animals' personalities that are most impactful. George the dragon is loveable, playful, and puppylike, whilst the shrill, squealing, tooth fairy is both visually and aurally bizarre.
There is an enjoyable element of audience participation: one child is invited to assist Dave on four separate occasions during the beast encounters. Apart from the occasional volunteer leaping on stage, the rest of the audience remains spellbound and motionless - entirely engrossed in the action unfolding before their eyes.
This will appeal to kids of all ages, and whilst it is recommended for children aged three and up, it is totally toddler-friendly, and my two-year-old was also a huge fan (if slightly traumatized by the troll and the tooth fairy!)
At Regent's Park Open Air theatre, London, until 5 September. Then touring the UK.
For tickets, and to book, please visit: https://openairtheatre.com/production/dragons-and-mythical-beasts
.