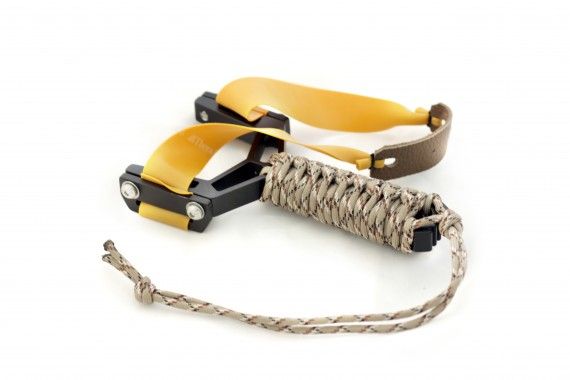 Montie Gear
It doesn't take much to turn a grown man into a child. Give him a slingshot and he will quickly regress into a giddy adolescent waiting to run outside and launch a rock in the backyard. Trust us. We've seen it.
Meet Montie, the creator of hunting and camping gear and now also the proud manufacturer of one of the coolest big boy toys – a high-tech slingshot. It's addictingly fun to send everything airborne from this lightweight handheld device.
The unit itself features an aluminum frame for strength, a tapered flat band and leather pouch assembly. It also has a 16 pound pull weight at approximately a 28" draw for the ultimate launch. The band has a tapered shape for a fast shot and long life. The handle is also wrapped with 550 test weight paracord (in case you might encounter a need when launching a slingshot – not sure what the need is but it sure looks cool).
Not to sound like everyone in "A Christmas Story," but because a slingshot does require some skill, be careful not to shoot your eye out.
For more information, visit www.montiegear.com.