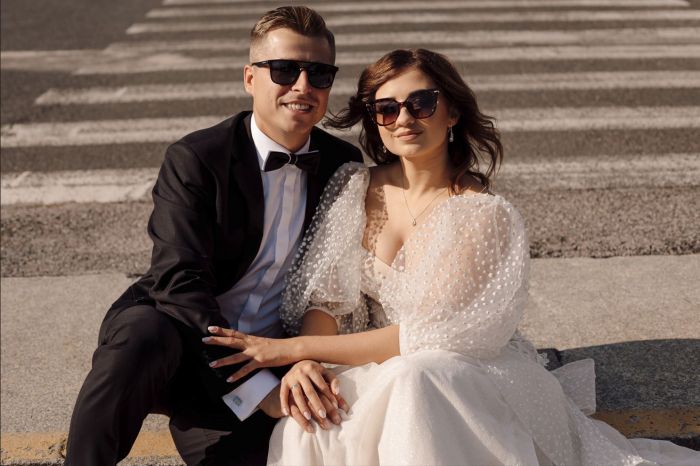 Photo Credit: Shutterstock
As the bride-to-be, you want to look and feel your best on your special day. From your dress to your accessories, every detail should be perfect. But what if you wear eyeglasses? Should you compromise on your vision for the sake of looks? Not at all! Here's how to match your wedding dress and eyeglasses to look stunning on your big day.
Things to Consider When Choosing Your Wedding Glasses
So, you have decided you will be wearing wedding eyeglasses on your big day; which ones should you get? Picking out the ideal glasses for your wedding can be overwhelming. Well, not overwhelming per se, but it can get you worked up. Here are essential things to consider when choosing your wedding glasses.
Your Wedding Theme
Your wedding theme sets the mood and look of your special day. Whether traditional, bohemian, minimalist, rustic, or glamorous, your eyeglasses should match the theme to create a cohesive look. Getting eyeglasses that suit your wedding theme and complement it best is vital. You can have your bridesmaids match things up and create an excellent colorful pattern.
Your Wedding Dress Style
One of the most crucial parts of any wedding is the wedding dress. Therefore, you should get glasses that suit and complement your wedding dress. Depending on the style of your dress, you can choose the right eyeglasses that will add to your overall look. For instance, if you're wearing a vintage-inspired gown, you could opt for retro-inspired browline or cat-eye glasses. If you're wearing a modern dress, sleek and minimalistic eyeglasses would be a great choice.
Face Shape
Your face shape plays a vital role in determining which eyeglass frames will look best on you. Different face shapes suit different frame shapes. For instance, round faces look great in angular frames like square, geometric, and oversized frames. Heart-shaped faces, on the other hand, look great in oval and rectangular frames.
Hair and Makeup
Your hair and makeup should work in tandem with your eyeglasses to enhance your facial features. Round frames will be a great option if you're going for tousled hair or beach waves. For a sleek ponytail, either cat-eye or round glasses would pair well. If you opt for a chignon or bun, you try out square, rectangle, or oval frames. Neutral and natural makeup looks great with thin, minimalist frames. For brides who want to add a pop of color to their makeup, bold and thick-rimmed glasses would work wonders.
How to Pair Your Wedding Dress and Eyeglasses?
Once you've found your dream dress, choosing the right wedding eyeglasses to match should be easy. However, some brides find pairing their wedding dress and eyeglasses challenging. Here are suggestions for the eyeglasses you should choose depending on your gown's silhouette!
A-line
As the name suggests, this classic silhouette is modeled after the alphabet. The dress has a unique fitted bodice flaring from the waist all the way to the hem. Irrespective of your eyeglass design, the A-line design will complement them. However, you still have to consider the shape of your face when settling for the frames.
Ball Gown
The ball gown style gives you a glamorous look of a Disney Princess. It has a unique design that hugs your upper body and winds up in a voluminous skirt that depicts class and magic. With such a bold dress that will have everyone's eyes on you, go for simple eyeglass frames in pale or neutral tones. This touch complements your dress best.
Mermaid
This unique design is meant to complement your curves. It hugs your hips, waist, and chest and winds up and down in a dramatic version. This sultry, hourglass-shaped dress would look great for cat-eye or retro-inspired browline glasses.
Trumpet
The silhouette is a fine line between the mermaid and the A-line. Its unique design fits your body and brings out the best features. Similar to the mermaid style, browline or cat-eye frames would enhance the gentle curves of this dress.
Tea-Length
Also referred to as the Fifties-style wedding dresses, short tea-length wedding dresses with petticoats and full skirts are a classic favorite. This design was popular in the 1950s and an excellent classic to match with eyeglasses. You can opt for round or oval frames that match your face shape.
Sheath
This is another unique wedding gown design that can complement your eyeglasses. With this gown, you have various eyeglass options to consider. However, a minimalist and sleek frame would complement this dress perfectly with a straight-falling skirt and a more fitted style.
Conclusion
Matching your wedding dress and eyeglasses is all about finding the right balance. Consider your wedding theme, dress style, face shape, hair, and makeup, and choose frames that complement your overall look. You can look and feel your best on your special day with the right pair of glasses.