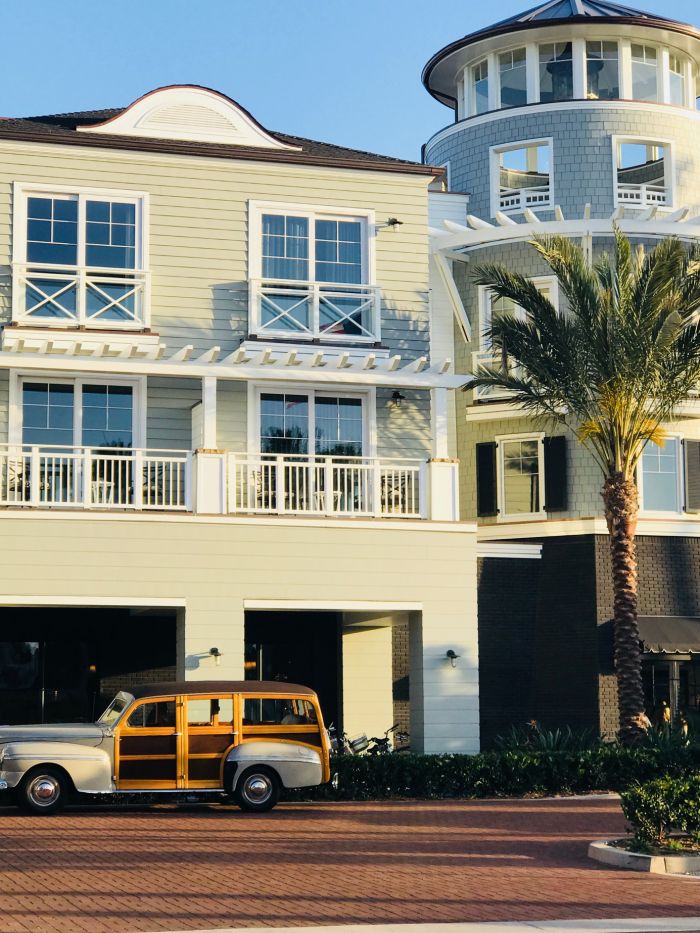 Jill Weinlein
Driving up to the new Cape Cod style Lido House Hotel in my new Lincoln Black Label Navigator, I noticed a classic 1946 Lincoln Mercury Woody Wagon parked out front. A valet named Justin told me it was the owner's car. This was one of many old meets new moments while staying at the resort.
Inside the lobby I immediately noticed a pleasing scent, similar to when you walk into an Abercrombie store and inhale their signature essence. Inquiring at the front reception desk, I learned the aromatherapy the Lido House infuses is a clean and fresh Golden Bamboo fragrance.
This new resort sits on the site of the former City Hall. It's privately owned by Bob Olsen and a group of local investors and managed by the Marriott Autograph Collection. Olsen's car is the woody wagon parked out front, and inside is an onsite restaurant The Mayor's Table Pacific Pub and Kitchen showcasing a "Wall of Elders" photo gallery, paying homage to the current and past Mayors of Newport Beach.
As president and chief executive of Newport Beach-based R.D. Olson Development, Olsen has had years of experience carefully crafting hotels, homes and restaurants incorporating the quintessential coastal lifestyle, by blending with the community surroundings.
Upstairs on the fourth floor is the only rooftop bar and lounge in Newport Beach called Topside Roof Deck. Guests taking the elevator up to the top are welcomed by a colorful three stories tall whimsical mural of a mermaid and octopus. Since the day it opened, this sophisticated and celebration-worthy ocean and marina view setting offers the ultimate sunset cocktail hour social scene.
The standard guest rooms are decorated in nautical blue and white colors with a splash of yellow in a throw pillow and bright cranberry-red door. Inside the closet, guests can don a plush robe and blue flip-flops (instead of slippers) with the Lido House logo. These signature flip-flops can be worn at the pool area, spa, or walk to the beach. Guests are welcome to take these shoes home to remember their Lido House experience.
Other room amenities include a spacious bathroom with a tub and shower combination and spa-like amenities. There are an in-room safe, small refrigerator and sitting area. Some of the rooms have a sliding door opening onto a balcony with two chairs and a small table.
There are 8 stylish suites offering kitchens, fireplaces and spacious living areas, patios or balconies. The resort also has five uniquely decorated three-level cottages named after the islands in Newport Beach. These ultimate Beach Houses have a rooftop deck with a barbecue, fireplace and views. There are two full bedrooms and a full kitchen. Each cottage is designed by a local or global interior designer.
Breakfast, lunch, and dinner are available at The Mayor's Table restaurant. Server Derek remarked that the restaurant and pub have already gained a steady following with its focus on innovative craft cocktails, upscale wine list and seafood and vegetable-forward cuisine by Executive chef partner Riley Huddleston and Executive chef Janine Falvo. Guests can watch the chefs in the large open action kitchen while sitting in a cozy marine blue upholstered booths or chic communal tables. Contemporary lighting illuminates the ocean hue placemats and trendy green water glasses.
Another culinary option is inside the onsite lighthouse named Crew Coffee + Cremerie. In the morning the staff make specialty coffee, tea and provide a variety of baked goods. Later they make handmade waffle cones to fill one, two or three scoops of ice cream. They also make a signature hand dipped "Lido Bar", a unique take on the classic Balboa Bar.
Guests looking to stay active, can work out in the large gym, take a complimentary bicycle out for a spin around Balboa Peninsula or Lido Island, and swim in the heated pool and nearby bubbling hot whirlpool.
For those looking to unwind, the pool area offers comfortable lounge chairs shaded under white umbrellas, or private cabanas to read a book, sip champagne and take a nap.
The new Lido House Hotel offers a little bit of the old, with a lot of new that appeals to all of your senses.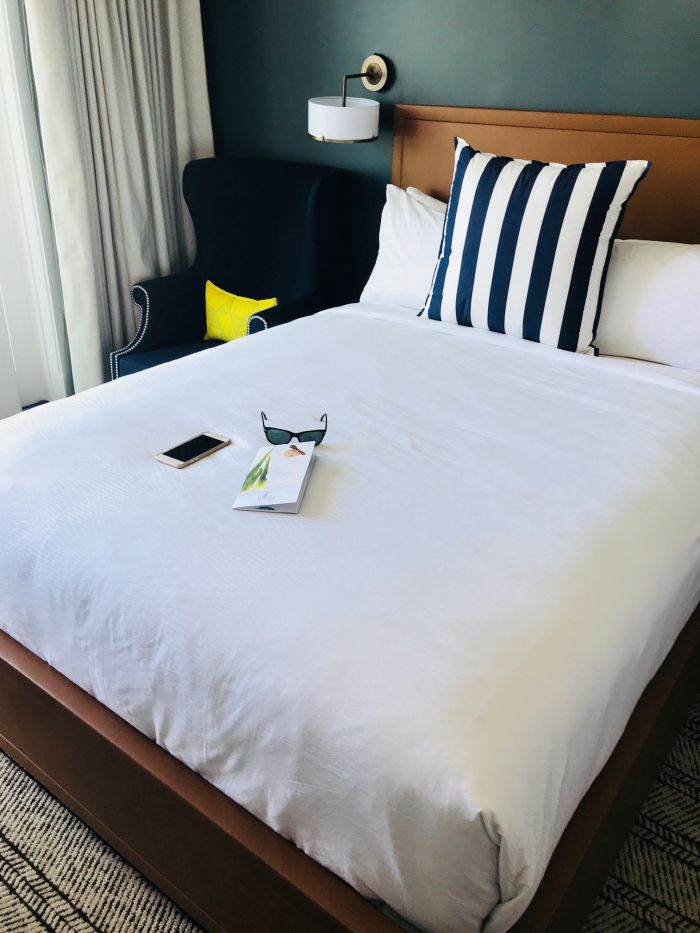 Jill Weinlein
The new Lido House Hotel offers a California nautical theme throughout.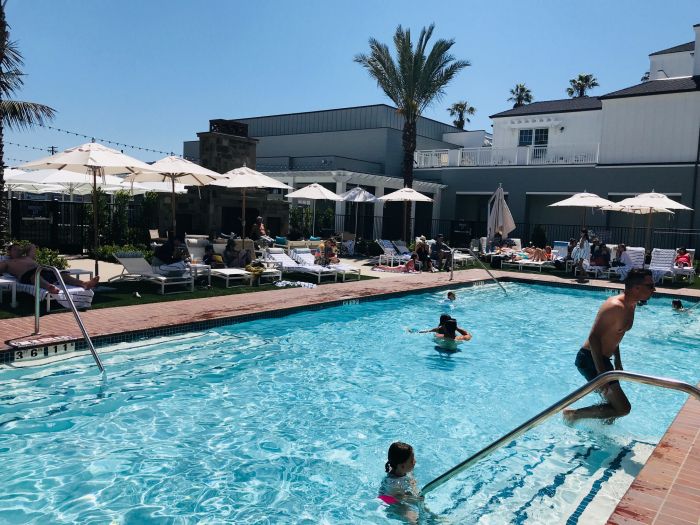 Jill Weinlein
Guests enjoy the heated pool throughout the day.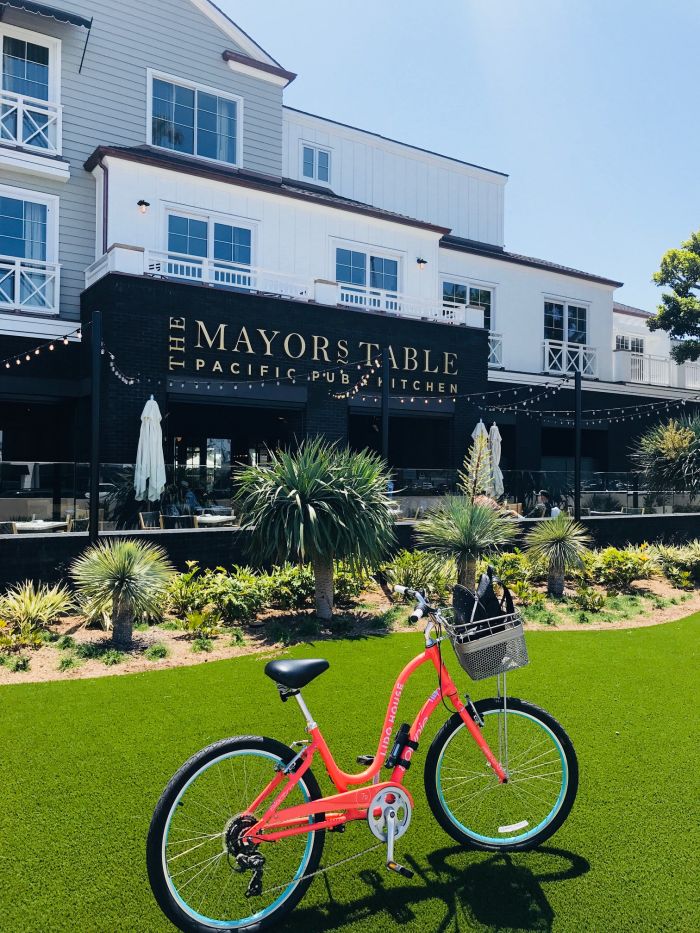 Jill Weinlein
There are multiple restaurants, bars and lounges inside Lido House Hotel.