Theragun
Tight muscles, tech neck, knots, and overall body discomfort are common maladies of modern day living – whether because you have a desk job, poor posture, train hard, sleep in a funny position, or all the above. The traditional solutions – professional massage and foam rolling – were not working for me, for separate reasons. My massage habit had become unsustainable. Not only was it ruinously expensive, but, with two children under two, finding the time to schedule in a visit to my masseuse was proving problematic, to say the least. Foam rolling, whilst effective, is an involved and time-consuming activity, and is not always targeted – for instance, it is challenging to work on tension around the scapula, which is where I tend to accumulate stiffness.
I began to research percussive therapy devices, which have been growing in popularity over the past decade or so to relieve pain. I came across Theragun, which was the frontrunner in the percussive therapy device industry, and which produces the industry leading Theragun G3PRO. The company was founded in 2007 when its founder, chiropractor Dr. Jason Wersland, was badly injured in a motorcycle accident. As Dr. Wersland affirms, 'necessity became the mother of invention and I made something to help deal with my pain. And that's how Theragun was born'.
Theragun Percussive Therapy treatment promises to deliver clinically effective results: pain relief, performance enhancement, improved range of motion and faster recovery. In sum, everything that I was looking for in a handheld device. Theragun stands out amongst its competitors for having the sleekest design – the patented Theragun Triangle ® handle design provides the best ergonomics in the market, ensuring unmatched comfort and ease of use, especially when treating hard-to-reach areas. Theragun currently makes three models: the G3PRO (the most powerful and the priciest), the G3 (quieter but less powerful), and the Liv (the least expensive and most lightweight, but lacking some of the industrial power of the other two).
I opted for the Theragun G3PRO, which delivers the deepest treatment experience thanks to its industrial-grade, Japanese-designed motor, which is designed to yield up to 60 lbs of force. Every Theragun is engineered to deliver precisely 16 mm of Amplitude at a speed of 40 percussions per second on the body. Theragun meticulously tested this calibration of depth and speed to ensure that their devices offer the most effective professional-grade percussive therapy treatment available for pain relief, enhanced performance, and accelerated recovery. The company's proprietary 16 mm Amplitude provides deep muscle relief and enhanced repair, decreasing pain and increasing range of motion. Theragun worked in close conjunction with mechanical, industrial, and sound engineers from MIT to design and construct the high-precision mechanics that power Theragun devices' functional elements to create a fully re-engineered proprietary gearbox, which has been built for maximum efficacy and reliability.
I can attest, having used the Theragun G3PRO daily over the past month, that the machine delivers great results, fast. It is straightforward and intuitive to use: simply apply one of the six specifically designed attachments head to muscle areas and turn it on; it'll vibrate (extremely fast) and loosen the muscle as you move it around. It loosens muscles in hard-to-reach places that would have been totally unfeasible with a foam roller. The G3PRO's adjustable arm was created with thoughtful ergonomics, built to deliver up to 60 lbs of force from any arm position. Dr. Wersland specially designed this intuitive feature to maximise the effects of percussive therapy and optimize every treatment session. Whether treating muscles or fascia, the adjustable arm allows users to apply the most targeted treatment needed. The unique multi-grip handle, in conjunction with the four different treatment angles, means that up to 90% of the body can be treated. I also love the fact that each of the unique Attachments, which feature differing levels of firmness in precisely engineered shapes, has been doctor-tested and designed to cater to everybody's needs, providing targeted, area-specific relief for every muscle group. The Attachments are made of closed cell PU foam, which is antimicrobial and non-porous, meaning that they glide easily on skin and clothes, and are easily wipeable if you chose to use lotions or oils in conjunction with the Theragun. Another standout feature of the G3PRO is that it is the only percussive therapy device on the market that features two high-capacity Samsung Lithium-ion 4 cell 2.5-amp batteries, swappable for a continuous run time. There are also two highly effective speeds: a standard treatment speed of 40 percussions per second and a lighter treatment speed of 29 percussions per second - ideally calibrated for sensitive, sore areas. I have really enjoyed using the device in conjunction with the very helpful Theragun app that shows you how to use the device to optimum effect on target zones.
Whilst researching Theragun, one of the few criticisms that I came across pertained to the level of noise produced by earlier iterations of the device. Every Theragun device incorporates state-of-the-art sound insulation techniques to provide a 50% quieter experience from earlier models, without compromising the company's strict performance requirements.
In summary, whilst the Theragun started as a tool for professional athletes, there's not a single person who wouldn't feel better using it on tight muscles. Yes, it is expensive, in terms of initial outlay, but it is unquestionably more cost effective than an endless course of massages. It is extremely easy and quick to use, and has dramatically improved my life for the better. Whether you are a seasoned athlete, about to embark on a New Year's fitness regime, or entirely sedentary, I cannot recommend the Theragun G3PRO highly enough. I echo the words of Theragun's founder, Dr. Jason Wersland, who said, "my life changed the day I used percussive therapy. And I know it will change yours".
For further information and to purchase, please visit: https://www.theragun.com/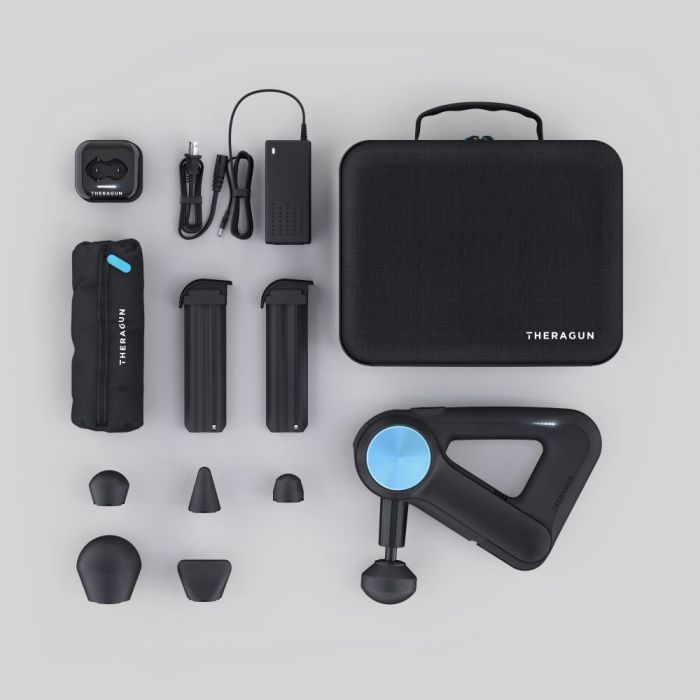 Theragun
Theragun G3PRO and included accessories.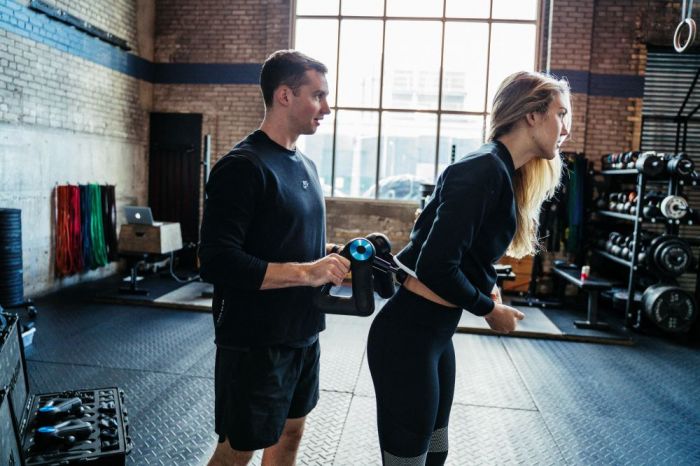 Theragun
Theragun G3PRO in action.