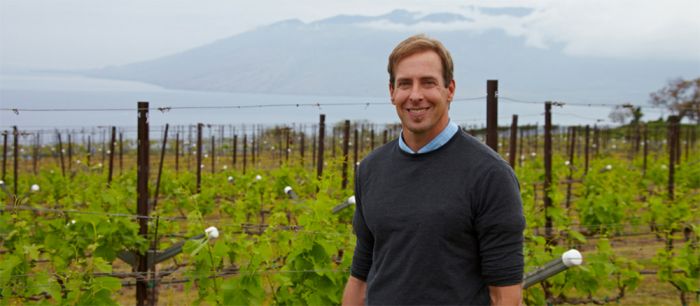 Photos Credited to: MauiWine
Mark Beaman joins MauiWine as the head winemaker on the Hawaiian island of Maui. Previously of Columbia Crest Winery in Washington then Villa Mt Eden and Conn Creek Winery of Napa as well as Mendocino Wine Company, Beaman continues his growth in the wine industry by moving to the tropical isle. Noted for crafting multiple wines with ratings of 90+ points by Wine Enthusiast and several golf medals, Beaman is excited to incorporate the rare characteristics found on now-mature Maui vines.
"MauiWine is in an exciting period of winemaking," says Beaman. "The vines are mature having found their footing just as the vineyard crew achieves an incredible level of awareness of the unique needs and cycles of the vineyard. The combination of the vines' balance with the soil and the efficiency and skill of the workers indicate that the best is yet to come. The cellar and lab have many harvests experience to draw from making for an outstanding all-around team. I am incredibly grateful to be part of this team."

The largest winery on the Hawaiian Islands, MauiWine is home to 23 acres of vineyard and has been dedicated to the craft since opening in 1974. Located on the southern slopes of the island, the cool clime is perfect for growing several varietals.
Overseeing three wine collections at MauiWine, whites to reds, even a pineapple wine, Beaman associates wine with time travel— "When you smell and taste wine, it's nostalgic, triggering feelings of returning back to a time, memory or place. I want people to travel to Maui when they open our wines. From the sweet-golden pineapples grown on Hali'imaile to the volcanic soil that feeds our six varietals at Ulupalakua Vineyards, I want them to experience the vibrancy of Maui with each bottle."
The sweeping views from the vineyard as well as the unique tasting room make for an unforgettable experience on the island of Maui. Open daily from 10 a.m. until 5:30 p.m. complimentary tours are available of the estate, cellar, and historic grounds starting at 10:30 a.m. Private tastings and tours are also available. More information available at www.mauiwine.com.