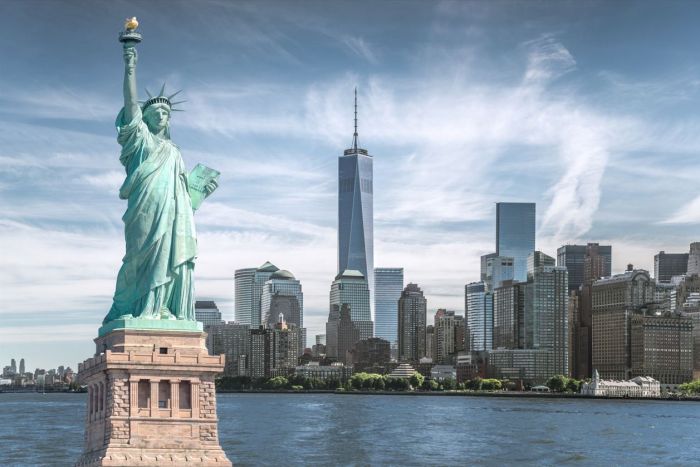 The Big Apple, the city that never sleeps, or whatever you wish to call New York, is one of the most visited cities in the U.S. But planning your trip may become an arduous task with so many things to offer.
The big question is - can you visit New York City on a budget or obtain the required documents swiftly? Most certainly, yes - you just need to know where to look and decide which side of New York to explore. So, What are you waiting for? Don't waste time! Pack your travel bag, get your visa in a rush and follow your dream.

The Right Accommodation
One of the biggest challenges when visiting New York is finding a place to stay. If you have no problem sharing a room or apartment with strangers, you can go to hostel dorms or a private room.
Hostel and private rooms are much cheaper, but if you prefer more privacy, you can rent an entire apartment or choose a budget 2-star hotel that will offer some rather basic amenities.
The accommodation price mainly depends on the time of visit. It's best to go from January to March, a.k.a. during off-peak season. Another way to get a lower price on accommodation is to book in advance and get the best deal.
Choose the Transportation
New York has a well-organized transportation system you can use. The subway is the best and most affordable way to get around. It may be intimidating for first-time users due to the crowd, but you'll get the hang of it fast.
Instead of purchasing single-ride tickets, save money and buy a seven-day unlimited MetroCard for $33. There are also options to combine the use of subway and buses, so check out what fits your plans best.
You can also go sightseeing on foot or on a bike. Manhattan is bike-friendly because of its grid-like design, so you can quickly move around and stay safe next to passing vehicles.
Diverse Cuisine
When it comes to food, you can visit restaurants and have meals that will cost lots of money, or you can try eating like a local. Some favorites include breakfast carts, pizza shops, kebab places, and street food.
As mentioned, New York is home to many cultures and cuisines. You can taste the cuisine of many immigrant-owned restaurants from Pakistan, Mexico, Brazil, Itali, and Thailand.
Explore the different city areas, and you'll find some hidden culinary jewels that won't cost that much.
Things to Do in NYC
Now that you got food, transportation, and accommodation out of the way, here are some things you can do for fun and explore NYC.
Enjoy Museums for Free
If you are wondering whether to visit MoMa or the Met Museum, the answer is a definite yes! Most NYC museums have free admission days, so you must plan your trip around those dates.
Other museums even have pay-as-you-wish days, so you can pay how much you have. In short, almost no one pays the total price for museums in NYC.
Choose the Best Views for Free
Why pay lots of money to catch a panoramic view of the World Trade Center or the Empire State Building when you can see them for free? The Brooklyn Heights Promenade offers a spectacular view of Manhattan.
The Manhattan skyline can be seen for free from The Staten Island Ferry. You can enjoy a beer on board while also passing by Ellis Island and the Statue of Liberty.
You can also visit the High Line, which was once an elevated railroad to combine art, beautiful park nature, and a stunning city view.
Another thing you could do is choose to walk across the Brooklyn Bridge for a stunning view of Lower Manhattan. Or, go to the Manhattan Bridge and take a photo of the Brooklyn Bridge.
Well-Known Shows
If you don't see a Broadway show, it's like you've never traveled to New York! The tickets are known to cost hundreds of dollars for new and popular shows. But here is the trick.
TKTS booths in Times Square, Brooklyn, and Lower Manhattan offer up to 50% discount on select shows - be prepared to wait in line for maybe an hour or so. We suggest you arrive early on the day and choose one of the wide selection of shows available before they are sold out.
You can also be part of one of your favorite TV shows by signing up to be in the audience. This might take a bit of planning, but some shows offer deals on free tickets.
Enjoy a Stroll in the Parks
Central Park may be what New York is mainly known for, but there are also other parks you can visit and spend a relaxing day. Washington Square park is a lively spot for the young generation because it's home to New York University. There is never a dull moment in this park with visitors listening to music and playing chess.
If you are more into scenic greenery, Prospect Park in Brooklyn should be your choice. Spend a day at the Brooklyn Museum or the Brooklyn Botanical Gardens and rest on the gorgeous lakes.
New York in Winter
You may prefer not to travel in winter when it's cold, but New York City is simply magical in the wintertime. You can enjoy the magnificent holiday decorations, sip hot chocolate to warm up, or have fun ice skating. And imagine how much you'll save because you'll be traveling off-season!
Final Words
New York City is the one place on everyone's dream-destination list. It offers an adventure of a lifetime even if you are on a budget.
The important thing about visiting any city in the world is simple - plan! Choose a time that is off-season, use the local transportation weekly tickets to save money, and don't waste money on views you can see by simply getting on a ferry.
If you still need more information, you can always get a recommendation from a local who can tailor your trip based on your interests and budget.