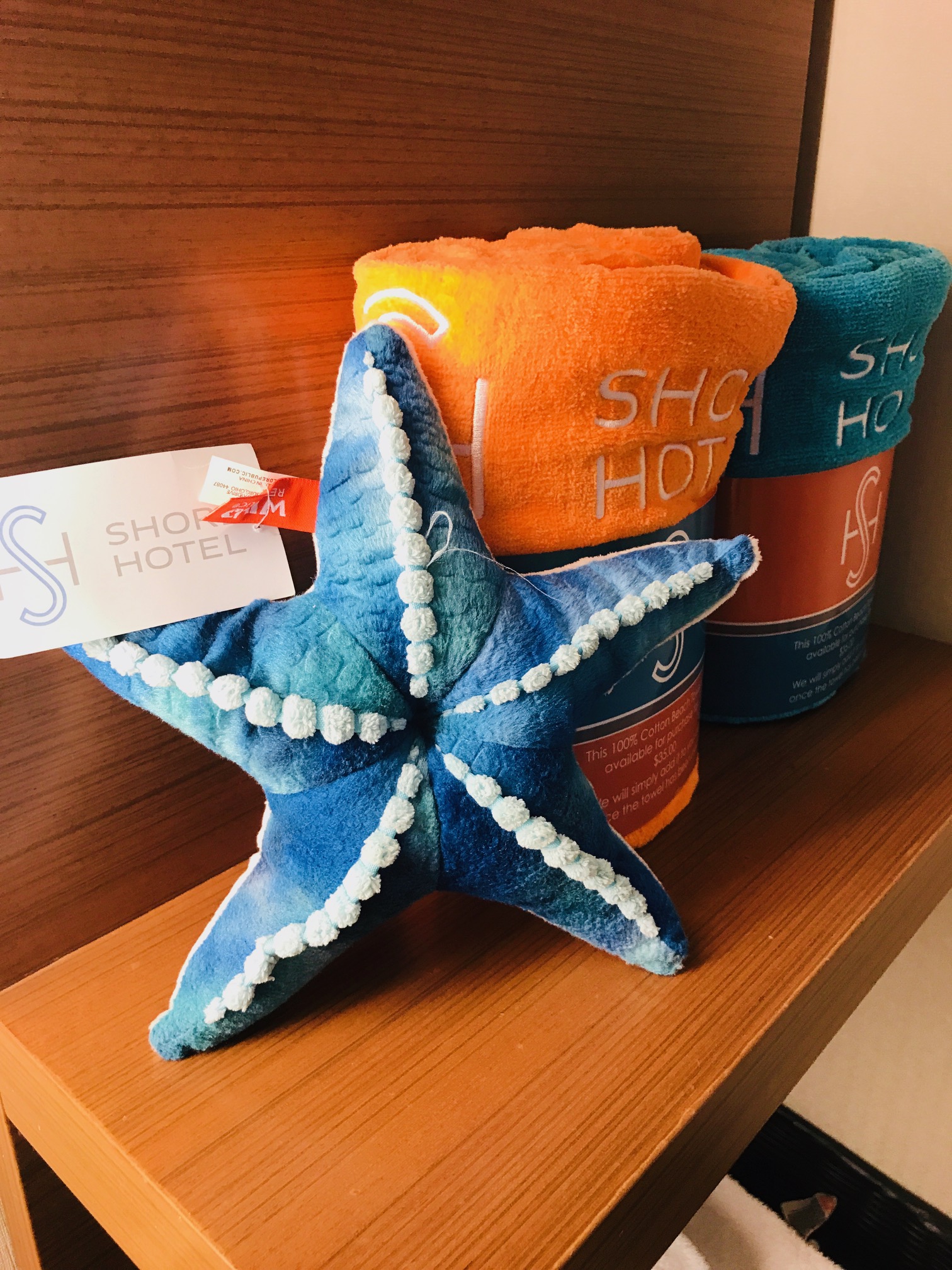 Jill Weinlein
The Southern California beach city Santa Monica has a luxury eco-friendly, oceanfront boutique hotel that radiates bright and airy rooms. It's walking distance to some of the 2019 Michelin Guide Bib Gourmand winning restaurants, premier shopping and the famous Santa Monica Pier.
Opening in 2011, the hotel boasts an open-air, U-shaped LEED Gold (Leadership in Energy and Environmental Design) certified design. The lighting is lower in the main rooms, because of the walls of glass windows and stainless steel-clad reflective trellis. Also the light concrete absorbs the heat during the day and releases the heat at night. The lobby chairs are upholstered with 100% pre-consumer recycled polyester. This innovative hotel is the only one in the area to implement a "demand response unit" which reduces the use of energy in the main areas, but not the guest rooms during peak summer hours.
Guests gather in the center outdoor courtyard "living room" to soak up some sun and swim in a large solar heated pool warmed to the temperature of 86 degrees. Nearby is an even warmer bubbling whirlpool. More than 75% of the hotel's roof surface is covered in solar-reflecting panels. The outdoor center also offers an alfresco cocktail bar, flowing water feature, and patio dining at Blue Plate Taco.
Amenities inside the hotel include a recycled rubber floor fitness center with a refillable water fountain. This feature calculates the number of plastic water bottles saved by using your own reusable water bottle. There is a state-of-the-art meeting and special event space, a business center, and four-level underground guest parking lot.
Walking into room 321, it's visually appealing in bright orange and pretty aqua blue colors. A see-through glass enclosed rain shower displays a low-flow shower head and local bath products by LATHER.
The two queen size beds have a pillow top mattress, hypoallergenic pillows and duvet covers. Each room offers complimentary high-speed Wi-Fi 55", a LED HDTV with cable and Showtime, plus a iHome docking station. There is a fully stocked private mini bar, and a coffee/tea maker with in-room organic and fair trade Wolfgang Puck coffee in biodegradable packaging. Two white plush bathrobes are located inside the closet. Slippers can be brought up for guests by staff upon request.
The outdoor balcony has two chairs and a table overlooking the center courtyard pool and Pacific Ocean beyond. The rooms eco-friendly lighting and climate controls reduces energy costs by 35%-45% by turning down when the sliding door to the balcony or patio opens. Guests can place a wooden surfboard door hanger outside their door to alert housekeeping to participate in the Green Clean Program, and not change sheets and towels.
On each floor there are colorful plaques informing guests about the Shore Hotel's sustainable features. The beautiful drought-resistant plants save 20% water usage. The elevator has a pulley system designed to save up to 75% more energy than conventional elevators. When one elevator goes up, another goes down. The hotel contains low-emitting paint and carpet free of volatile organic compounds (VOCS). Over 50% of the construction waste materials, including metals, concrete, stucco, terrazzo, wood & carpet were recycled or salvaged from the two hotels - The Pacific Sands and Travellodge that used to stand on this site.
The onsite chefs prepare food using organic local produce and free trade food such as free-range poultry, eggs, meat, wild-caught salmon, organic coffee and organically grown fruit and vegetable whenever possible.
Guests who book a "Stand Up for Sustainability" room package during the month of June, will receive a gift pack of reef-safe sunscreen from Raw Elements and surf lessons for two from Santa Monica based AquaSurf.
The Shore Hotel is located at 1515 Ocean Ave, Santa Monica, CA 90401 Phone:(310)458-1515.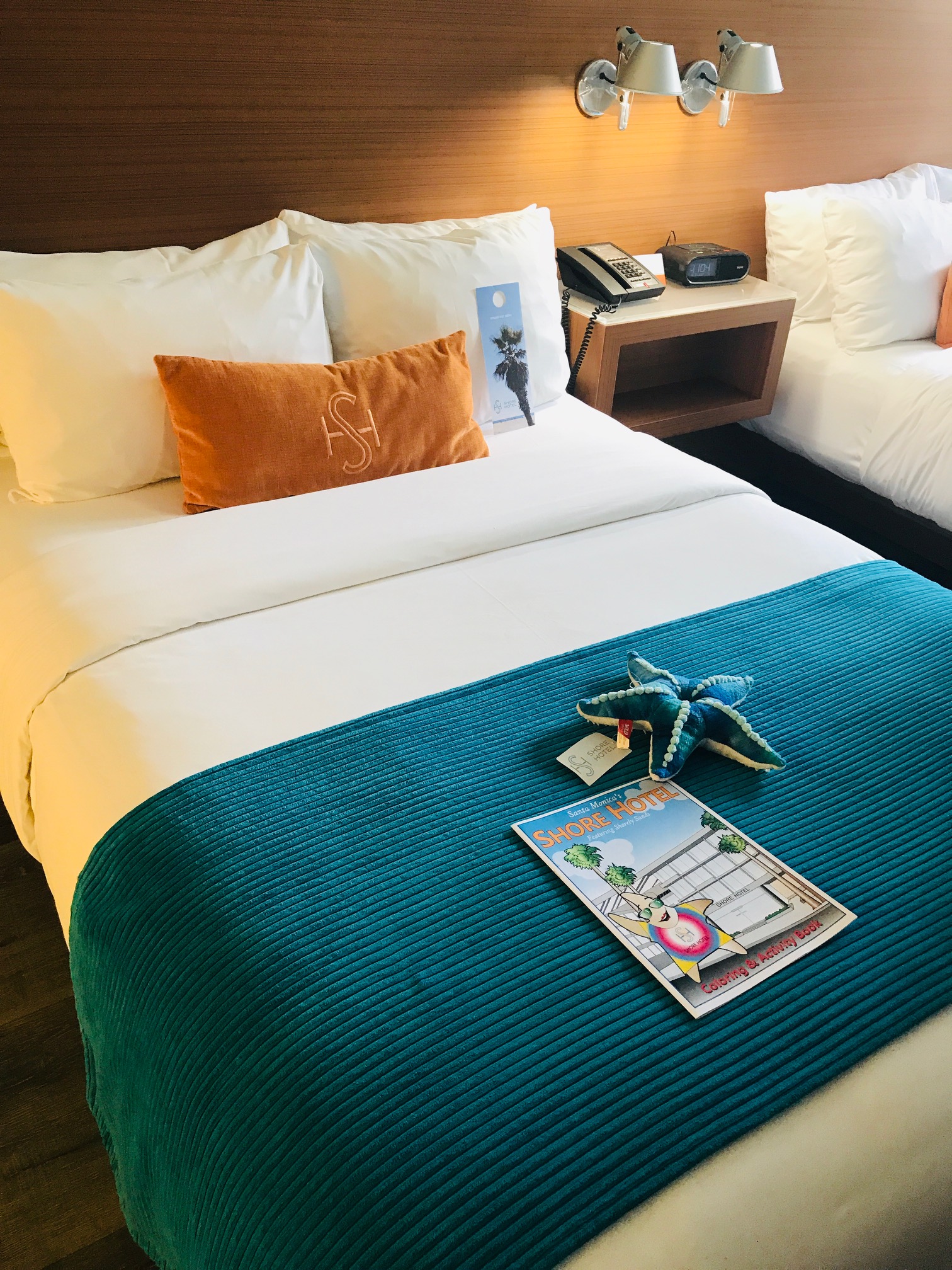 Jill Weinlein
The Shore Hotel offers luxury comfort and cheerful colors in each guestroom.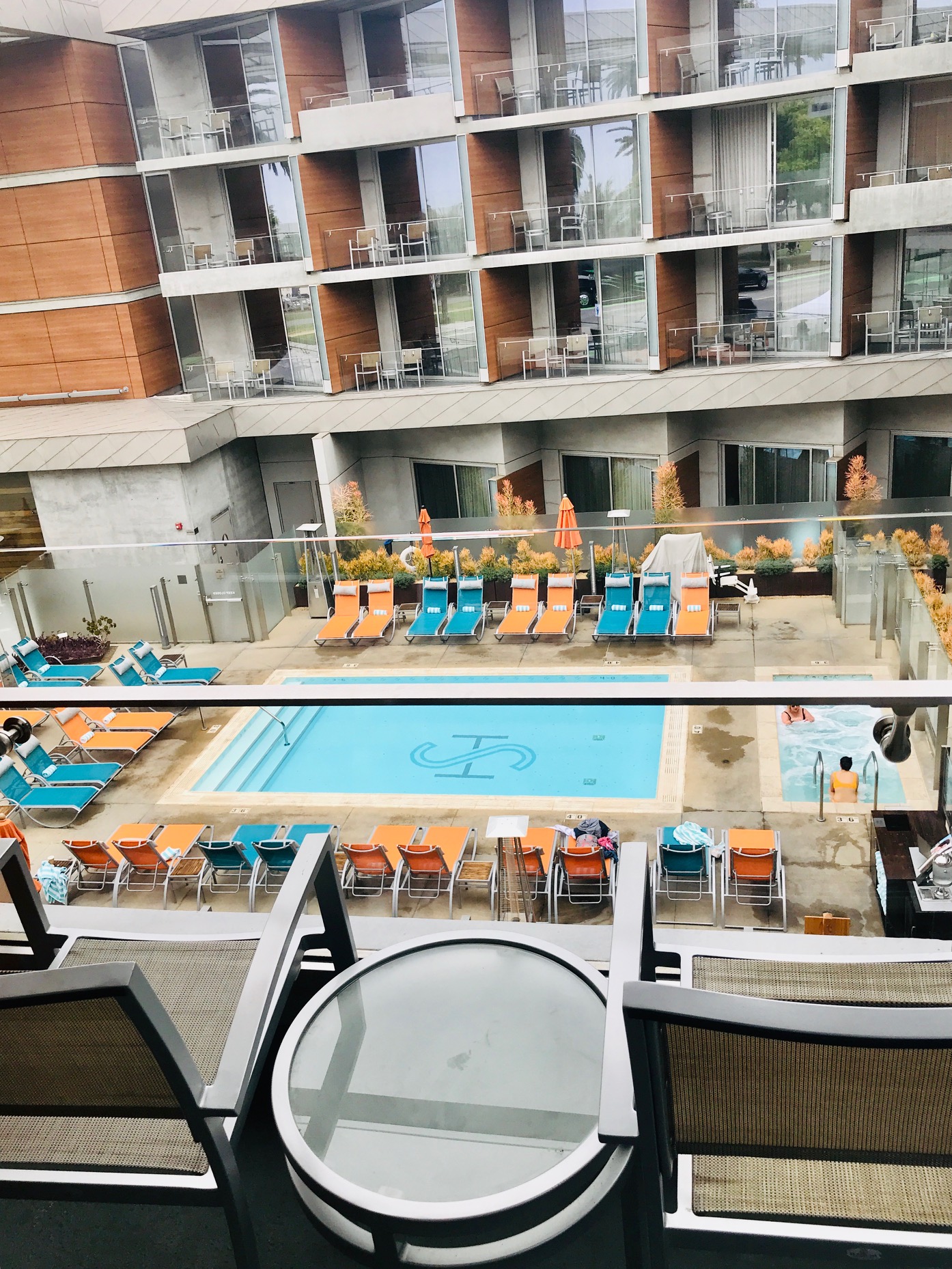 Jill Weinlein
Balcony and patio views include the solar heated pool and Pacific Ocean.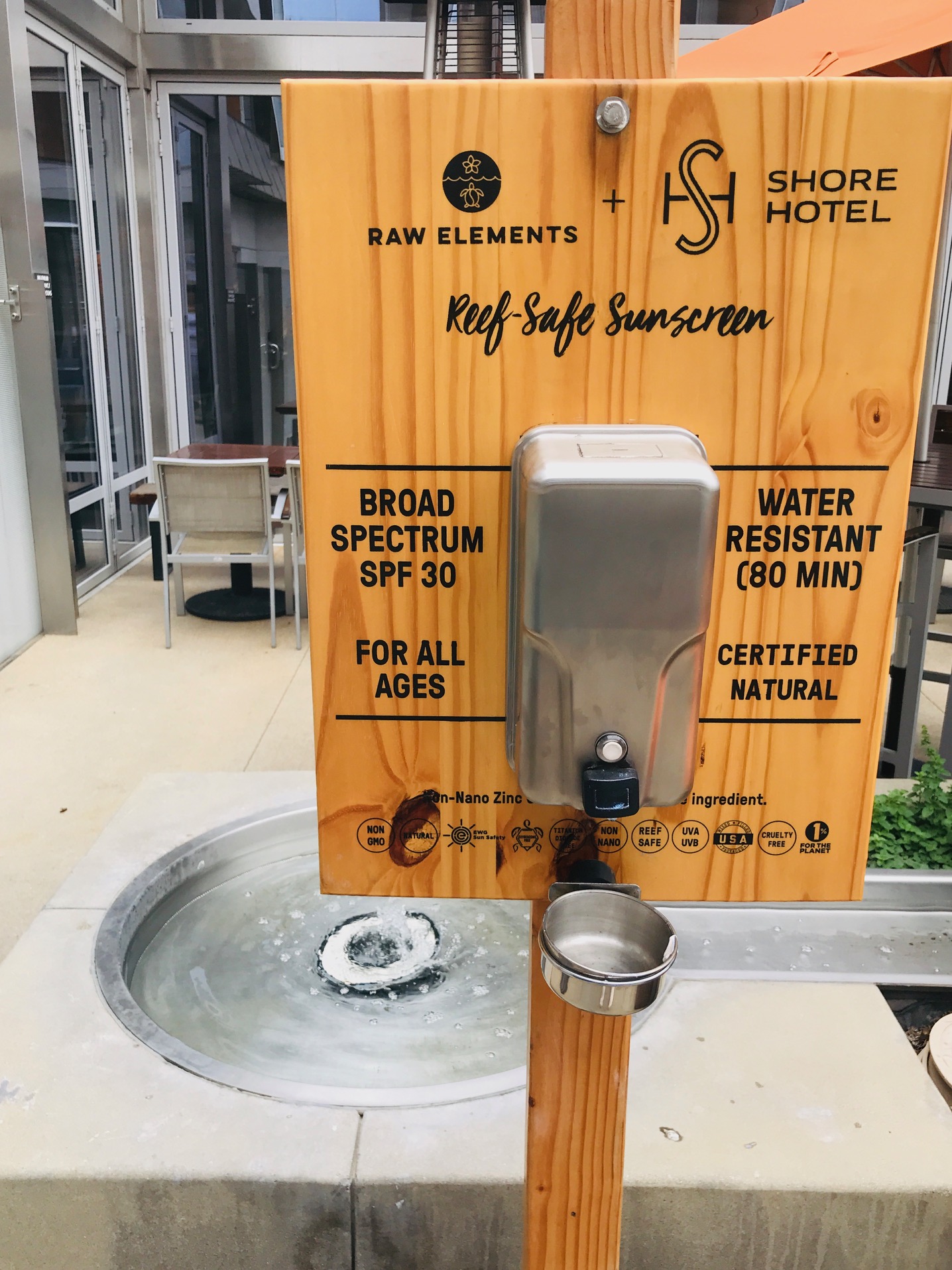 Jill Weinlein
A complimentary reef-safe sunscreen dispenser is located at the solar heated pool and whirlpool.
Jill Weinlein
The Eco-friendly Shore Hotel offers warm water, towering palm trees and comfortable guestrooms.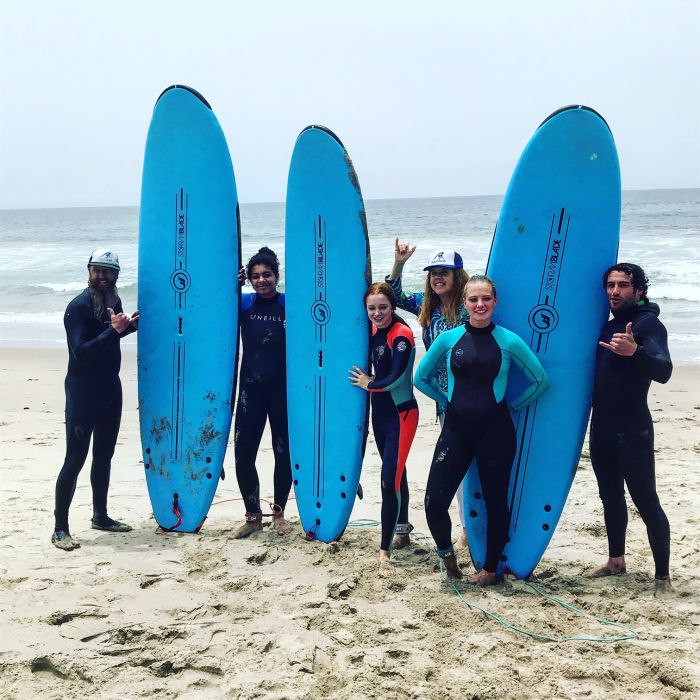 Jill Weinlein
While staying at The Shore Hotel be sure to take a surf lesson with Santa Monica based AquaSurf.