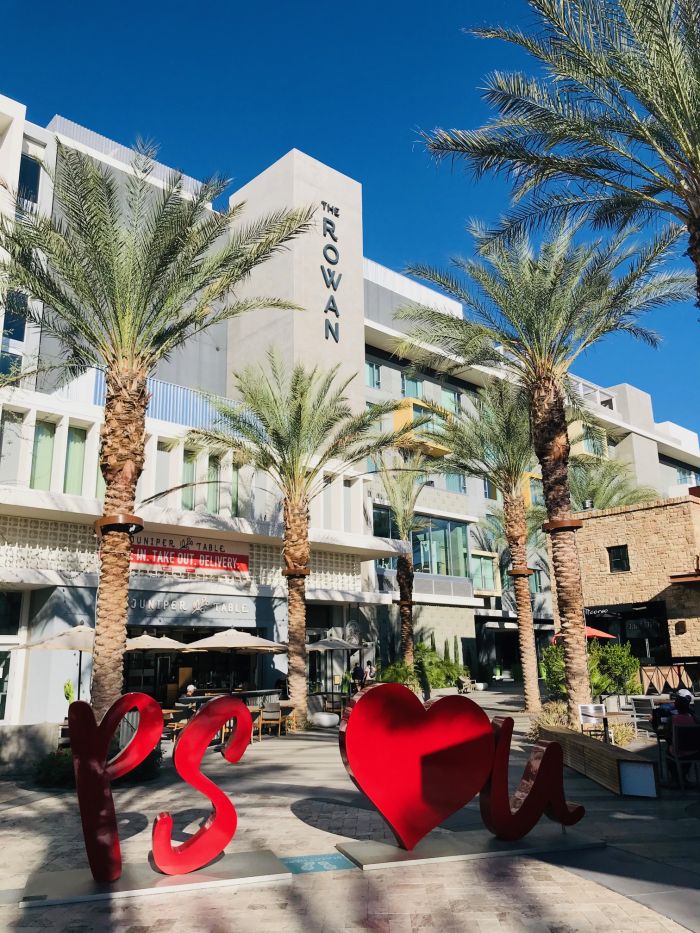 Jill Weinlein
For those who delayed their perfect proposal due to the pandemic, The Kimpton Rowan in Palm Springs is offering a special package to set the stage and inspire guests to have a memorable moment. The package includes a King Spa Guestroom, special proposal site, personal photographer to capture the moment, champagne and dinner.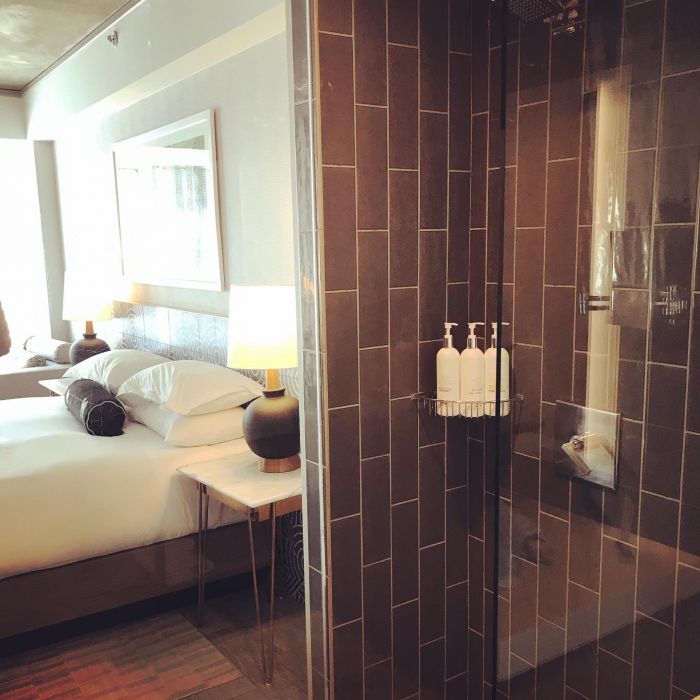 Jill Weinlein
When you check in at The Rowan reception desk, you will receive a special greeting and key card to a King Spa guestroom. Unlock the door and take in the floor to ceiling glass window views of the San Jacinto Mountain range or glimmering lights in the desert. The room is decorated in creamy neutrals, cooling blues, eye-catching patterns and textures, plus framed topographical maps of the Greater Palm Springs region.
The spacious 437 square foot room features a Kimpton comfortable king bed. Plush bathrobes await to slip into before or after soaking in a deep water bathtub. Pop open a celebratory bottle of Veuve Clicquot or save it for your special on property proposal space. A personal photographer will capture your 'YES' expressions and love for each other, so you can post photos to family and friends.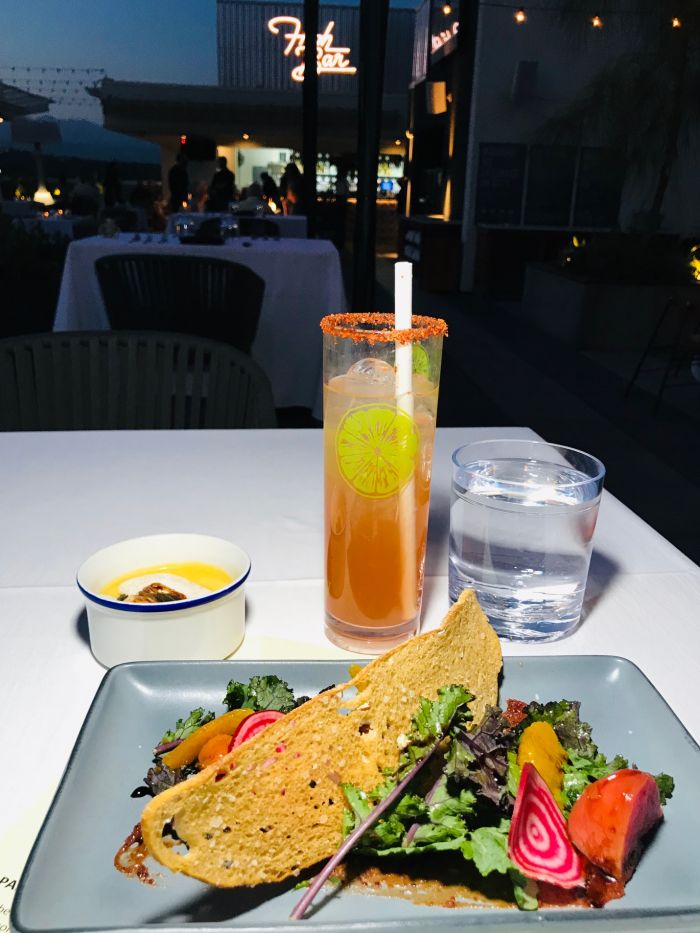 Jill Weinlein
Afterwards, enjoy a candlelit dinner for two at Il Corso Palm Springs. Guests have a $150 credit for dinner with this special proposal package. Afterwards, go up to the rooftop pool High Bar for a nightcap and soak in the romantic moment and vast desert views.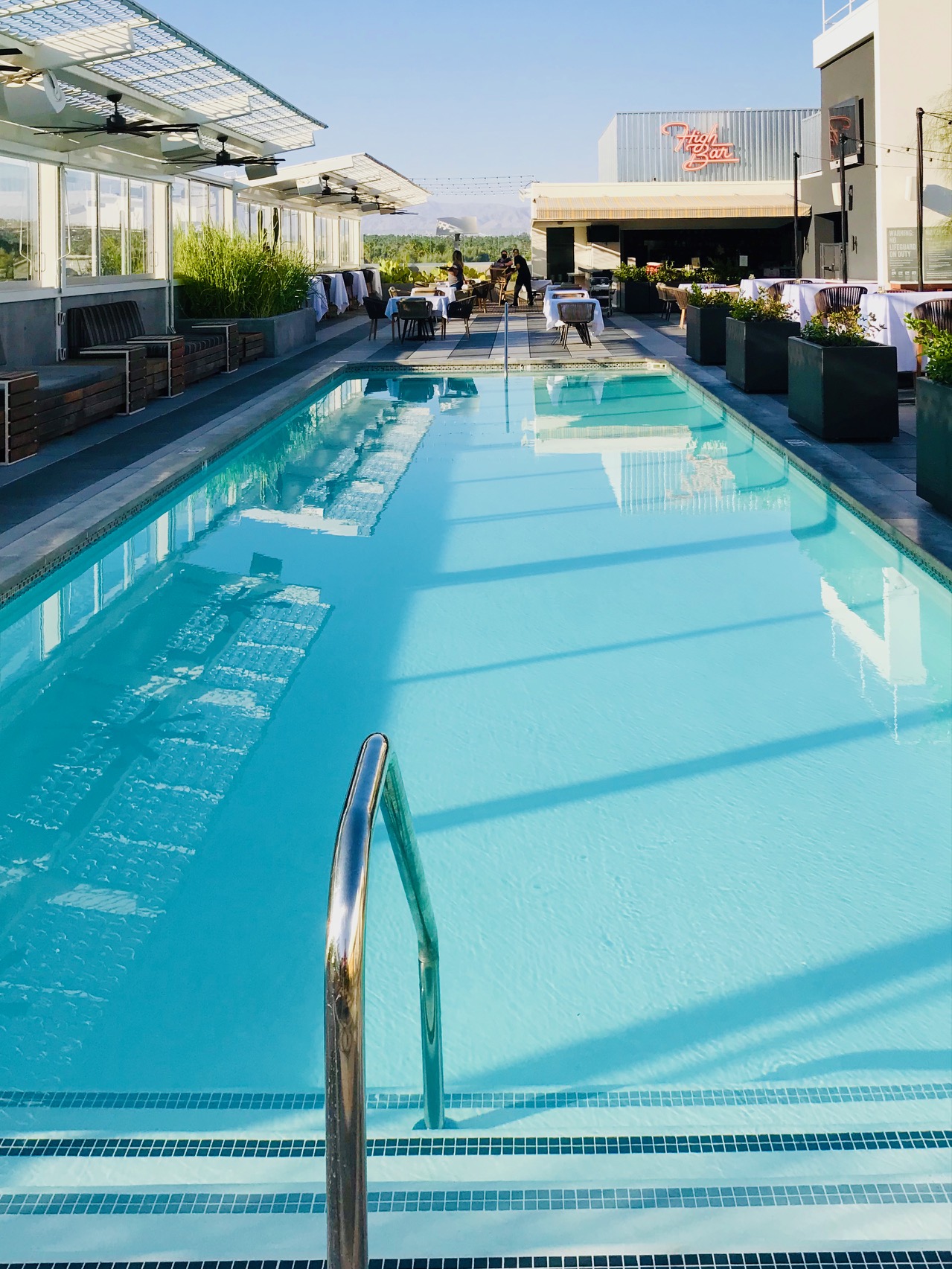 Jill Weinlein
For those looking for a Palm Spring elopement, The Rowan has a package for couples to exchange vows on the rooftop terrace near the sparkling swimming pool.
They also can facilitate an intimate wedding with guests of the future bride and groom enjoying a themed rehearsal dinner that includes a taco bar or cabana cookout. Music, drinks and dinner can be provided for a wedding reception and after-party at the hotel's 4 Saints restaurant and outdoor area.
The Rowan knows how to throw a festive farewell brunch with frittatas, French toast, and fresh fruit sourced locally. Make sure to include their Bloody Mary bar and a post-brunch guided hike for the newlyweds and guests to see and learn more about the flora, fauna and history of Greater Palm Springs.
Proposal pricing starts at $1,400 per package for two. Email the Director of Marketing and Sales Christine Delgado to learn more about the proposal and wedding packages at christine.delgado@rowanpalmsprings.com.