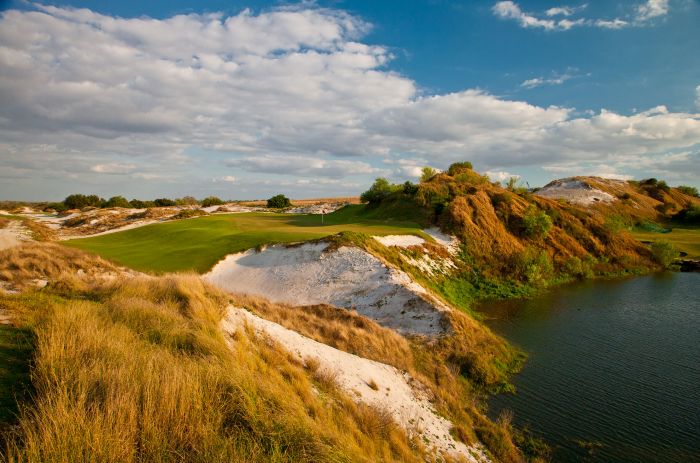 Streamsong Resort
Located 57 miles from Tampa, 89 miles from Orlando and 26 miles from Lakeland, Streamsong Resort is one the most popular golf destinations in the world. Foursomes flock from everywhere to play the Blue, Red and Black courses, homages to Scottish links. Ben Crensshaw, Gil Hanse, Bill Coore and Tom Doak designed the courses. There's plenty for non-players to do: archery, shooting sporting clays, tennis, and rejuvenation in the Grotto motif of AcquaPietra Spa. NATUROPATHICA products are employed here. There are guest packages built around golf, spa, clay shooting or archery preferences.
If you schedule golf instruction, perhaps you'll be fortunate enough to draw pro Todd Zunker. Todd's tutelage barely mentions grip, hip turn, belly button toward the target, or stance, such that you do not overthink. Instead, the focuses are rhythm and repetition- you'll love the results. Afterwards, lunch at gastropub Bone Valley Tavern, with its lakefront views. You'll meet guests and golf lovers from all parts.
Check out Fragmentary Blue, the cocktail lounge atop the sixth floor. The floor-to-ceiling windows absorb lengthy views. Dinner choices include steak and seafood house Restaurant Fifty-Nine, and SottoTerra. P2O5 is another lunch establishment. One never senses the high occupancy is this sprawling, sleekly lined property. Its seclusion from the city, lends it a tranquil, almost overseas vibe. There are an infinity pool, and poolside bar Hemy's, walking trails and basketball court. Rise early like the golfers, but for a guided bass fishing tour. Later, re-visit Bone Valley Tavern for good grub and gab. Catch sports on the large screen tv's, and after witnessing the sunset, huddle with new friends by the fire pits.
No matter your level of play, or whether you golf at all, Streamsong is a unique getaway where all vacation needs are met on property. And for those who love the game, it boasts bucket list golf.
Another Golf Destination to review