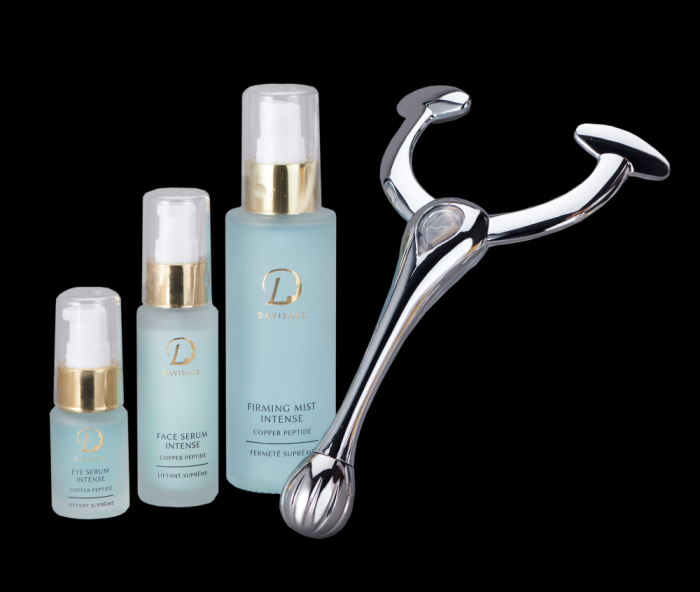 Facial massage tools are increasingly popular in the skincare sphere, with jade rollers, gua sha, contouring wands and electric devices leading the way. Not only can these tools improve your skin health; they can also relieve tension and assist lymphatic drainage on the jawline and neck. They're a simple way to add a soothing touch to your daily regime first thing in the morning or last thing at night. The array of devices on the market is now so extensive, it can be hard to decide which facial massage tool to go for.
Having tested a wide variety, I have a firm favourite: the DAVISAGE DVS Visager, a facial tool that uses state-of-the-art Japanese technology to boost collagen regeneration, stimulate cellular renewal, and improve skin elasticity. It is designed to maximize the many benefits of the DAVISAGE Face X'cercise program, made up of both products and facial exercises (including acupressure massage and lymphatic drainage massage).
The tool is presented in a box with a built-in LCD screen. The interactive screen, which comes with a charging cable, is packed full of helpful video tutorials and information. The stylish tool features two distinct components. Its upper part holds two Germanium (GE) infused silicon pads which provide resistance during DAVISAGE's Face X'cercise. Scientific research shows GE facilitates the movement of oxygen across cellular membranes to transport oxygen into cells. This helps to destroy damaging free radicals, which improves the skin's appearance.
The tool is easy (and fun!) to use, and the results are remarkable. I've now been using my DAVISAGE DVS VISAGER for the past month, and a couple of friends have asked if I've had work done. I have used the device in conjunction with DAVISAGE's Luxury Peptide Serums, which I'm sure has enhanced the outcome. Infused with copper peptides, these serums calm irritated skin, even out the complexion, boost collagen production, reduce the appearance of fine lines, deliver serious hydration, and plump the skin. In short, they're a skincare powerhouse.
DAVISAGE won the Editor's Choice award in last year's special 10th Anniversary Beauty Shortlist & Wellbeing Awards 2020, and it's easy to see why it is making a name for itself in the industry. Employing Japanese technologies and the best French serums available on the market, DAVISAGE has a carefully curated line of products that are rapidly turning into beauty cult favorites.
DAVISAGE DVS Visager and X'Cercise program achieve the promised "perpetual facelift" result with incredible effectiveness. This is the best non-invasive beauty product I've tried.
For further information, and to order, please visit davisage.com