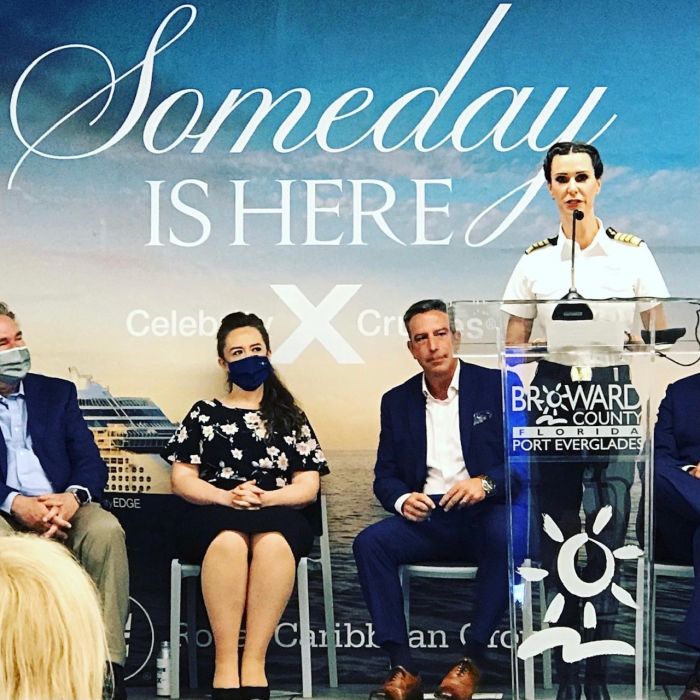 Jill Weinlein
Not only is Captain Kate McCue in charge of the luxurious Celebrity Edge cruise ship operated by Celebrity Cruises, she is also a social media celebrity on TikTok and Instagram(@captainkatemccue) with millions of followers around the world. She provides inspiration to all who follow her and meet her since she is the only female Captain sailing a luxury 'mega' ship.
Cat lovers also follow her hairless Elf Sphynx named "Lady" Bug Naked (IG 50.9K followers), to see how this lovable companion lives with Captain Kate in the Captain's Suite.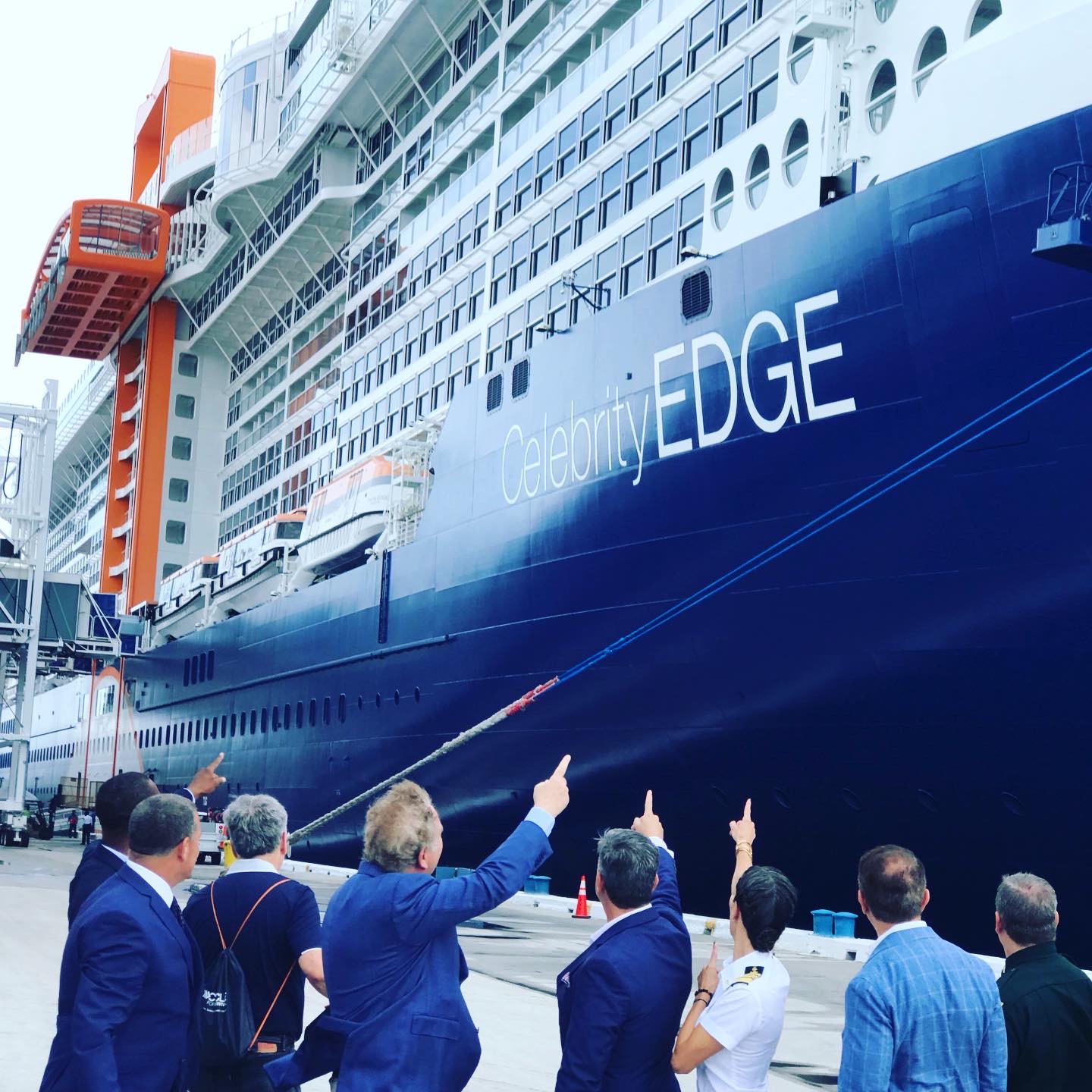 Jill Weinlein
Captain Kate McCue's love of the sea began in her teens after taking a cruise with her family. In the mid 90s, she enrolled in the California State University Maritime Academy and then the California Maritime Academy. Afterward, with a degree in business administration, she started working on cargo ships and sailed for nearly 15 years in different positions on ships, before becoming a Captain.
At a press conference the morning of June 26, Captain Kate shared a story about her last voyage on the Celebrity Edge from Fort Lauderdale that was on March 8, 2020. It was a history-making and barrier-breaking sailing for the cruise industry, as it was the first cruise ship ever to be 'wo-manned' by an all-female team of officers on the Bridge and across the ship.
When the sailing was completed on Sunday, March 15, and the final guests disembarked, the Celebrity Edge and her crew were told the cruise industry was being shut down. Little did she know that she wouldn't see any passengers for 15 months. As the Captain of the ship, she took care of her crew who had to stay isolated for weeks and masked onboard for months until they could fly back into their home country.
During the pandemic, Kate would blow the ship's horn at sunset every evening for her crew and other ships anchored in the water in The Bahamas. She wanted to let everyone know that #HopeFloats and they were safe and well. "With hope you can and will rise again," said Captain Kate.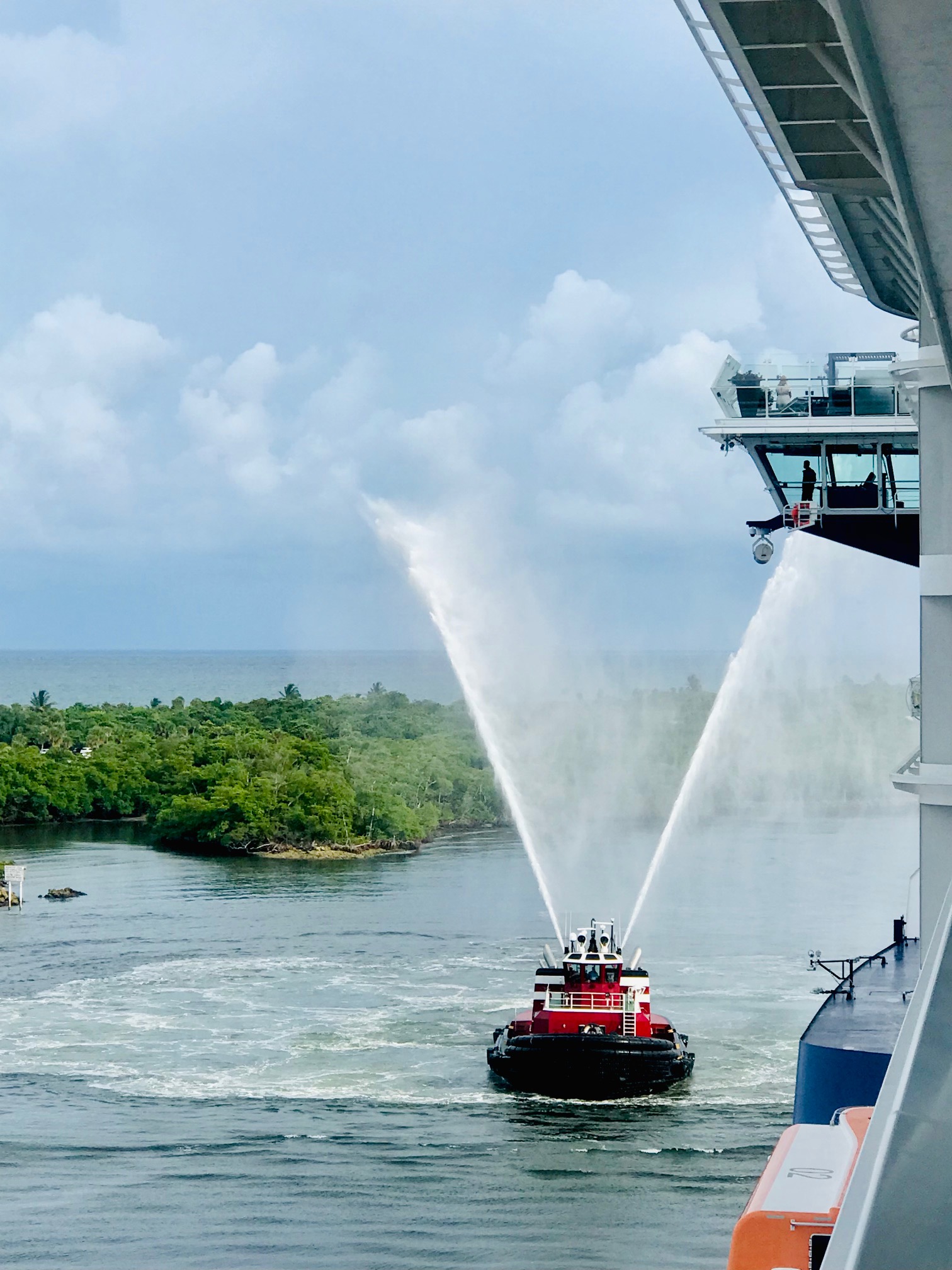 Jill Weinlein
On June 26, 2021, she sailed another historic cruise, still the only female captain in the industry, she sailed with a 40% guest capacity level from Port Everglades on a 7-night cruise visiting Costa Maya, Mexico; Cozumel, Mexico and Nassau, Bahamas. With 100% of the crew vaccinated and 99% of the passengers, guests could remove their masks once onboard. One day the ship will sail with a 100% guest capacity of 2,918 passengers exploring 15 decks.
It was a momentous day as the Celebrity Edge departed with water boats creating rainbows, as Captain Kate backed the 1,004 feet long and 128 feet wide luxury ship out to sea. With pilot boats on all sides of the ship, Captain Kate sounded the horn multiple times to alert Port Everglades and the locals in Fort Lauderdale, that the Celebrity Edge was sailing once again. Residents in high rise buildings and waterfront homes near the port's channel out to the sea, lined up cheering, waving, holding up signs, blowing horns and trumpets.
It was an emotional experiece for all onboard to see the love being shared from those on land to those finally going out to sea from an American port. For Captain Kate, she teared up as she took a deep breath, and called out to the other officers joining her on the Bridge 'Let go all lines'.
By the end of July, Celebrity Cruises will have 8 ships in the water providing cruise vacations in the Caribbean, Alaska, Greece and Galapagos Islands. 'Someday is Here' for cruise travel.