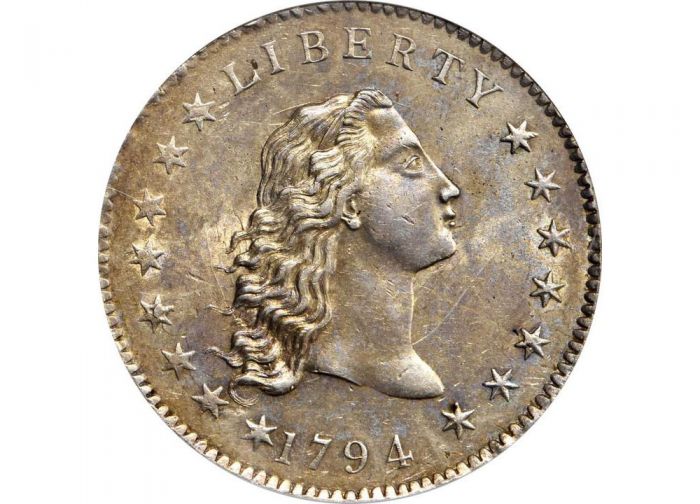 Photo courtesy/copyright Stack's Bowers Galleries
Rare coin investing authority Steven Contursi, famed for his word record-setting $7.85 million rare coin sale further parlayed into a $10 million deal, nabs another 1794 Silver Dollar at auction for over $1 million
On December 17thStack's Bowers Galleries presented the sale of the remarkable collection amassed by Utah businessman and Utah Jazz owner Larry H. Miller that "comprises an astounding array of rarities that are found only in the most legendary cabinets in U.S. numismatics," according to press materials. At this first public offering of this part of the collection, legendary coin investor Steven Contursi nabbed the coveted "1794 Flowing Hair Silver Dollar. MS-62 (NGC)" for just over $1 million dollars.
Steven famously sold the 1794 dollar in Specimen 66 in 2010 for $7.85 million—the world record at that time for any single United States coin. That same coin was then re-sold in 2013 for $10 million at public auction, which remains the current record. "The 1794 dollar holds a special place in my heart, as I owned what our industry's top researchers and I believe to be the first silver dollar struck for the United States," Contursi said. "When these special pieces come up for auction, though, I put sentiment aside and approach the bidding purely from an investment standpoint. As it turns out, I was in the right place at the right time and was able to acquire this great national treasure. These birth of our nation coins are like time machines that can transport the holder to an exciting, yet precarious time in our young nation's history."
There are a number of factors bolstering the rare coin alternative investment sector. This includes demographics, technology, transparency and the number of wealthy individuals worldwide having increased drastically over the last decade. "New market entrants, such as Steven Cohen's investor group that recently acquired Collectors Universe for a reported $700M, are likely to bring FinTech and fractional ownership to collectibles, making these assets even more accessible to the masses," Contursi notes. "As such, demand is clearly poised to skyrocket, although supply remains finite—so timing is critical. The government cannot produce any more of these legendary rare coins. The sooner one invests in these antiquities, the better they are likely to fare financially."
"These tangible assets have always been a safe place to park and protect wealth, but now more than ever," Contursi urges. "With alarming uncertainties across-the-board courtesy of COVID-19, the pandemic has spurred fresh demand for alternative investments like rare coins—an asset class garnering fresh attention all its own. But, with this rise in demand and interest also comes questions and concerns, the most paramount of which is determining if this kind of investment opportunity is the 'right' fit for one's overarching investment goals." With this in mind, in my prior article here I've covered five key considerations to help wealth-minded individuals decide if this asset class is—or is not—an apt fit for their holdings.
FAST FACTS RELATING TO DECEMBER 17 SALE:
--1794 is the first year the U.S. produced a dollar coin (from which all other denominations are derived), making it extremely popular among collectors.
--While smaller denominations preceded the dollar coin during 1793, it's the dollar size coin that tells the world our fledgling nation is prepared to enter into international commerce. Thus, the Silver Dollar is to our economy as the Declaration of Independence is to America's freedom.
--There are less than 10 of these 1794 dollars to survive in uncirculated condition (passed down for generations), which means the supply is extremely low, making demand (and value) extremely high.
--There is a very established market for United States rare coins, dating back to the birth of our nation. In fact, the American Numismatic Association was established in 1891.
--These historical artifacts have always been sought after by prominent collectors. A few from the past few hundred years are known or said to include heads of state such as John Quincy Adams and King Farouk of Egypt; financiers Louis Eliasberg and Harry W. Bass Jr.; real estate developer Brent Pogue; sports team owners Dr. Jerry Buss and Larry H. Miller; and actor Buddy Ebsen, co-founder of the Beverly Hills Coin Club. Even celebrities and star pro sports athletes known to dabble in coin collecting—the so-called "Hobby of Kings"—include Academy Award-winning actress Nicole Kidman, Emmy-winning actor John Larroquette, actor James Earl Jones, NBA all-time leading scorer Kareem Abdul-Jabbar and NHL Hall of Famer Wayne Gretzky.
--In Contursi's opinion, most coins portrayed as rare coins are not investment quality and are simply commodities with high risk.
--The Contursi family's investment philosophy is to acquire the very best museum quality trophies that have been protected and passed down for generations.
According to press materials related to this sale, "Larry H. Miller was an entrepreneur and philanthropist most famous as the owner of the National Basketball Association's Utah Jazz from 1985 up to his death in 2009. He also founded the Megaplex chain of movie theaters and owned over 60 car dealerships throughout the Western United States, among many other successful ventures. A lifelong resident of Salt Lake City and a member of the Church of Jesus Christ of Latter-Day Saints, he grew his business empire over 30 years with the help of his wife, Gail. Born into a modest middle-class family, Larry's story of self-made success embodies the very essence of the American Dream. By the time Larry passed away in 2009, he had created one of the finest collections known. He instructed his wife to sell the coins at his passing but knowing how much they meant to him, she could not bear to part with them. However, after eleven years, she decided it was time to do something else with the value invested in the collection, and that is what precipitated the sale of this collection. Whatever value is realized from Larry's coins will be donated to Intermountain Health to build one of the finest Children's Hospitals west of the Mississippi in Lehi, Utah. Larry would agree with this decision--blessing lives was, is and will continue to be the legacy of Larry and Gail Miller."
~~~
Sources:
https://auctions.stacksbowers.com/lots/view/3-P97N6/1794-flowing-hair-silver-dollar-bb-1-b-1-rarity-4-ms-62-ngc
https://www.globenewswire.com/news-release/2020/11/30/2136654/0/en/Collectors-Universe-to-be-Acquired-by-Investor-Group-Led-by-Entrepreneur-and-Collector-Nat-Turner-for-Approximately-700-Million.html
http://www.coinnewstoday.com/index.php?option=com_content&view=article&id=118:collecting-with-the-stars&catid=34&Itemid=71
Photo courtesy/copyright Stack's Bowers Galleries