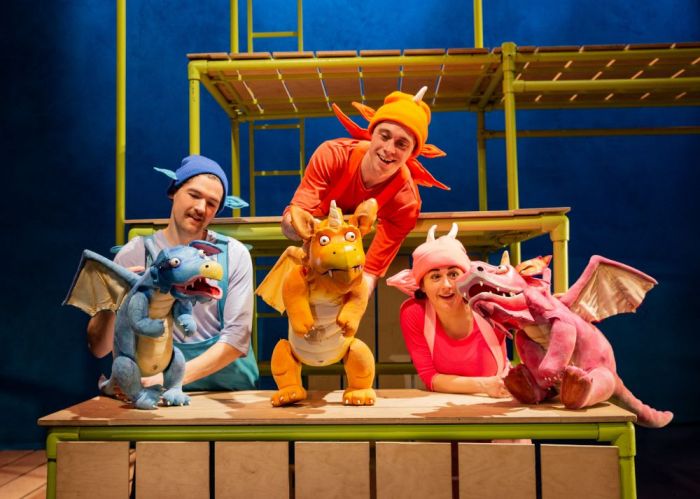 Julia Donaldson's inimitable wit and storytelling genius has been catnip to kids ever since her first book was published in 1993. Her stories translate marvelously well to the stage, and ZOG, one of her most popular works about a disaster-prone dragon, which she wrote in 2010 with her illustrator-collaborator Axel Scheffler, is a case in point. Freckle Productions has created a show that will captivate fans of previous book-to-stage adaptations of Donaldson and Scheffler's work, such as The Gruffalo and Stick Man.
This production pulls on every theatrical lever from panto humor to slapstick to tell a supremely fun and heart-warming tale of an enthusiastic, yet inept young dragon called Zog (played by Billy Mahoney). During the show, Zog (and the audience) learn that the most important lessons in life are to have courage, persevere, and not to be afraid to be different. Zog and his school pals attend a school for dragons, run by the indomitable Madam Dragon (played with panache by the fantastic Asha Cornelia Cluer). Every year at school the dragons try to master a new dragonly skill: fire breathing, flying, kidnapping princesses, and capturing knights. Zog fails pretty much across the board and Madam Dragon's 'golden stars' remain elusive, until an unexpected twist.
The highly talented cast of five prove themselves to be multitalented: brilliant singers, dancers, puppeteers, musicians and – in a goofy, goonish way – comedic performers. Alongside the dragons there are rabbits, crows, a frog, and a squirrel, that keep the plot hurtling along. There are quite a few digressions from the original story, but it rips along superbly, buoyed by the energy and talent of the cast, Emma Kilbey's direction, Joe Stilgoe's original score, Katie Sykes' stage design and Lyndie Wright's gorgeously hand-crafted puppets.
The show was perfectly pitched to its target audience (three- to seven-year-olds). It was wonderful to watch my two- and four-year-olds sitting in their seats, slack-jawed in awe at the events unfolding before them on the stage. There is a healthy dose of audience participation and some dragon dancing involved at the end. The real litmus test was the fact that both girls asked whether we could see the show again as soon as we were back in the foyer.
ZOG is a feel-good, exuberant production with some catchy tunes. I especially liked the duet sung by Princess Pearl (played with aplomb by Lois Glenister) and her mother (Cluer's dual role) It's a neat little parable about the importance of learning new things, taking risks, having the courage to both try and fail, and finding your own path. Ultimately, the unlikely friendship that blossoms between a dragon and a princess is an apt reminder that we can all overcome prejudice, stereotypes, and societal expectations to make the world a better place. And that's a rousing lesson whether you're four or 44.
Zog played at Cadogan Hall during August 2021 and is currently touring the UK. For tickets, please visit: https://www.freckleproductions.co.uk/shows/zog