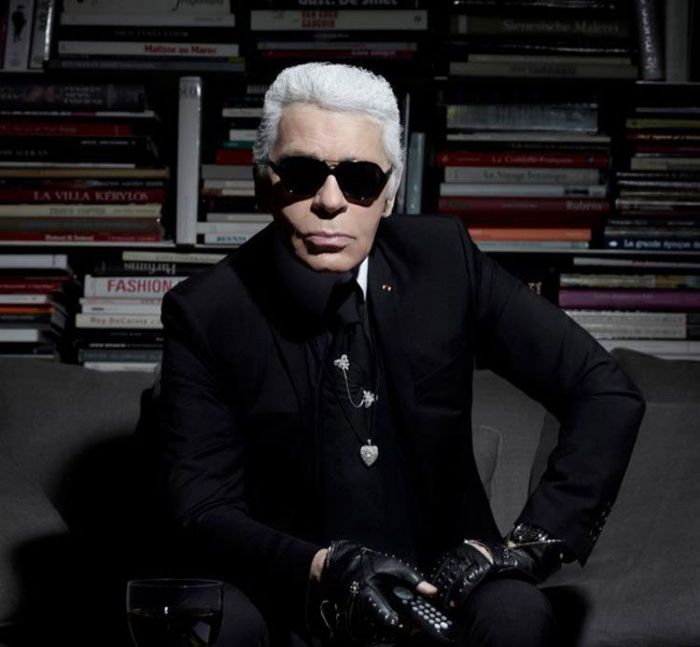 Photo Courtesy of Karl Lagerfeld
There are many adjectives you could use to describe the infamous
Karl Lagerfeld
: "innovative," "chic," "terrifying"— but "thoughtful" and "courteous" probably don't come to mind. Admittedly outspoken, this
fashion designer
clearly refuses to filter his thoughts when it comes to media interviews, and while this continually gets him into trouble with the public, it seems as though the catty designer has no intention of stopping. Here, we have compiled a list of some of Karl's most jaw-dropping and insulting comments.
Photo Courtesy of Pippa Middleton
Pippa Middleton became a minor celebrity after the Royal Wedding extravaganza, and while most of the public praised her for her classic look and divine behind, luxury designer
Karl Lagerfeld
certainly had a different opinion— and he wasn't afraid to voice it. The UK's
The Sun
newspaper reported the famously white-haired designer noted that Pippa "struggles" with her looks. While he sung the praises of the Duchess of Cambridge, Karl added, "I don't like the sister's face. She should only show her back." As with most of Lagerfeld's comments, one must try to take this one with a grain of salt. For the record, Pippa, we don't agree in the least bit.
Photo Courtesy of Adele
Nearly every man, woman and child is aware of the worldwide
Adele
phenomenon that has given us harmonic outlets for our brutal breakup woes. It is hard to call Adele's music anything other than beautiful; however, this doesn't seem to apply to her looks, according to Lagerfeld. When asked what music he was listening to, Karl told
Metro
, "The thing at the moment is Adele. She is a little too fat, but she has a beautiful face and a divine voice." Soon after his remark, Karl was met with a slew of backlash from the media and devoted fans, which quickly caused him to apologize and retract his previous statement. Adele's reaction to the whole mess? She proudly confessed that weight is not a major concern in her life and as long as people appreciate her music, she couldn't care less about how they feel about her size.
Photo Courtesy of Heidi Klum
We all know and love
Heidi Klum
for her adorable German accent and quirky personality, but in true Lagerfeld fashion, Karl simply isn't impressed. For a rather out-of-the-blue remark on one of the fashion world's favorite sweethearts, Karl commented, "I don't know her. Claudia [Schiffer] doesn't know her. She was never in Paris. We don't know her,"
The Sun
reported. Ouch, Karl, even coming from you this one seems a bit harsh. While we can't vouch for Heidi's fame abroad, we can applaud the way that she handled the situation, telling the
The New York Post
, "People can say whatever they want to say. You can't please everybody, and you can't live your life wanting to please everybody either."
Photo Courtesy of Michelle Obama
Many would say that Michelle Obama has become the Jackie O of our generation and is an inspiration to many women for both fashion and fitness. However, the chic FLOTUS recently underwent a bold transition that truly divided the country: she got bangs. Controversial and edgy, this daring move had many supporters; of course, Karl was not one of the dedicated fans of the fringe. In an interview for France's
Canal Plus
, the outspoken fashion designer said, "I don't understand the change of hair… Frankly, the fringe was a bad idea. It's not good." Regardless, Michelle continues to rock the new 'do, and we think the President is certainly one lucky man!
Photo Courtesy of Tina Brown
There is a special kind of wrath that Karl Lagerfeld reserves for people that insult him. In 2012,
Newsweek
editor in chief Tina Brown ran a story in which she called the designer "overrated." It wasn't long before Karl fought back with harsh words of his own, stating that Tina's magazine was not doing well in a media press conference with
WWD
and that he felt sorry for her and her "sh*tty little paper." Ouch.
With all of these instances in mind, it's important to note that Anna Wintour once told
Style.com
that Karl is "the master, so whatever he says, I obey." It certainly says something that Wintour believes that Karl's fashion sense holds merit, regardless of delivery method. And it is common knowledge that you have to have a thick skin to brave the fashion realm. It does leave one to ponder, are these harsh but honest truths from a fashion king? Or are Karl's statements an unnecessary outpouring of biting words? What do you think?