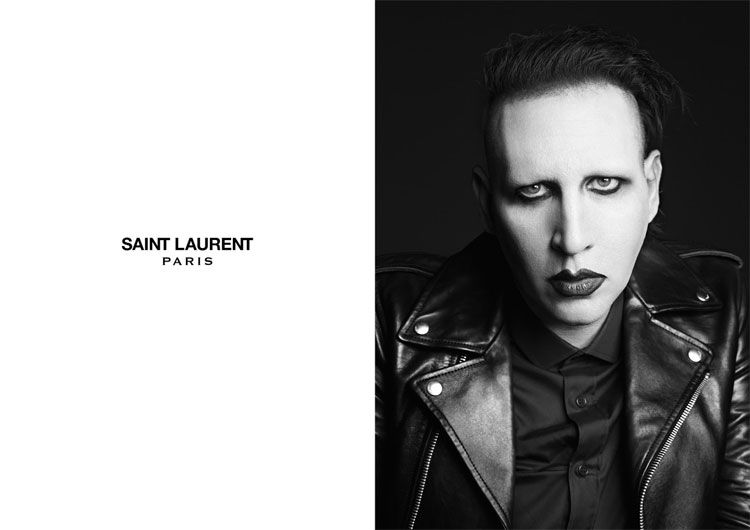 Photo Courtesy of Yves Saint Laurent
Nearly a year after Creative Director Hedi Slimane rebranded fashion icon Yves Saint Laurent, the controversy begins. Is this a case of another cliché in the media?
Saint Laurent Paris
, formally known as "Yves Saint Laurent," shocked the media with its controversial ad campaign starring a globally recognized celebrity known for devil worshipping: Marilyn Manson.
While the fashion power house takes pride in dressing men and women around the world in glamour and sophistication, Manson's career is based off mentally undressing society in subliminal messaging. Let's face it, Manson is not known for being a saint. However backed by billionaire François-Henri Pinault, son of PPR founder François Pinault, Slimane's melancholic revitalization of Yves Saint Laurent looks promising. Over the past year, Slimane has made headlines numerous times in high profile publications such as
Vogue
,
The Guardian
and
The New York Times
, however his goth inspired clothing was not the center of attention.
According to an article in the
New York Times
, "Hedi wants to shock," said Pierre Bergé, the former partner of Mr. Saint Laurent and Mr. Slimane's biggest champion. Dismissing the criticism that has shadowed the designer's every move, Mr. Bergé, who no longer has a financial stake in the company but has been front and center for both of Mr. Slimane's women's shows, described him as the one true heir to the legacy of Saint Laurent.
It is a house, he noted, that has long thrived on creating great controversy, as well as great fashion. "When you are an artist," Mr. Bergé said, "you are obliged to shock." In a recent
press release
, PPR announced the decision to rename their brand "Kering" and use its own strategy in accordance with the company's organic growth in new markets. The company foresees expanding the brand portfolio by acquisitions of small to medium size, which meet strict principles, with a promising future. According to Francois Pinault & family
Forbes
profile, the group's privately held company Kering went up about 30% year-on-year, making the family about $2 billion richer. Between high-end brands such as Alexander McQueen, also known for dark and at times bleak runway shows, to brands such as Puma and Bottega Veneta, the billion-dollar enterprise operates a bulk of the luxury industry.
With 100% ownership of Christie's, which sold a total of $5.3 billion in 2012, on top of the being an international fashion mecca, it is safe to say Kering defines luxury art in every way. Now the question that has yet to be answered is why billionaire François-Henri Pinault backs the works of someone who fashion critics describe as 'the Prince of Darkness'?