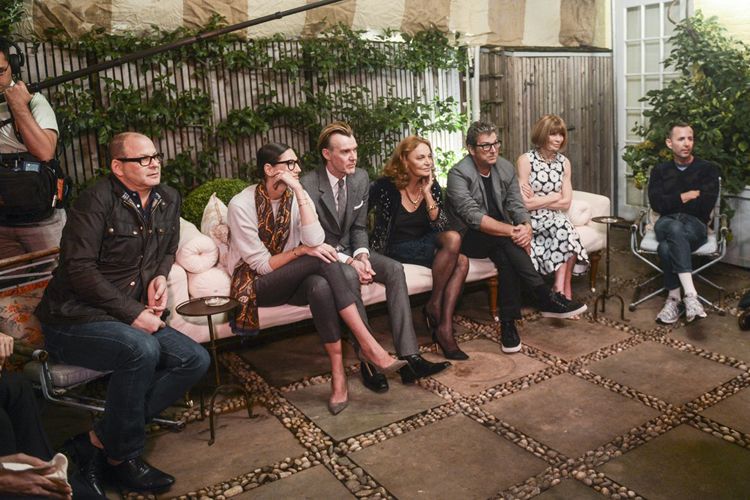 Photo Courtesy of Ovation
Could we possibly be any more excited about this fashion news? Anna Wintour is coming to our home! Well—not our home per se, but America's home. The EIC of Vogue and artistic director of Condé Nast is going to be starring in the new show The Fashion Fund, an insider look into the CFDA/Vogue Fashion Fund competition. And while we will try to maintain our calm, nonchalant demeanor throughout the whole ordeal, deep instead we are freakin' psyched.
The original version of the show was available only on Hulu as mini webisodes at 23 minutes a pop, and ran three seasons ago, so it didn't garner much attention. This time, in conjunction with Condé Nast Entertainment and Ovation, the show will run on Ovation TV for six, hour-long episodes—during which time we'll get to see the interactions and opinions of fashion's elite: J. Crew's Jenna Lyons, CFDA president Diane von Furstenberg, Theory CEO Andrew Rosen and Neiman Marcus fashion director Ken Downing.
"We didn't plan on this being a reality show. It's a docu-series," CFDA CEO Steven Kolb told reporters at the show's press panel. "It's not about the winners. It's really about the unfolding of the process." Yes, it's meant to be more of an informative documentary than a dramatic reinterpretation of Project Runway, but that doesn't mean we can't enjoy it while making our way through a carton of ice cream and hashtagging Wintour's snarky little quips.
The Fashion Fund will air on Ovation TV beginning January 22, at 10 p.m.