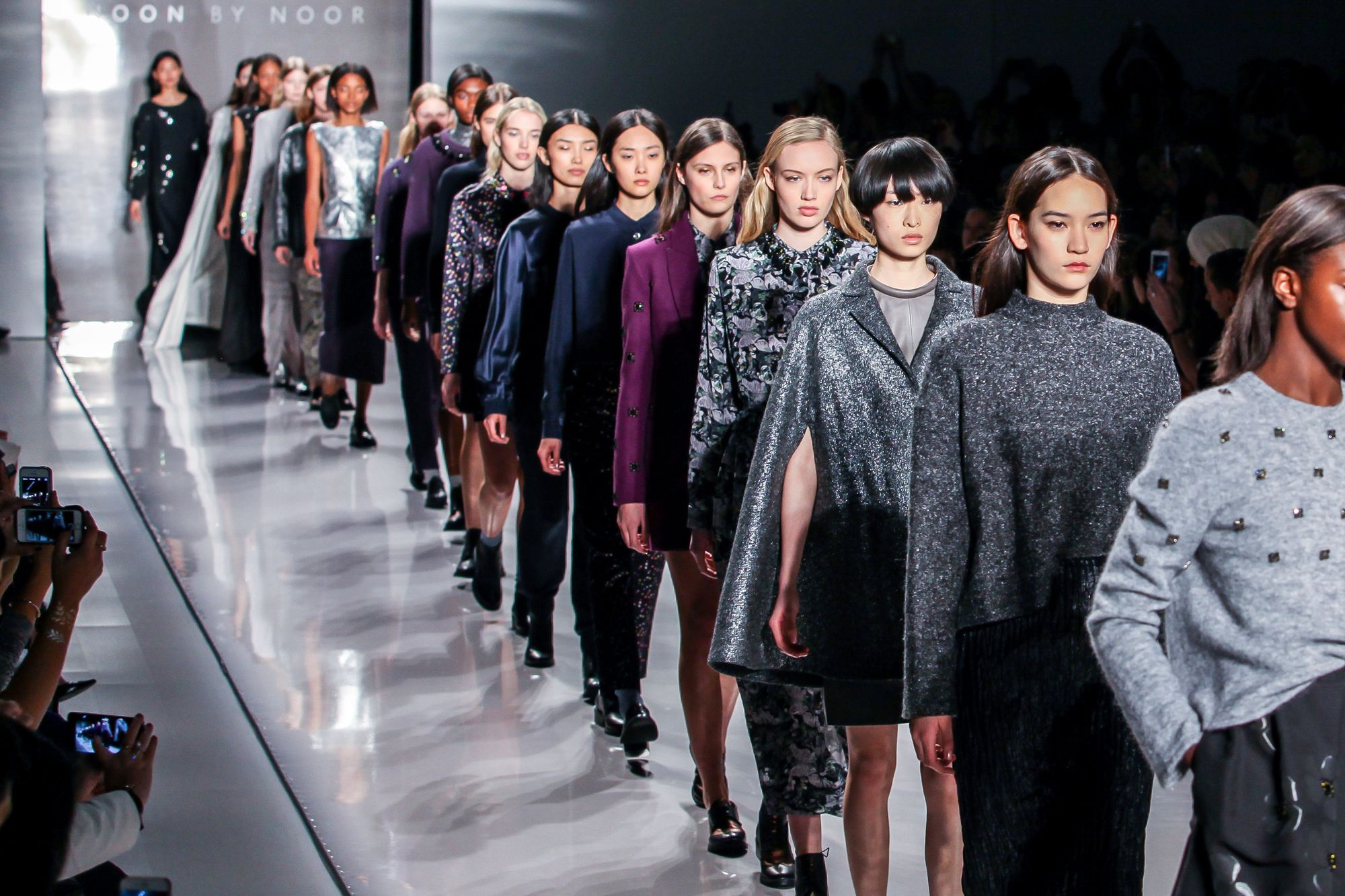 Photo Credit: Miro Vrlik Photography / Shutterstock.com
NYFW starts today and amidst the well-dressed crowds, traffic jams and throngs of photographers, a cloud hangs over the celebration: this could be the end of Fashion Week as we know it. Since news broke in December that the CFDA was reevaluating the traditional schedule in favor of something more consumer friendly, there's been nothing but talk about how changes could seriously affect what we've come to associate with runway season. In the last week alone, Burberry, Vetements and Tom Ford have all announced they are leaving the original schedule, making the possibility of a new Fashion Week more reality than conjecture.
Photo Credit: Stefano Tinti / Shutterstock.com
On Friday, Ford made a statement after he canceled this season's NYFW show, suggesting that the current situation is "an antiquated idea and one that no longer makes sense. We have been living with a fashion calendar and system that is from another era." He notes that brands spend far too much money generating excitement for a collection that won't be available for purchase for months. "Showing the collection as it arrives in stores will remedy this," he added. "And allow the excitement that is created by a show or event to drive sales and satisfy our customers increasing desire to have their clothes as they are ready to wear them."
Photo Credit: FashionStock.com / Shutterstock.com
He's not wrong. With the advancement in technology, popularity of bloggers, social media growth and a fast fashion culture, consumers have easier access to their favorite designers now more than ever. Twenty years ago, when shows were only open to buyers and editors the current format worked smoothly. Now potential customers can see a collection today that they want in their closet tomorrow. The four-month gap between shows and availability has caused the industry to reach a breaking point. In this time frame the customer loses interest and fast-fashion brands like Zara and H&M can replicate the designs and immediately give buyers what they want. "Designers, retailers and everybody complains about the shows," Diane von Furstenberg told WWD last year. "The only people who benefit [from early shows] are the people who copy it."
Photo Credit: catwalker / Shutterstock.com
So what's the solution? The CFDA has offered up several ideas such as switching the collections so they are shown during their corresponding seasons or even moving the dates to better coincide with in-season sales. There's also the strong possibility of showing collections to editors and buyers privately beforehand and saving the runway for consumers. And there's a huge market for consumer-focused shows. Tickets are reportedly being scalped and auctioned off at exorbitant prices, costing potential buyers anywhere from $950 to $3,500 just to see a collection. By offering potential buyers the ability to purchase the collection immediately following the show, designers can capitalize on the hype of Fashion Week and increase their sales numbers.
Photo Credit: Sam Aronov / Shutterstock.com
A number of brands like Versace, Moschino and Burberry have had great success in making products available immediately following runway shows. Many have seen increased sales numbers and collections completely sell out. "Sales were fast and strong," Ruth Chapman of Matches Fashion told Vogue UK. "But also limited in terms of quantities—the intention was to sell out straight away and we did." While these numbers seem to be indicative of the desire to shop off the runway, it doesn't necessarily reflect the majority of luxury consumers and some brands worry that the desire to have the latest and greatest will wane when it's no longer a novelty.
Photo Credit: Marina Tatarenko / Shutterstock.com
Burberry doesn't see it that way. The brand has been streaming their runway shows online since 2009 and offering interactive, shoppable content during each show. For the most part it's been small things like accessories, but now they'll be offering their entire collection online and in-stores, immediately following each presentation. Last week, Burberry's creative director and CEO Christopher Bailey announced that the brand would merge its menswear and womenswear into one show and will only present twice a year. "The changes we are making will allow us to build a closer connection between the experience that we create with our runway shows and the moment when people can physically explore the collections for themselves," he said in a statement. "Our shows have been evolving to close this gap for some time. From livestreams, to ordering straight from the runway to live social media campaigns, this is the latest step in a creative process that will continue to evolve."
Photo Credit: Sam Aronov / Shutterstock.com
A few hours after Burberry made their announcement Tom Ford cancelled his February 18 NYFW show and revealed that he too would be following a more consumer-friendly schedule. The designer will now showcase his Fall 2016 collections this September, closer to when the collection will be available for purchase. This isn't Ford's first break from the traditional Fashion Week structure: he's experimented with personal showcases in his flagships, media-blackout presentations, shown in exotic locations and last season decided to forgo the runway entirely in exchange for a collection video featuring Lady Gaga.
Photo Credit: FashionStock.com / Shutterstock.com
Up-and-coming Parisian brand Vetements also jumped onto the bandwagon, and starting next year, will stage conjoined men and womenswear shows in January and July between the traditional men's ready-to-wear and women's couture fashion weeks. The label already stopped producing pre-season collections, noting that the current system is merely killing the creativity of its designers. "Designers are human beings who need to have some spare time to get rest and gather strength. Instead, designers are put under enormous pressure and insane schedules," Guram Gvasalia, Vetements's CEO told Vogue. "The industrial machine sucks out their creativity, chews them up, and spits them out. Reducing to two main collections will give designers enough time to revitalize." Currently the brand is under the creative direction of his older brother Demna Gvasalia, who was just named the creative director of Balenciaga.
Photo Credit: Sam Aronov / Shutterstock.com
One of the forerunners of the movement, Rebecca Minkoff, is expected to present her shoppable Spring 2016 collection rather than her Fall 2016 line this weekend during NYFW. Her large social media following, which she's grown over the past few seasons with exclusive Fashion Week content and partnerships, should help her transition easily from an industry to consumer show—and her non-traditional presentations suggest she's willing to adjust as necessary. "What will the ideal new model be in terms of a Fashion Week that takes into account retail partners, one's own stores, the social media frenzy and consumers?" Uri Minkoff, CEO of Rebecca Minkoff, asked WWD. "What would be the ideal solution that doesn't change dramatically the fashion calendar, and becomes a win-win-win for every party involved?"
Photo Credit: Miro Vrlik Photography / Shutterstock.com
It's an excellent question. A consumer-facing show sounds like an easy solution to the problems plaguing the traditional schedule, but it leaves a number of important questions unanswered. For the model to work, everything shown on the runway would need to be available for purchase, when in reality, only about 30 percent of what's seen during ready-to-wear presentations actually goes into production. This would result in smaller collections or limit brands into only showing what was already purchased by buyers in industry previews. By doing this it caps a designer's creativity and doesn't allow them the ability to showcase their more exciting, Instagram-worthy pieces, potentially depreciating their brand's image.
Photo Credit: catwalker / Shutterstock.com
It could affect lead times and put pressure on manufacturers, not to mention the rest of the supply chain, which could result in lower quality goods. "It's great for the people that have their own factories and have the machine in place to produce the things as quickly as they can, but for a lot of the smaller guys, I think it will be an absolute pain, as it's already really difficult to get the stuff made," said Vogue fashion director Lucinda Chambers. "Big brands like Burberry can say, 'We'll do 20 of those six pieces,' based on what their feedback is from live-streaming it. Smaller brands don't have that opportunity and will be unnecessarily squeezed." This could be crippling for unknown designers that are just starting to gain a foothold in the industry.
Photo Credit: Sam Aronov / Shutterstock.com
And even if consumers are satisfied with buying from a curtailed collection and can get past the initial confusion that would result from the deconstruction of the traditional Fashion Week, brands could still see a dip in sales. Ready-to-wear collections, while creating the biggest hype, don't actually bring in very much money. Pre-collections can make up roughly 35 to as much as 90 percent of a brand's revenue due to availability, length of time on the sales floor and ironically, ease of wear. Customers that are spending a majority of their budget on a pre-collection will have limited funds when it comes to ready-to-wear—even if it is available and made for immediate consumption. Obviously there's no clear-cut answer yet, and the industry is just beginning to venture into new territory, but it will be interesting to see how the decisions made in the next few months transform the landscape of fashion.