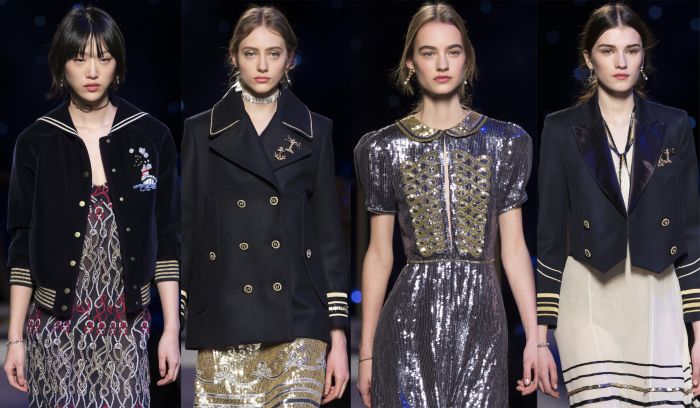 Photos Credit: Ovidiu Hrubaru / Shutterstock.com
With our Instagram feed filling up with runway shots of Kendall Jenner, Gigi Hadid and Karlie Kloss, it's almost hard to imagine a time when their faces weren't plastered all over the internet. But all supermodels were newbies at one point, with a small social media following, a smaller portfolio and a dream of making it big. In an attempt to discover the newest Binx Walton or Cara Delevingne, we've searched for the most exciting new faces this Fashion Month. These are the girls you'll want to watch for, and follow, this season.
Yasmin Wijnaldum
Yasmin Wijnaldum is a 17-year old Dutch model who is pretty much taking Fashion Week by storm. Considering she started modeling last year, she carries an impressive roster and walked for no less than 10 shows in her first season. This month alone she's modeled for Alexander Wang, Victoria Beckham, Vera Wang, Oscar de la Renta, Proenza Schouler and Alexander McQueen, just to name a few. And Miuccia Prada already considers her a muse—earlier this year she was named the face of that Italian brand's Spring/Summer 2016 campaign along with seasoned vets like Natalia Vodianova and Sasha Pivovarova.
Dilone
Technically she's Janiece Dilone, but she's so cool she only goes by her last name. This 21-year-old, native New Yorker had a slow start in 2015 when she walked for only five shows, but it was enough to grab people's attention. She caught the eye of Love magazine editor-in-chief Katie Grand (who put her on the cover of the glossy), and brands like Versace and Maison Margelia who snapped her up for their Spring Couture shows. This month she's walked over 20 shows including Public School, Marc Jacobs, Burberry, Fendi and Moschino.
Lia Pavlova
If you haven't heard the name Lia Pavlova yet, then you'll want to take note: this 21-year-old Russian native walked more shows during NYFW than any other model this season. Appearing on 23 runways in seven days, she worked with everyone from Jason Wu to Oscar de la Renta. She even walked with her twin sister Odette (who we're sure will make the list next year) for a few shows, including Rihanna's Fenty x Puma collection. In London and Milan she walked for Christopher Kane, Erdem and Gucci, but we're betting we'll also see her in Paris next week.
Abby Williamson
Texan native Abby Williamson may not be everywhere this season like some of her contemporaries, but this 17-year-old is just getting started. In her very first season she was snatched up by Dior for their Spring 2016 haute couture show and caught the attention of designers and editors who are all calling her the next big thing. Her Fashion Week appearance have been slow this month—so far she's walked for only five designers including Rodarte and Anna Sui in NYFW, but Paris is where we're really expecting her to shine. Keep an eye out for her on the Dior Fall 2016 runway where she's expected to make an appearance.
Lineisy Montero
Even if you haven't heard the name, you'd recognize the face. Last season, 20-year-old Lineisy Montero was one of the biggest stars on the catwalk, holding the title for most shows walked during NYFW. While she didn't make the top spot this year (she still starred in a whopping 17 shows), she's made a major mark on the runway this month, walking for international designers like Burberry, Mary Katrantzou, Roberto Cavalli, Prada and Moschino. She also landed the March 2016 Harper's Bazaar UK cover, and is the new face of Chanel and Givenchy's Spring 2016 campaigns.
Sora Choi
Sora Choi broke into the industry on Korea's Next Top Model and since then the 23-year-old has exploded onto the scene. Her first major appearance was on the Louis Vuitton Cruise 2015 runway in Monaco and since then major brands have been snapping her up left and right. She walked a staggering 17 shows at NYFW this season for designers like Prabal Gurung and Jeremy Scott, before jumping across the pond to model for names like Preen by Thornton Bregazzi, Gucci and Diesel Black Gold. This season she also landed campaigns with March Jacobs and Coach so this won't be the last you'll see of the reality-show winner.
Maartje Verhoef
Dutch model Maartje Verhoef has been in the business since she was 13 years old, so she's more than paid her dues. Over the last few years she's been gaining major traction and it's no surprise she's all over the runway again this season. She appeared in 16 NYFW shows, walking for Tommy Hilfiger, Rag & Bone and Proenza Schouler. In London and Milan she was seen at Alexander McQueen, Burberry, Moschino, Versace and Etro. This season she also landed several major campaigns including the Spring/Summer 2016 ads for Salvatore Ferragamo, Dior, Moschino and Anna Sui Beauty. Considering her previous appointment in Dior and Chanel's couture shows, we expect to see a lot more of her at PFW.
Yuka Mannami
Discovered on Instagram last summer (with an insane 83,2000 followers), 24-year-old Yuka Mannami started off her career with a bang. Within two months of being signed by Donna Models, she was booking campaigns with Uniqlo and posing for high-end editorial shoots. By the end of the year she was walking in Fendi's Fall 2015 couture show in Tokyo before becoming an exclusive model for the brand for the Spring/Summer 2016 season. This year she's walked for DKNY and Creatures of the Wind during NYFW and we're sure we'll see her in Paris next week where she's signed with Elite Models.
Greta Varlese
Landing the March 2016 Harper's Bazaar UK cover with Lineisy Montero, Milanese model Greta Varlese got her start a little unconventionally—on Givenchy's Fall 2015 menswear runway. It was a one-off gig, but it was enough for other designers to catch a glimpse of her. By the following season she was booked for Chanel, Dior and Valentino's couture shows. This season, the 17-year-old walked for some of the biggest tickets in NYC and London including Vera Wang, Michael Kors and Mulberry, before returning home to Italy to walk for Roberto Cavalli, Prada, Moschino, Versace and Etro. After PFW watch for her in Valentino and Givenchy's upcoming campaigns.
Susanne Knipper
Making her debut on the Fall 2015 Atelier Versace couture runway, 18-year-old Susanne Knipper got her start when she was scouted on train platform in Amsterdam on her way to school. Now she's a favorite of Parisian designers and has already walked couture shows for Chanel, Dior, Fendi and Armani. This season she was seen in NYC on the runways of Suno, Opening Ceremony and 3.1 Phillip Lim, while London and Milan saw her on the Paul Smith, Erdem and Fausto Puglisi runways. But keep an out for her in Paris, as it's where we really expect to see her shine. One of her career goals is to land the cover of Vogue and we have to say, it's a total possibility.
Irina Djuranovic
Australian-born, Montenegro-raised Irina Djuranovic walked her first runway a year ago on Dior's Spring 2015 couture runway, but since then she's become one of the go-to models for major designers. At NYFW she walked for big names like Calvin Klein, Narciso Rodriguez and Derek Lam, and made appearances on the Topshop Unique, Erdem, Antonio Berardi and Roberto Cavalli catwalk in London and Milan. She's walked a jaw-dropping 24 runway shows this month so far and we still have another week and a half to go. Chances are her good she may hit the 30 show mark before PFW comes to a close.