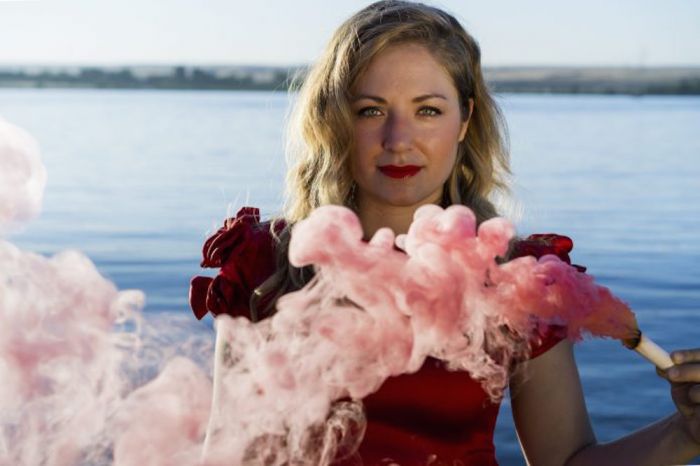 Photo Credit: Michelle Lewis
Michelle Lewis, founder of Visibility Vixen, is an entrepreneur who teaches small business owners and brands how to get more visible in the online space. Through her courses, mastermind and podcast, she supports entrepreneurs through system building, brand establishment, video creation and livestreaming confidence. With a film and tv background on shows like Pretty Little Liars and Chuck, she knows what it's like to walk a red carpet, and shows her clients how to grow their worth and revenue with similar strategies. In her spare time, you can find her hanging out with her pug, exploring a nearby stable or on the hunt for a black iced tea!
JustLuxe: What is your film and television background? What was it like growing up in Hollywood?
Michelle Lewis: I grew up following my assistant-director dad all over the world on huge movies like Mission Impossible II. That gave me the movie bug, so I got my degree in tv/film and started working on shows like Pretty Little Liars and Chuck as a stand in. I then wrote and starred in a pilot a few years ago!
JL: How did you transition from acting to entrepreneurship?
ML: I think most actors are entrepreneurs without knowing it since they're constantly marketing themselves and usually are balancing a side business. For a long time I was acting, creating a music album and getting my degree in natural medicine ... so the switch to full-time online business came naturally. When I stepped away from 12-hour shooting days, I decided to create an online course and that pretty much started it all!
JL: How did you start VisibilityVixen.com?
ML: A friend of mine told me I should start teaching online business owners how to make their own videos—I thought everyone knew how to do that! So I created the course Video Youniversity and realized I could really help people get more comfortable on camera, which led me into other aspects of Visibility. I loved being able to take a more heart-centered, holistic approach to help a launching entrepreneur create an immersive brand, support their growth with online systems, and grow their following through video and livestreaming.
JL: What's your favorite place to travel?
ML: L.A. can be exhausting, so it's definitely Coeur D'Alene, Idaho where my parents recently got a home. Giant lakes, huge forests, a creative community ... It is incredibly beautiful and so relaxing for me! I can't wait to go back in a few weeks and unplug for a while!
JL: What's your splurge item this year?
ML: Definitely a new laptop. The Surface Pro just isn't cutting it—a girl needs more RAM!