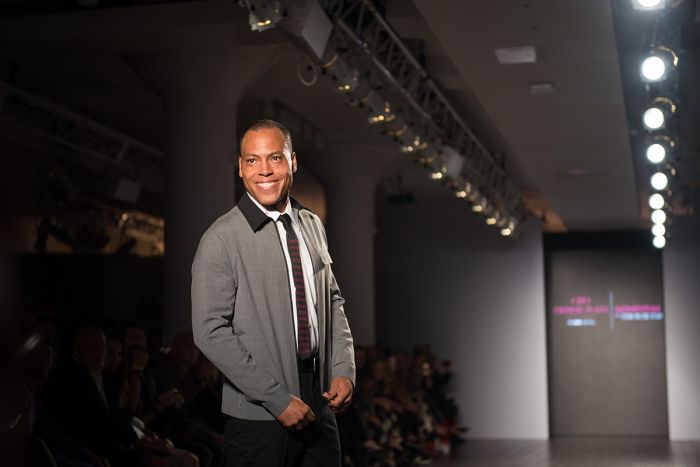 Photo Credit: Samantha Shelly
Never one to be satisfied with the status quo, Timo Weilandis pushing fashion boundaries in an entirely new way. The brand's latest collection, Momentum, partnered with the IHG Crowne Plaza Hotel in New York City to create a fresh line that reflected the hotel's sleek, metropolitan spirit. "The Timo Weiland Momentum Collection for IHG Crowne Plaza is centered around the concept of a wardrobe—not a uniform. The title came about naturally as the global business traveler is the core audience, always on the go, making moves. We sought to express the design-led philosophy from first impression to the full experience as the CP team members play a crucial part in all aspects," says Weiland. Blending company culture with fashion-forward design is not for the faint of heart, but the team went undeterred.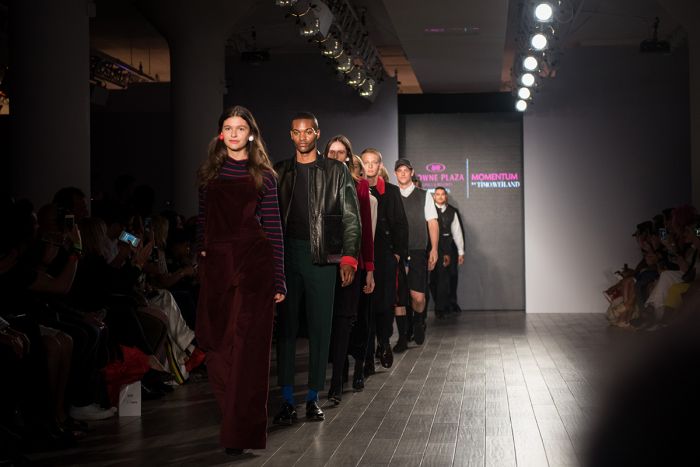 Photo Credit: Samantha Shelly
When considering how to make the collection extra special, the team looked to the Crowne Plaza's staff for inspiration. Five team members, all nominated by their co-workers, were selected as models to walk in the show. It wasn't just employees from the New York location, either—"models" from Tampa to Montreal were encouraged to make their runway debut.
So why partner with a hotel? Asked about the reasons behind the collaboration, co-founder Donna Kang responded that, "It felt like a perfect fit from the get go. We were all aligned on the fact that the most important aspect behind this collection was the staff (also known as the most important part of Crowne Plaza), were the people that will be working and living in the collection. It was the filter that made all our ideas unite. Then when we saw the Crowne Plaza mood boards there were inspirations that were on our own, especially the music. That pretty much sealed the deal." In order to ensure the highest quality for the collection, all uniforms were ordered through Cintas, the world's largest manufacturers of luxury uniforms.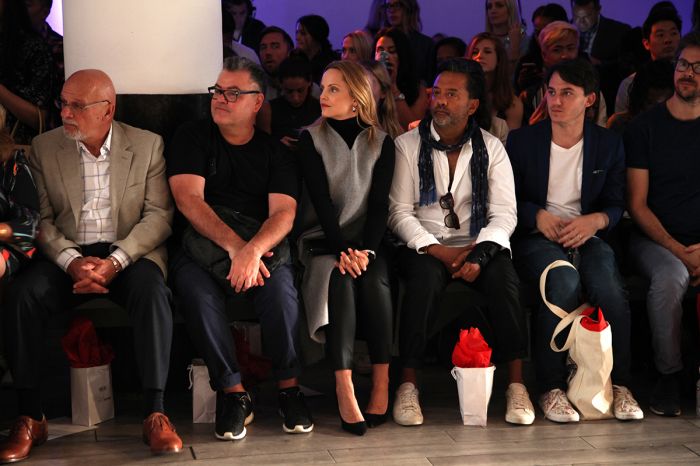 Photo Credit: Getty Images
Hosted at the Metropolitan West, the event was a star-studded affair with the likes of actress Mena Suvari gracing the front row. The collection serves as part of a greater three-year plan by the Crowne Plaza. The $200 million initiative, titled the "Crowne Plaza ACCELERATE program," details the brand's push to become tastemakers in the travel industry. Partnering with Timo Weiland to outfit their team is only the beginning, so we'll have to wait and see what they have coming up next.