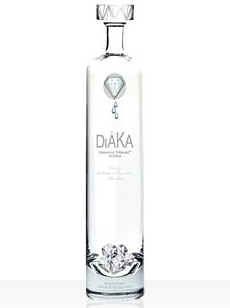 Food & Spirits:
DIAKA(TM) Vodka, an acronym for "diamond vodka," is the world's most expensive vodka, created for luxury connoisseurs around the world.
Rudy N. Vogel, CEO and Founder of TransBorder Marketing, Inc. announced the launch of the high-class vodka, introducing The Platinum Standard(TM) to the luxury spirits marketplace.
Vogel said, "We are poised to take the ultra premium vodka category to a new level of taste and sophistication. DIAKA(TM) is part of this new Platinum Standard at the top of the category. Vodka constitutes the largest segment of the U.S. liquor market, and high-end vodka continues to grow at a blistering pace."
DIAKA(TM) is imported from Poland and utilizes the industry's first patented diamond filtration process. The vodka is filtered through nearly one hundred diamonds of up to one carat in size.

Even the bottle is luxurious. DIAKA(TM) is housed in a never-before-utilized manufacturing process that allows crystals to become part of the bottle itself.

With all the bling involved, Diaka will set you back $100 a bottle.