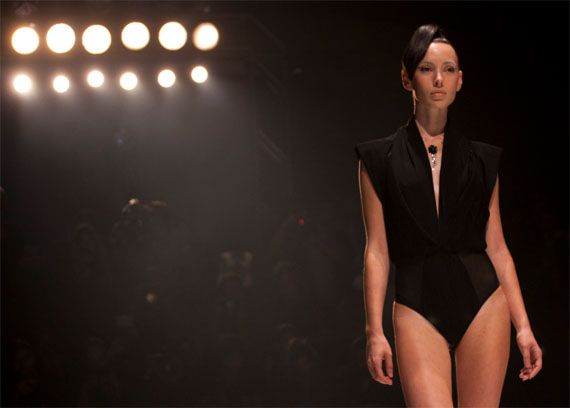 Photo Courtesy of Montreal FW/Allen McEachern
It wasn't until I was graciously invited to attend Montreal
Fashion Week
by the Bureau de la Mode Montreal that I realized our neighbors up north had such impeccable fashion talent.
Not only is Montreal home to local brands including ALDO, Le Chateau, Parasuco and more, but it's also an underrated force in the fashion world that specializes in ethical apparel, specialized costumes (Cirque du Soleil's ostentatious ensembles are custom-made in town) and winter wear, just to name a few.
During my stay, I was completely charmed by the adorable picturesque French city, the friendly people and, of course, the ingenious style of the city. I was ever the girl about town — attending back-to-back fashion shows daily, mingling with designers, visiting specialty boutiques and ateliers, taking in the city sights (the exquisite Jean-Paul Gaultier exhibit is not to be missed!) and gorgeous architecture — all while soaking up every ounce of the Montreal fashion scene.
I discovered a gem of a city that offered everything a fashion capital would — without a dose of negative nuances, overwhelming ego or manic pace of living. Montreal, you won me over. Here are a few of my Canadian fashion favorites:
Philippe Dubuc
Known as the master of menswear, Philippe Dubuc wowed me with his contemporary, chic designs. During my visit to his studio and store, I discovered a truly distinguished designer — one who creates modern, urban silhouettes with refined finishings, exquisite details and a dash of complexity.
His looks were so compelling; I was wistful for a women's wear collection with the same sort of understated edginess. Luckily for me, his debut collaboration with Simons department stores timed perfectly with my visit. I packed home a few stylish souvenirs thanks to Dubuc's design genius.
Harricana by Mariouche Gagné
Helmed by eco-friendly designer Mariouche Gagne, Harricana differentiates itself as a highly-covetable collection with luxury leanings melded with a rare responsible initiative. Using recycled fur, Gagne has smartly reinvented outerwear with ethics. From posh fur boots and cozy caps to ready-to-wear separates and undoubtedly luxe-looking accessories, Harricana has something fabulous (and furry!) for everyone.
Denis Gagnon
Gagnon's spring show was a highlight of the entire week for me. Set at Birks jewelry store (similar to the prestige of Tiffany & Co.), the fashion show presented a flurry of animated and adorable models traipsing throughout the boutique, clad in whimsical, fresh spring designs to refreshing, upbeat French music. The entire production was charming and exuberant (with a delightful champagne toast at the end!) and unlike any other fashion presentation I've witnessed in the States.
Anastasia Lomonova
Named one of Canada's most promising young designers, Ukrainian-born Lomonova showed sophisticated silhouettes that were not only interesting and unique, but also mostly wearable. Sheer chiffon dresses, ruched bodices, intricate draping and pretty pleats pleased crowds but proved tasteful and alluring at the same time. There was definitive edgy ethereal vibe punctuated with modern styling, accessories and cool attitude.
Anomal Couture
Intriguing, sexy and sensual, Anomal Couture showed curve-hugging silhouettes, dark romantic gowns, chic silhouettes (plunging v-neck jumpsuits, tulip skirts, wide-legged trousers, draped tops, printed silk miniskirts and more) and clean, high-quality cuts. Anomal Couture is sophisticated and feminine and slightly urban - perfect for the city girl with an endless social calendar. In short, I'd wear it all.