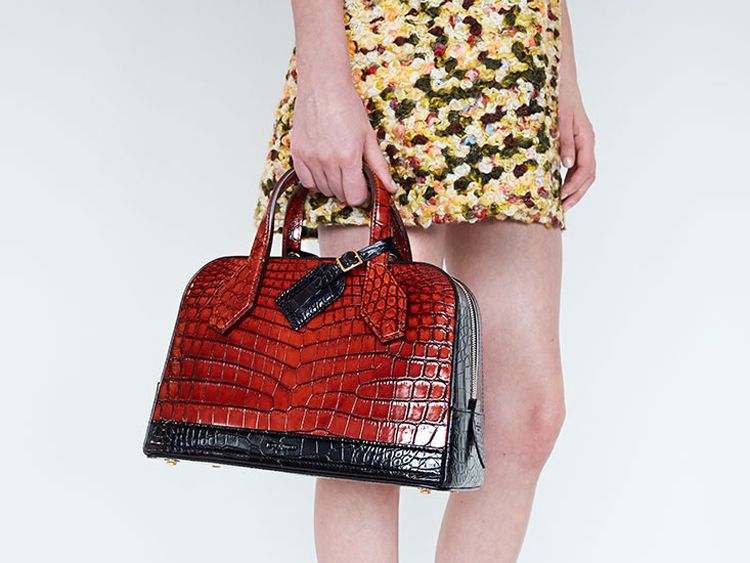 Photo Courtesy of Louis Vuitton
Marc Jacobs never made a bag like this. For one of Nicolas Ghesquiere's first bags as new Creative Director of Louis Vuitton, he's created the Crocodile Dora PM which was just released with a new price point of $54,500. While Louis Vuitton is, of course, a luxury brand, their average price range usually runs around a few thousand for a handbag, while these prices are usually reserved for limited-edition, collector-quality Hermès pieces. Or a down payment on a new yacht. Either way—we kind of really want one. With its dual contrasting colors and roomy interior we could wear this every day, but industry insiders are wondering how the new bag will fare considering it's not only a new textile for the brand, but a new shape as well.
The bag, which made its first appearance during Ghesquiere's Fall 2014 runway show, has yet to garner a true fan base. As PurseBlog points out, "Most bags in this price range are simply exotic recreations of designs that the buying public has already embraced with open arms, like the Givenchy Antigona or Fendi 2Jours, but this one is an untested bag shape." It looks like only time will tell if Louis Vuitton's new design will be the "It-bag" of fall or will be a very pricey closet decoration.
The Dora PM is available in crocodile, monogrammed leather or fabric body and is priced from $3,250-$54,400.