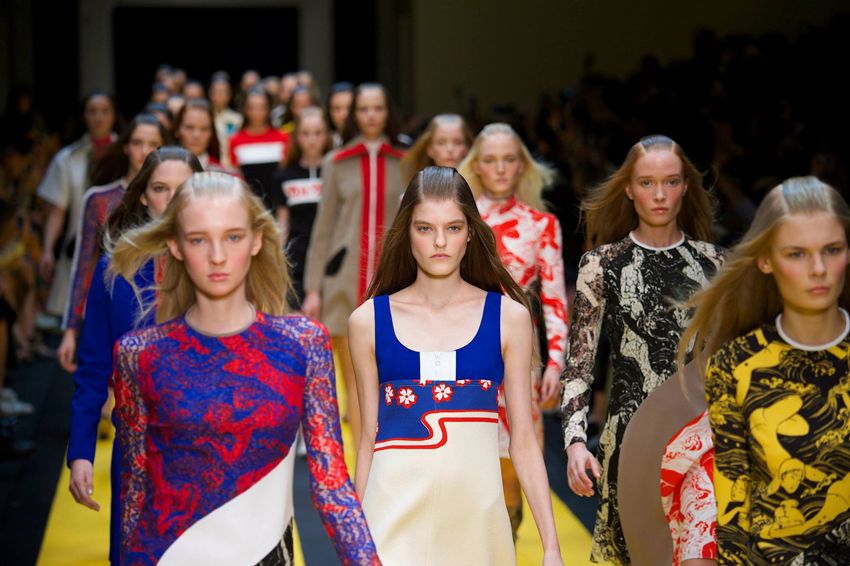 Photos Courtesy of Carven via Facebook
At the Carven show during Paris Fashion Week today, Guillaume Henry gave us another awesome collection that we have to have in our closets come spring. The SS15 show brought color, print and life back into the season, something that has been missing from the designs of his monochromatic-loving contemporaries. Playing with sportswear silhouettes and Japanese influences, the line was chic and simple, adding a bit of fun to an otherwise serious fashion week. Chunky bags carried under the arms and mini dresses paired with flats gave the collection a youthful modernity that Henry is so good at.
With a runway that looked like something from Kill Bill and dresses with the Carven name emblazoned in Japanese katakana across the front, we were expecting Uma Thurman to pop onto the runway any minute. Although she didn't (darn it), the Japanese-inspired collection was enough to keep us entertained with ukiyo-e print separates, mod-silhouettes mini dresses, and snake, lace and moku hanga print detailing.
While some of the dresses have some bright colors and patterns that might be inappropriate for an office setting (or really anything outside of fashion), some of the basics and separates are done in such a way that it wouldn't be hard to pick and choose pieces that even a minimalist might enjoy. Personally we'd have no problem rocking a multicolored smorgasbord of a dress, but we understand not everyone wants to wear an outfit consisting entirely of primary colors.
Keeping everything modern with a sportswear silhouette, the collection looks surprisingly easy to coordinate—simple ready-to-wear, accessories and even beauty looks are left undone and uncomplicated for the Parisian runway. The large, cube-shaped satchels are a surprising twist when designers have been going smaller and sleeker with bags this season, but it's a welcome change. The collection in its entirety does follow the aesthetics of other French brands this season, as it seems the city of Paris is suddenly obsessed with the idea of sportswear. We're only halfway through Paris Fashion Week, but we think it's safe to say this is the go-to trend for spring.