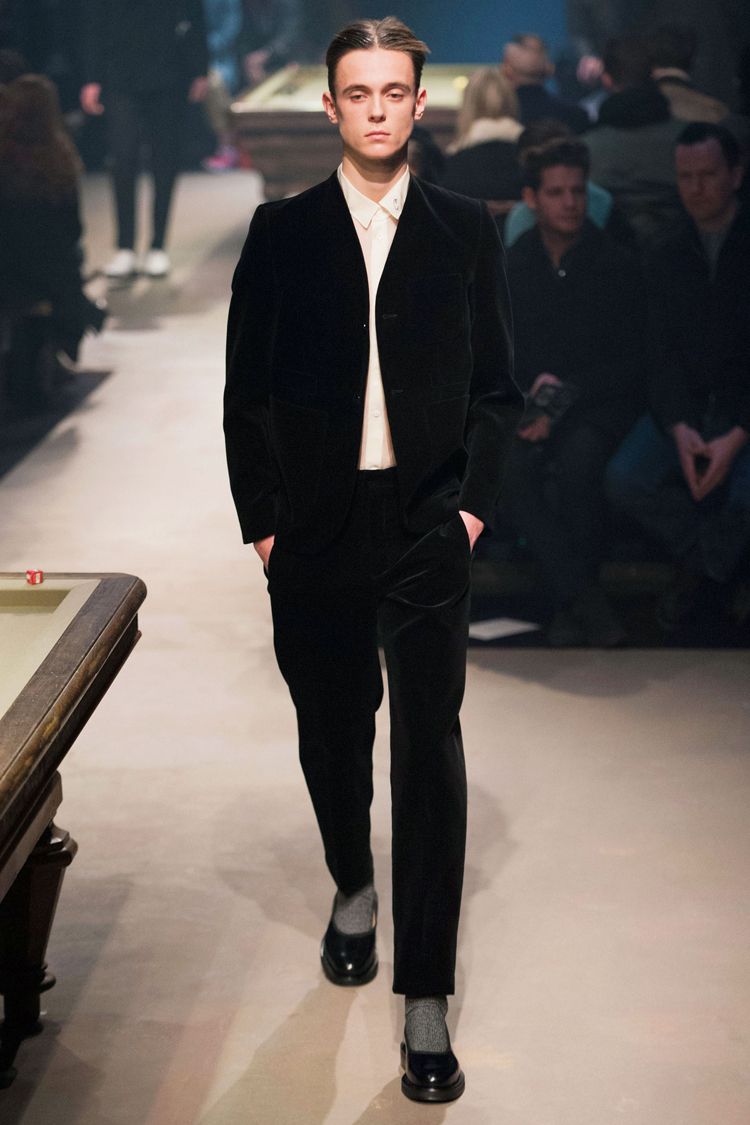 Photos Courtesy of Carven
We were expecting quite a bit from the Carven men's collection. With creative director Guillaume Henry at the helm and his first men's line debuting just a few seasons ago, it's hard not to get amped up by such raw talent. The Fall 2014 runway show during Men's Paris Fashion Week didn't disappoint and even tempted us to dip into a little seasonal menswear.
Strutting their way around billiard tables (because when you're designing for men you have to get manly) models we decked from head to toe in dark shades; a spectrum consisting of grey, navy, white and black. But the lack of color doesn't affect the beauty of the collection; instead the neutral palette allows the texture, cut and fabric to take center stage. Streamlined tailoring combined with edgier angles gives the whole collection a well-rounded, very wearable appeal.
Inspired by mobsters from the early twentieth century, Henry blended his timeless aesthetic with the gangster attitude and created a look that screams classic and contemporary all in the same breath. "I was just looking at all these books of police mug shots, and all these guys, they were anonymous and they were so cool," he told WWD backstage at his Paris show. Who knew Capone could be such a fashion muse? Using prison graffiti and tattoos from the time period, he created a print that came down the runway on everything from t-shirts to sweaters and even a few women's skirts.
While we love the angst-y twist of the gentlemanly gangster, what we really adore are the shapes of the collection. Who knew men would look so good sporting the current coat-as-a-cape trend? The boxy shape of outerwear and sweaters don't bulk up the frame, but are impeccably tailored to give volume and depth to each piece. Multi-dimensional layers and fabrics are prevalent in this winning collection and give us another reason to borrow our guy's jacket.