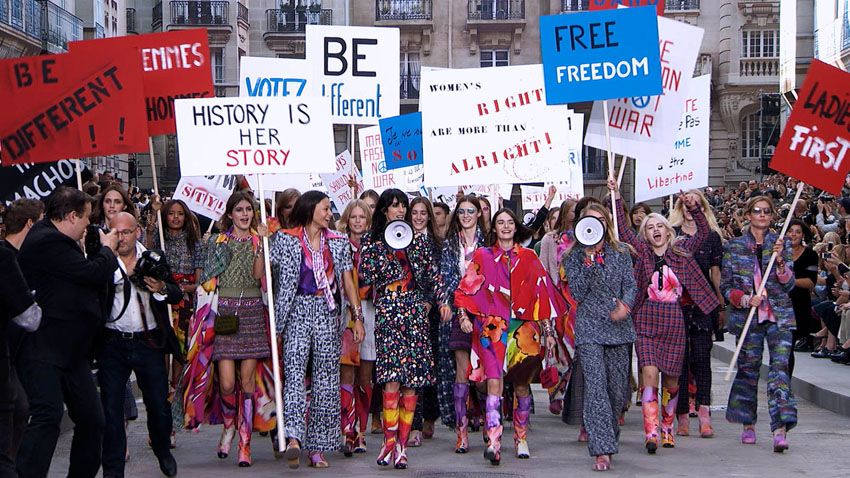 Photos Courtesy of Chanel
Maybe it was Beyoncé's feminist statement at the VMA's or Emma Watson's moving speech on feminism at the U.N., but it seems even fashion is catching onto the idea of women standing up for themselves—in a very chic way, of course. At yesterday's Chanel SS15 runway show, Karl Lagerfeld sent row after row of well-dressed models down the runway allowing them to march to the beat of their own drum. Some models walked together chatting as they sauntered down the street, while other breezed past them in a full-on strut. Beauty was non-uniform and models were allowed to choose what look was best for them. It was an altogether refreshing and liberating runway show—until the models starting marching for women's rights—then it was awesome.
The runway, which was over 425 feet of "Boulevard Chanel," served as the meeting place for almost 90 models to stage a protest with banners and hand-painted signs emblazoned with slogans like "Free Freedom," "History is HER story," "Ladies First," and "Women's Rights Are More Than Alright!" And the women leading the protest? None other than our favorites Cara Delevingne and Gisele Bündchen of course. Screams of "What do we want?! Freedom! When do we want it?! Now!" rang loud for the finale as the models stormed the runway with picket signs, megaphones and enough girl power to make the Spice Girls proud. As Lagerfeld joined them for the march even the ever-stoic Kaiser cracked a smile.
Lagerfeld took this street collection to the extreme, letting models rock whatever hair or makeup look they felt like. "The girls walk out on the street, it's not an organized fashion show. They have all different makeup, what's the best for them, the hair is hardly groomed, they walk by group; it's like what you would see in the street," Lagerfeld explained backstage in WWD's Closer Than the Front Row video. Gisele, who was in a fitting at the time, seemed surprised, "but you're going to have an order?" she asked, unclear about the staging. "No, you just go, go!" he cut her off waving his arm. The collection has no heels ("It's not the red carpet, it's the street!" he exclaims) and he brought back last season's cement dresses and accessories—a must-have for a street collection.
With all the drama and theatrics it was almost easy to miss the small details of the collection. Hand-painted tweeds, cement tiling, chain accents and a new bag that looks like a folded up Chanel jacket are popular accents in the lineup. Bold watercolor prints and colorful tweeds were done on reversible coats and there were even moments of demure pinstripes and collared shirts. "I have to keep Chanel up to date," Lagerfeld said of his street-inspired collection. "It was fashion that women used to wear in life, Chanel was not red carpet; Chanel was elegant life in another era, but now we have to adapt to streetlife."