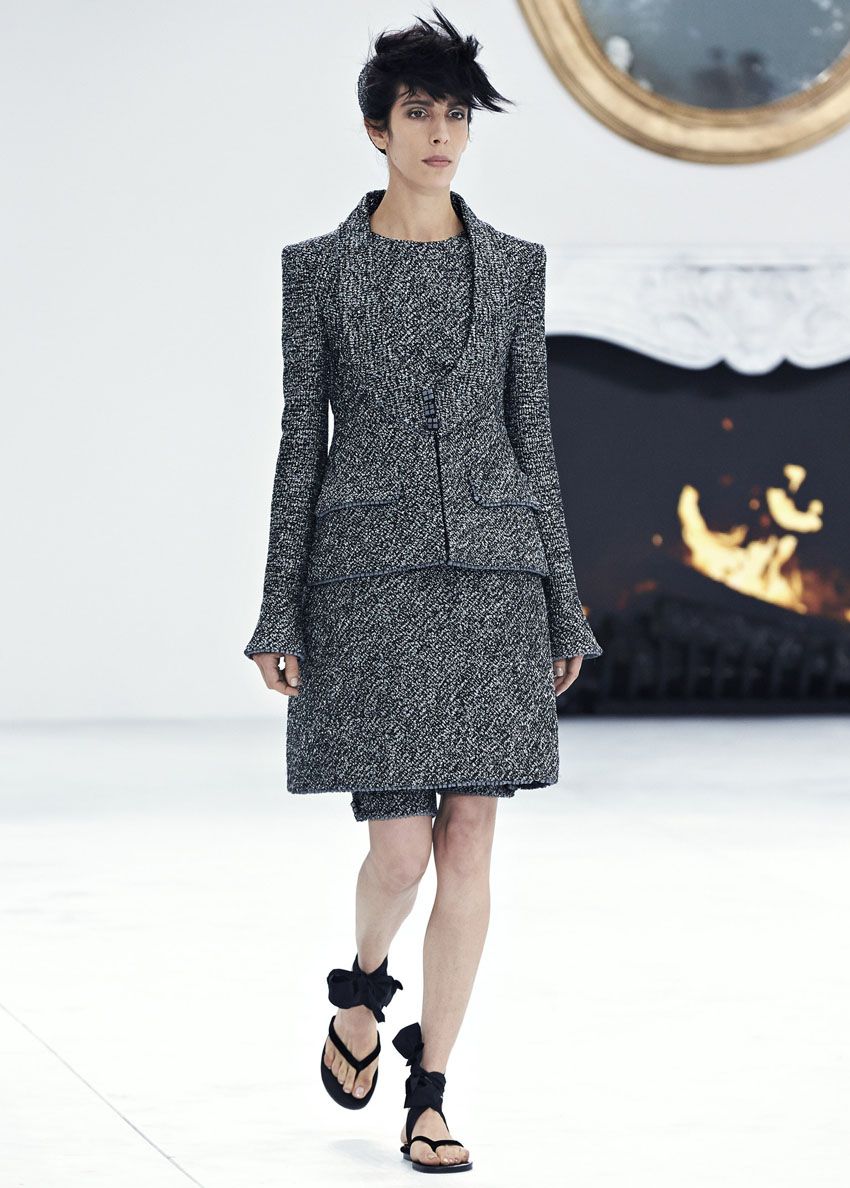 Photos Courtesy of Chanel
There are times when, admittedly, we haven't been totally on-board with a Chanel collection (remember the fanny packs of S/S 2014 couture?), but luckily for us this wasn't one of those times because Chanel's Couture Fall/Winter 2014 collection was amazing. Granted not every piece was pure perfection (what collection is?) but more than once we could see ourselves celebrities dressed in these pieces and hitting the red carpet. The collection was light and all about movement, from the seemingly unattached layers, to the unrestricted gait of leggy models who walked in sandals rather than stilettos. And even with feathered hair and glittering fabric, the most amazing thing at the show wasn't the French-inspired designs, but Karl Lagerfeld's bridal gown, worn by pregnant model Ashley Good.{start-jlvideo}1749,640,361,thumb{end-jlvideo}
Designs were resplendent with texture, layers and jewels, calling to mind the opulence of the baroque period. Despite drawing from numerous sources that have (more than once) turned into a bit of a hodgepodge on the runway, the direction was clear, concise—historical but elegantly modern at the same time. Jackets and dresses featured drapery-parted openings to reveal underskirts, or flared at the waist to give the illusion of a bell-shaped figure—similar to those of the French royal court. Iconic Chanel tweed suits were given a make-under, and instead of falling victim to Lagerfeld's need to recreate the look each season, were given very simple, modern updates that resembled their original design.
Lagerfeld played on elements that ranged from Versailles to the Beistegui Apartment designed by surrealist Charles De Beistegui. "I thought this collection was a perfect setting so I called the Le Corbusier foundation and they allowed me to take inspiration from the famous set from the fireplace on the terrace," explained Lagerfeld. With the Beistegui fireplace recreated on the runway, the baroque lines were translated into fabrics and textures on each piece, while shortened lengths and trendy details keep everything from looking too heavy or theatrical. Even the seemingly out-of-place accents add to the look, "…the bicycle shorts," Lagerfeld starts. "I think it looks new, modern, fresh, and that's why I like the idea of the flat shoes because [the models] can flow, move, jump, what they cannot do with stiletto."
Each model looked fairly fresh-faced with minimal makeup and a short hairstyle meant to mimic the look of feathers. "I wanted it bird-like, with a long neck and no hair falling down because with the cut and impeccable shape of the body on the dresses then messy hair would not have looked right," explained Lagerfeld. And we have to agree. While a bird nest of a hair-do might not work well in real life, on Chanel's runway it paired perfectly with his highly ornate designs, drawing the eye to each piece rather than their flowing hair.
The pièce de résistance was the wedding dress worn by seven-month-pregnant model Ashleigh Good, who walked with Lagerfeld at the end of the show. Rather rounder than the other models on the runway, Good looked even better, seemingly radiant in a dress that fit her baby bump like a glove. With cut away pleating and golden buttons running down the front, the show ended on an absolutely magnificent note.