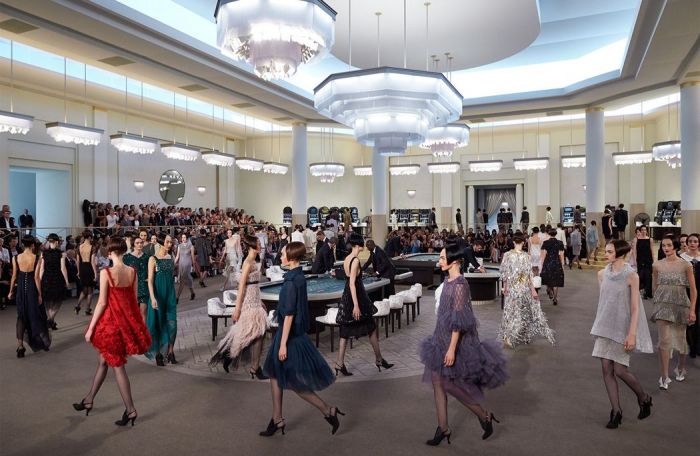 Photos Credit: Chanel
Well it looks like Karl Lagerfeld has done it again. With each collection, Chanel runways get more elaborate and star-studded. Yesterday's Chanel Couture Fall/Winter 2015 show was no different—this time the Kaiser set up a glittering casino inside the Grand Palais. Celebrities sat around blackjack and roulette tables placing bets while models stomped around them showing off the couture line and a re-issuing of the 1932 Bijoux de Diamants fine jewelry collection, the only one created by Mademoiselle Chanel.
Fashion A-listers took center stage quite literally, poised in the middle of the raised runway, each sparking in a Bijoux de Diamants design created specifically for them. Stars included Kristen Stewart, Lara Stone, Stella Tennant, Julianne Moore, Geraldine Chaplin, Vanessa Paradis and her daughter Lily-Rose Depp, and Rita Ora. "I like the idea of an elegant woman going to a casino, wearing jewelry—like a fantasy," Lagerfeld said of the collection after the show. "I had the idea to take famous actresses like Julianne Moore, Kristen Stewart. I like the idea when you see people beautifully dressed in casinos gambling."
The collection reflected Lagerfeld's idea of beautiful clothing with a sparkling showcase of suits, dresses and iconic jackets, all which came down the runway in the most luxurious of textiles. Most pieces consisted of a hand-embroidered tweed or 3D-printed mesh designs—Lagerfeld made a point to note that none of their tweeds were purchased for the atelier and each were made by Chanel artisans. A few exceptional, more resplendent pieces, were customized with chiffon and satin and decorated with over a million pearls.
Military trends found a home on everything from large multi-pocket dresses to epaulettes on evening gowns and the show's closing bridal look (worn by a surprisingly cheerful looking Kendall Jenner). Day wear kept the boxy shape it's had for the last few seasons while evening wear played on a beautiful mix of structure and flow. Floor-length dresses were cut with a high fronts and long, flyaway backs and balanced on the line between elegant and trendy.