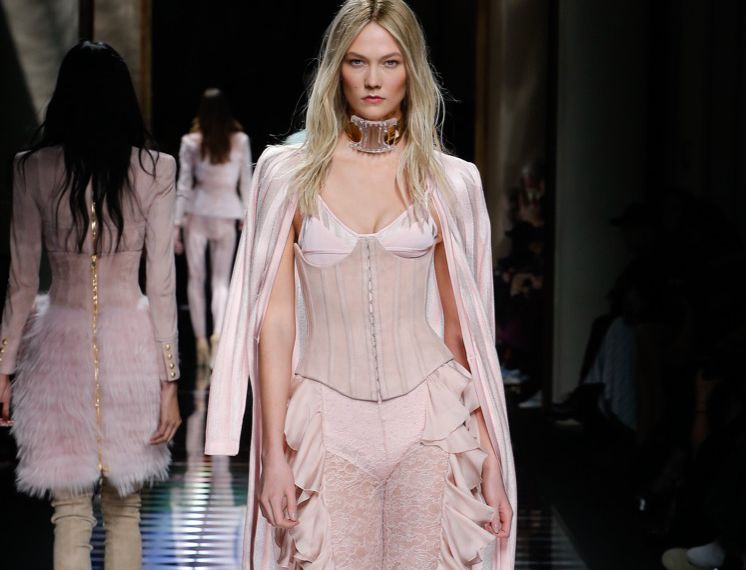 Photos Credit: Balmain
There's absolutely no way to mention Balmain without also acknowledging creative director Olivier Rousteing, his BFFs the Kardashians and his squad of supermodel friends. The brand drove the point home this season with a show that starred Kendall Jenner, Karlie Kloss and Gigi Hadid, with Kris Jenner and Kanye West sitting front row. Kim was there too, in spirit, as the entire collection was inspired by those iconic curves.
"Curves are really important today," Rousteing told Vogue backstage, "because the women of today are really curvy, and they're an inspiration, like hip-hop stars, reality stars." While not everyone thinks of Kim Kardashian's curves as an inspiration, the designer did focus on the idea of form when creating his latest collection. This season, instead of his usual straight lines and angular structure, he used a lot of corsetry and voluminous fabrics to create the illusion of curves.
Silhouette wasn't the only drastic change on the runway. In place of his usually saturated color palette, he opted for soft neutrals like cream, powder blue, pastel pink and champagne. His designs were also noticeably more feminine: silk tassels hung off collars like fluffy trim, lacy bibs and cutouts were sheer but tasteful, and ruffles were found on everything from pants to suit jackets. He even incorporated a little Baroque design with jacquard fabrics, lace-up bodices and jabot blouses.