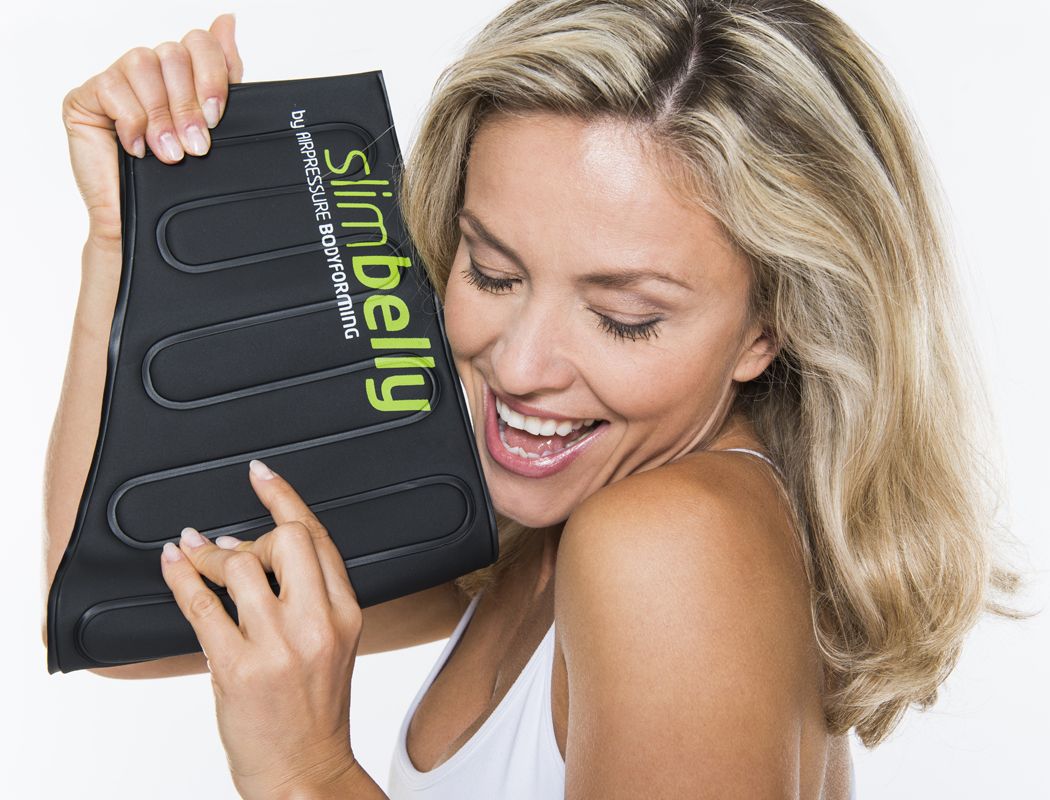 Photos Courtesy of Slim Belly
We're a little more than a week into 2015, and unfortunately we know plenty of people who have abandoned their New Year's resolutions in favor of a hangover cure Sunday brunch. Not us of course—but people. Most give up on weight loss goals early on when there's no progress being made and when they're not seeing any real results. So anything that can help us make the most of a workout, offer a smoother silhouette, or get us to squeeze into a smaller size has our attention. And the Slim Belly System may be able to do just that. The belt looks ridiculous we'll admit, but according to the brand, it's practically a gym staple in Europe. Proven to target the area around your stomach, the belt helps reduce fat in one of the most stubborn areas of the body. While it won't get rid of the holiday pooch on its own, when used in conjunction with proper diet and exercise (that's the hard part isn't it?) it can be game-changing. And best of all, results can be seen in as little as two weeks.
It may look exactly like those '90s electric belts that are supposed to shock muscles out of entropy (so you don't have to actually do sit-ups), but the Slim Belly is an exercise tool, not a solution. The belt is actually an air pressure massager that brings blood flow to the subcutaneous fat in the abdominal area, encouraging fat burn. It won't help you lose additional pounds, but it does help you lose in the right areas so that weight is lost evenly throughout your body. Originally designed in 2008, it is currently sold in over 16 countries and worn by almost a million users in Europe. Until last year, the Slim Belly was sold exclusively to health and fitness clubs, but can now be purchased for in-home and personal use.
To back up their claims, Slim Belly turned to the Austrian Institute for Sports Medicine & Science, well known for their work with Olympic athletes and physical therapy research. In a two week study lead by Dr. Alena Koss, a 35-year veteran of anthropometric study, 98 women were broken into three groups—one who wore Slim Belly during cardiovascular exercise, one who wore Slim Legs (currently only available in Europe) and a third, control group, exercised without either. Women were housed together and all variables were controlled including nutrition, free time, sleep, relaxation and were given identical exercise schedules and routines. While all participants lost approximately 6.6 pounds, the control group lost between 0.2 inches to 1.3 inches around the waist while the group wearing Slim Belly lost 1.3 to 1.7.
Sure, an inch or two might not seem like a lot, but multiply that over the course of the year and you could be talking about the difference between a size 8 and a size 4. But, admittedly, it will take some getting used to. There is a battery pack, air hoses, and an inner and outer belt to put together the first time you use it, so be sure to give yourself some time before your workout to piece it all together. Luckily the included instructions are fairly straightforward, so really the only thing you need to worry about it is which sneakers to wear.
I tried the Slim Belly at home and I'll warn you now—you are not going to be the prettiest woman at the gym. This device is a little awkward and bulky, and you'll probably feel like a giant dork the first time you use it, but trust me, it's worth it. The belt will make you sweat excessively (too much information?) due to the plastic lying against your skin, and the battery pack is not exactly lightweight (gain lower back strength!). Halfway through your run though, you won't even notice anymore. Promise. When you first wear the device make sure you find the spot on your stomach where it sits comfortably, so you're not adjusting and re-adjusting during your workouts. You want it to sit flush with your skin, but also allow yourself a full range of motion.
The Slim Belly needs to be done with cardio exercise. Activities like running, jogging, spinning, Zumba, etc. work best with the device, where as anything done lying on your back, like yoga, Pilates or crunches, the outer belt needs to be removed and set aside. It is awkward and can be distracting until you're used to it, especially since the device will be massaging your stomach mid-workout. (A word of caution to the particularly ticklish.) But once you get over that, look out. While I'm not going to post any of my measurements on here (we're close, but not that close) I will tell you that my clothing actually fit better. My body refuses to lose weight around my stomach—I could drop 20 pounds and not change a size—but my waistline was slimming down. My pants fit better, and my pants never fit better. While I didn't use this long enough to turn myself into a Victoria Secret model (even I fell prey to the seduction of holiday parties) there was enough of an improvement on my waist that told me my New Year's resolutions were possible this year. And yours are too.
The Slim Belly is available online and priced at $349.